Notre Dame in the Crosshairs of BCS Restructuring
January 10, 2012
Jonathan Daniel/Getty Images
With rumors in the air of a restructured Bowl Championship Series on the day after an all-SEC title game, one can only hope that a fair playoff system emerges from the rubble. 
Whatever the system, it must crush Notre Dame. 
No more credit for past triumph, no more special treatment.  A new system starts by leveling the playing field once and for all.
One of the profound faults of the BCS is Notre Dame's exalted status.  Treated like a conference unto itself, Notre Dame's say on what happens in the BCS is literally 10 times greater than any other school.  It gets paid more, is more likely to appear in BCS games and even has more votes in the BCS-created Harris Poll.
Notre Dame's disproportional control of the BCS is an embarrassment to college sports. 
The corruptly powerful position runs deep.  For starters, Notre Dame's athletic director sits on the powerful "Conference Commissioners" governance group.  This is the BCS's most powerful committee, and Notre Dame's athletic director sits as the equal to the 11 conference commissioners. 
Larry Scott (Pac-12), James Delany (Big 10), and Mike Slive (SEC) each use their single vote to advocate for a dozen universities.  Notre Dame's athletic director advocates for Notre Dame alone.  
Notre Dame's president also sits on the BCS's Presidential Oversight Committee, a group which oversees the conference commissioners.  Notre Dame's inflated position thus expands exponentially as the only university in the country with individual membership on the two most important BCS panels.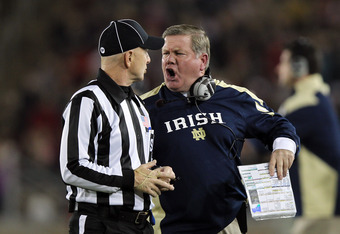 Ezra Shaw/Getty Images
The BCS guarantees Notre Dame more money too.  If Notre Dame is not selected for a BCS game, it gets approximately $1.8 million.  Every year.  When the BCS shuns other independents like Army, Navy and BYU, the payoff is a measly $100,000.  And when Notre Dame participates in a BCS game, the school is guaranteed $6.1 million. 
Conference-affiliated BCS participants are also guaranteed big sums, but in every case that money is then shared among all members of the participant's conference.  Thus Notre Dame takes at least as much as every member of the Automatic Qualifier conferences each year, and when it participates in a BCS game, Notre Dame takes approximately three times more.
By special rule, the BCS also guarantees Notre Dame a BCS game if it is in the top eight of the final BCS standings.  No other team gets that guarantee.  And finishing in the top eight is easier for Notre Dame since it's allotted more votes in the Harris Poll. 
You heard that right. 
The poll that the BCS created in 2005 allowed Notre Dame to nominate more voters than any other school in the country.  Three times more represented in the Harris Poll than any other school, Notre Dame's slots aren't filled by relatively unbiased journalists either. 
Notre Dame's likely Harris Poll contingent of Derrick Mayes, Allen Pinkett, Roger Valdiserri and Gene Corrigan are a biased collection of Notre Dame homers—ex-players, radio play-by-play announcers, and former Notre Dame athletic and sports information directors.
Subpar, and recently embarrassing, Notre Dame is a lion way past its prime.  Like UCLA's basketball tradition, Notre Dame's past glory should be remembered.  But it shouldn't be a major piece of the foundation of a post-season system. 
A restructured system requires that we put the toothless lion down so that college football can move forward—with fairness and justice for all.
Bob Firpo is an attorney and sports and outdoors writer.  He lives in Boise, Idaho.  Follow him @knockingitout.