Philadelphia Flyers: 5 Reasons They Can Win the Eastern Conference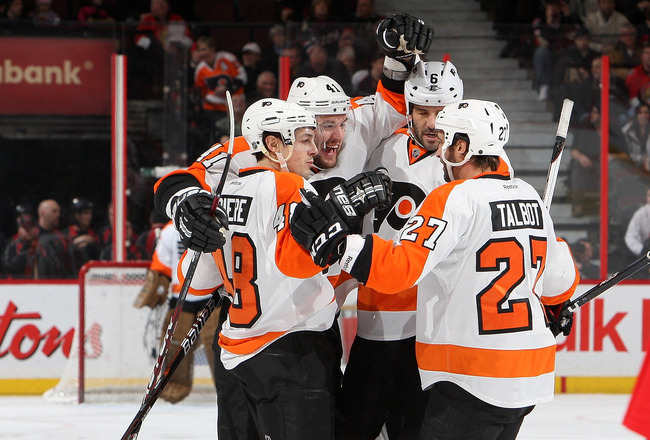 Francois Laplante/Freestyle Photo/Getty Images
With the first half of the NHL regular season easing its way into the rearview mirror, the pedal of competition is pushed to the floorboards.
The Boston Bruins have remained the best team in the NHL despite a recent loss to their nemesis in Vancouver.
Teams like the New York Rangers have thrown its hat into the hunt, while the Ottawa Senators have managed to send four players to this year's NHL All-Star game.
Despite a roster makeover this past offseason, the Philadelphia Flyers have managed to stay within four points of first place.
However, their season has not been without controversy in terms of the ever-important goalie position, and in losing team captain Chris Pronger to a concussion indefinitely.
As fans in Philly know, there can be no season for the Flyers without a share of drama.
In contrast to the drama, Philly has had its share of upside, too. Claude Giroux and Jaromir Jagr, paired with Scott Hartnell, have shown they can be as deadly a line as there is in the NHL.
Rookies like Matt Read, Sean Couturier, Harry Zolneircyk, Zac Rinaldo and Brayden Schenn have shown they can make an impact when needed.
Despite whatever adversity and shortcomings this team has, they have beaten some of the best teams in the league, too.
As spring and the playoffs approach, look for this team to make a serious push to be the best team in the conference.
Allow me to present the five reasons they can be the best in the Eastern Conference.
Tenacity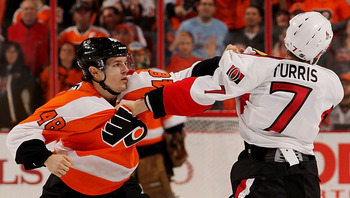 Nick Laham/Getty Images
In the photo, you see one Daniel Briere partaking in an activity known as fighting. Not that fighting wins games, but not backing down whatever the odds does.
Without Chris Pronger, most including myself thought this team would sink to the bottom of the conference. The Flyers have played most of the season without him yet find themselves comfortably in fourth place.
Despite giving up four two-goal leads already this season, the Flyers managed to win two of those four contests.
Danny Briere, seen fighting in the photo, is a microcosm of why the Flyers win their close contests. He most recently not only fought Kyle Turris in that game, but he scored the game-winning goal with six seconds left in overtime for a hat trick.
That's not the only buzzer-beating goal Briere has this year either. On December 19th, he managed to tie the game as the Flyers faced defeat.
As the team faced defeat against the New York Islanders on November 23rd, Briere registered two goals. The final goal was in overtime for the win.
The never-say-die attitude of Danny Briere carries over in the locker room. Players like Claude Giroux, Max Talbot, Scott Hartnell and Jakub Voracek have also shown their desire to win this year.
With a group such as that dedicated to winning, the sky is their limit.
Depth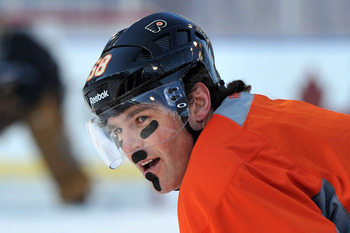 Christopher Pasatieri/Getty Images
The Flyers currently have eight players with double-digit goals. Barring further injuries, the Flyers have two players that will break the 30-goal mark.
They are a deep team. If you shut one guy down—Claude Giroux, for example—then you have seven other players to worry about.
Teams have to bring their "A" games to beat the Flyers.
In an NHL season, it's hard for a team to play at such a high level, but the Flyers have a slew of players that allow for a constant supply of fresh legs.
If anything, the Flyers could take the Eastern Conference by sheer endurance alone.
Experience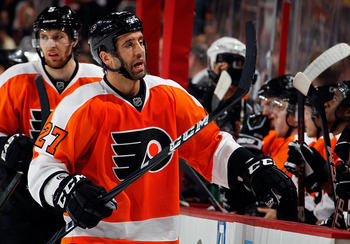 Paul Bereswill/Getty Images
Players like Max Talbot and Jaromir Jagr haven't just been to the finals, they have their names etched on the Stanley Cup.
With the influx of youth in the locker room, these veterans can lend a ton of advice to inexperience players in their preparation and training.
For example, when your coach asks that you lay off the booze, there will be older players—one of whom is a first-ballot Hall of Famer—to give that extra influence.
I only mention that because last year's team looked seriously sluggish in the second round of the playoffs, despite a wealth of youth. They were the only team to not win a series game in the playoffs against the Boston Bruins.
Long Season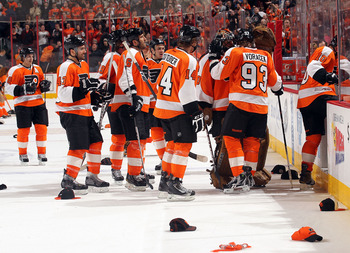 Nick Laham/Getty Images
The length of an NHL season makes anything possible.
Injuries, bad luck and trades—you name it—can turn a bottom-feeding, scrap heap team into a Stanley Cup contender.
Just this season, the Pittsburgh Penguins were in control of the first seed for over a month. The Boston Bruins got a view of the basement early on and are now in second place.
The New York Rangers currently sit in uncharted territory for their team.
Can they handle the effects of everyone wanting a shot at the title every night? Will injuries plague them as they have so many times in the past? Until they finish in first place, no one except their fans believes they will.
The Boston Bruins have remained relatively healthy, but recently saw one of their brightest stars missing games for disciplinary action.
Before Brad Marchand's suspension, Milan Lucic found himself suspended for a game. The Bruins play a style of hockey that has been the key to their success, but could it end up causing too many penalties or suspensions? The Vancouver Canucks sure found a way to get them off their game.
There is plenty of hockey left to play and anything can happen. The Flyers learned this firsthand last season.
Goaltending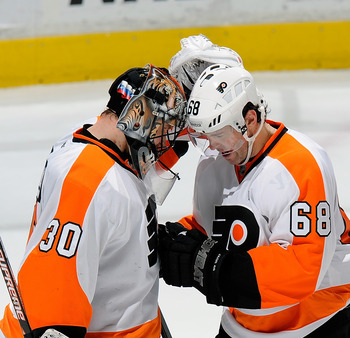 Greg Fiume/Getty Images
That's right, I said it: goaltending.
Everyone knows the Flyers overpaid Ilya Bryzgalov. At least it's looking that way right now. His numbers...ugh, I don't want to repeat them. I think you guys know.
Despite his numbers, he hasn't been all that bad. In fact, he has played more good games than bad. His problem is when he's bad, it's not even AHL-worthy bad.
In 16 games that Bryzgalov has won, his numbers look something like: 2.06 GAA and .922 save percentage. That's not too shabby.
He failed to earn a start at the Winter Classic. Instead he got back to the drawing board with goalie coach Jeff Reese.
Despite shoddy numbers, the numbers his last three starts are attributable more to poor defensive coverage, according to Flyers General Manager Paul Holmgren, who expressed concern in the way his club defends.
After the Flyers' recent loss to Ottawa, Jaromir Jagr also expressed disappointment in the Flyers blue line.
Right now, the combination of inconsistency from Bryzgalov and frequent defensive zone breakdowns are contributing to the netminders' subpar statistics.
More consistency from Bryzgalov and tighter, aggressive defense in front of him will easily translate to fewer goals allowed.
This isn't asking for the discovery of the Holy Grail. It's well within Bryzgalov's ability to just play a more sound game, while his teammates focus on eliminating scoring chances allowed and keeping attention on their defensive assignments.
A team that plays that way is tough to contend with when you have the Flyers' firepower.
Please feel free to leave questions, comments and even complaints below!
Keep Reading

Philadelphia Flyers: Like this team?