Matt Hughes vs. Dan Hardy Early Breakdown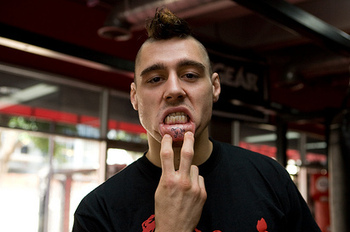 allelbows.com
In a recent interview with ESPN, Dan Hardy has made it clear that upon his return to the Octagon he would like to face off against UFC Hall-of-Famer Matt Hughes.
As of late, both men have been on the downside of their respective careers, with Hardy going from a contender to bottom of the barrel welterweight, while Hughes has recently suffered consecutive knockout defeats.
Though a bout between the two has been unconfirmed as is unlikely to take shape anytime soon, here's an in depth look at how a battle between the two 170-pound notables would shake out.
Hughes Remains One of the Best Grapplers at 170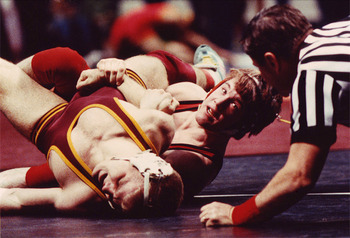 matt-hughes.com
Despite some of his obvious shortcoming, Hughes remains one of the best grapplers in the welterweight class.
A former NCAA Division I All-American, Hughes has been able to successfully transition his career on the mat to the cage almost seamlessly, rattling off a career-best 22-1 run, all thanks to his power and technique.
Often remembered for his flashy slams, which knocked out Carlos Newton in a championship tilt in 2001, Hughes has since added some real jiu-jitsu skills to his arsenal.
Though he holds no specific rank, the Illinois native is recognized by many as being on par with any legitimate black belt. A decisive submission victory over the touted Ricardo Almeida would only help exasperate those claims.
Hardy has proven to be deficient in one area particularly and that's his wrestling, to which Hughes would be more than happy to expose once again.
Hardy Always Has a Puncher's Chance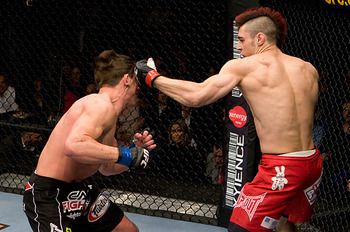 Though his wrestling may always be left wanting. Hardy is at the very least a heavy hitter who wields some boxing prowess.
The Brit has often relied on his striking acumen to carry him to victory. In his sophomore effort with the UFC, Hardy used Miletich-product Rory Markham to spike him up the welterweight ranks, knocking out the fellow heavy hitter with a clean counter left hook, which sent Markham wilting to the canvas from the blow.
Hughes has always been an uncomfortable striker, and though he has since been seen to show some strides standing, his chin has come under question in recent outings as both Josh Koscheck and BJ Penn have been able to stop the former two-time world champion with strikes inside of the first round.
If Hardy connects, it's lights out for Hughes.
Hughes Coasts in Dominant Decision Win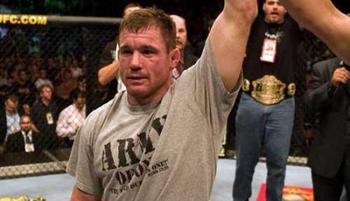 At the end of the day, Hughes' strengths outweigh those of Hardy, who only stands a puncher's chance at victory at best.
The Brit will find himself on his back time and time again, as Hughes plows forward his double-leg takedowns galore, working in several submission attempts and his patented ground-and-pound blows.
Hardy may be able to fend off some, however, the clinch and cage work of Hughes will nullify any offense that Hardy wishes to employ. The Team Roughhouse fighter will fall victim to yet another wrestler, losing a clear-cut decision after fifteen minutes of action.
Keep Reading