2012 NFL Mock Draft: Landing Spots for the Top BCS Stars
January 10, 2012
Andy Lyons/Getty Images
The Alabama Crimson Tide left no doubt who the best team in the nation is. Their 21-0 demolition of LSU in Monday night's BCS championship game wasn't just impressive, it was legen...wait for it (because we had to wait almost eight full quarters to see a touchdown from one of these teams in their two games)..dary.
The Crimson Tide defense held the Tigers offense to just 92 total yards of offense on just five first downs.
Their dominant defensive unit is one of the best we've ever seen in the college game, and it is no surprise they feature as many as five potential first-round draft picks this year alone. 
It was the most star-studded showdown of the BCS bowl games, but it wasn't the only one to feature top draft picks. 
There are 11 players from BCS games in this latest first-round NFL mock draft, and there could be even more before the draft process is over. Here's where they land as things stand right now.
1. Indianapolis Colts (2-14): Andrew Luck, QB, Stanford
The nation's top prospect put on a dominant showing in Stanford's Fiesta Bowl loss to Oklahoma State. He not only solidified himself as the country's No. 1 player, but there are already rumors that the Colts are definitely going to take him first overall.
The 6'4", 235-pound, redshirt junior has all the tools, above average athleticism and is ready to star in the NFL game immediately.
His command of the Cardinal offense, game-time decision making and unselfishness are just a few reasons he's the most talked about quarterback prospect since 1998.
2. St. Louis Rams (2-14): Matt Kalil, OT, USC
This is a likely trade down scenario for the Rams, but if they sit tight they can't go wrong with adding the draft's top tackle.
3. Minnesota Vikings (3-13): Morris Claiborne, CB, LSU
People who hadn't heard or seen much of Morris Claiborne this year because of the Honey Badger's shadow found out just how good the junior cornerback is in the BCS title game.
It just so happens they did so by not see much of Claiborne once again. The Crimson Tide wisely avoided No. 17's side of the field all night.
They did a solid job of corralling him on kick-off returns, and judging by their performance, game-planned to completely neutralize the 6'1", 175-pounder's coverage skills by attacking Tyrann Mathieu instead.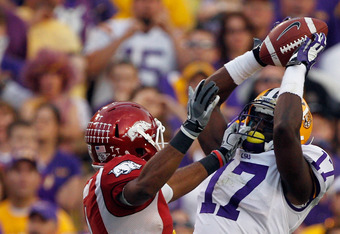 Chris Graythen/Getty Images
Alabama forced LSU to keep the Honey Badger on the outside rather than allowing him to shift into the slot, and quarterback A.J. McCarron was super confident in throwing balls his way in one-on-one coverage.
The same cannot be said against Claiborne, and it is largely the reason why he'll be a top-five pick in April.
4. Cleveland Browns (4-12): Trent Richardson, RB, Alabama
The nation's best running back didn't burst out until late in the fourth quarter, but he was the workhorse and the decoy the Tide needed to keep LSU's defense honest.
He ran for 96 yards, one touchdown and added two catches for 11 yards in Bama's win over the Tigers.
At 5'11", 225 pounds, he's a complete running back prospect with a ridiculous combination of size, strength, speed and skill.
5. Tampa Bay Buccaneers (4-12): Dre Kirkpatrick, CB, Alabama
The Crimson Tide cornerback isn't nearly the cover man that Mo Claiborne is, but he brings his own flare to the field.
At 6'2", 192 pounds, Kirkpatrick possesses a rare combination of size and speed not usually seen at the cornerback position.
He loves to get physical on the line and he's a guy who can fly upfield and make plays in run support. In fact, he's the best tackling corner in the nation.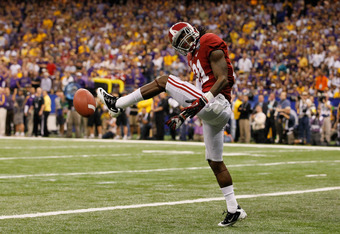 Kevin C. Cox/Getty Images
A lot of that has to do with how he sees the field and how fast he deciphers the play in front him. All these things make Kirkpatrick a potential top five pick and sure-fire top 10. 
The Bucs desperately need a corner.
6. Washington Redskins (5-11): Robert Griffin III, QB, Baylor
The No. 2 quarterback in the nation will likely force a team to trade up to No. 2 or No. 3 to get a crack at him. The Redskins are the team with the most riding on landing a franchise QB this draft.
7. Jacksonville Jaguars (5-11): Justin Blackmon, WR, Oklahoma State
Everybody had heard of Justin Blackmon prior to the Fiesta Bowl even if they hadn't seen him play.
By the time the game was over and the Pokes victorious, Blackmon was the best-known playmaker in the country.
Back-to-back winner of the Biletnikoff Award, Blackmon's size 6'1", 215 pounds, and physicality has every team interested.
He's not a burner, but he's a football player who can take over games and turn any play into a big play.
The Jaguars would be lucky to see him fall this far.
8. Carolina Panthers (6-10)*: Devon Still, DT, Penn State
The Panthers will be looking towards the draft's best available defensive player (unless Blackmon somehow falls) and it could very well be Still. In an average DT class he was the most disruptive of the bunch.
9. Miami Dolphins (6-10)*: Courtney Upshaw, DE, Alabama
There was never any doubt in my mind that Upshaw was going to make an impression in the title game. He burst onto the scene in Alabama's 2009 BCS Championship win and thrives in the biggest games.
This year was no different and while he has developed into arguably the most disruptive edge defender in this class already this season, he saved his best for last and won the defensive MVP of the title game.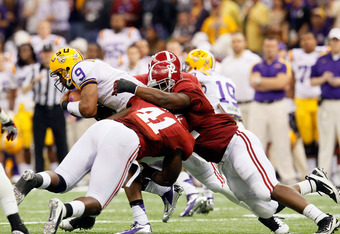 Kevin C. Cox/Getty Images
He's a bit undersized at only 6'2", 265-pounds, but he's supremely talented and does things you simply cannot teach.
A top 10 pick may be a bit high at this time, but the Dolphins will be looking for a pass rusher after missing out on the quarterbacks.
10. Buffalo Bills (6-10): Riley Reiff, OT, Iowa
A big, sound technician who can step in right away and help the Bills protect Ryan Fitzpatrick.
11. Seattle Seahawks (7-9)*: Nick Perry, DE, USC
A fast-rising prospect with intriguing size and speed, Perry's a name to remember as the draft process continues. But Pete Carroll already knows that.
12. Kansas City Chiefs (7-9)*: Jonathan Martin, OT, Stanford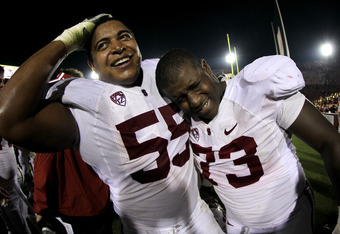 Stephen Dunn/Getty Images
Andrew Luck's blindside protector is 6'6", 305 pounds, with great feet and smarts. Martin excels in the run game, but isn't a complete mauler and has been dubbed a finesse tackle by some.
That said, his athleticism for his size is impressive and he's more than capable of stepping in right away and taking over a starting spot.
The Chiefs have shifted around their line before and can do so again here to find the best possible combination for new coach Romeo Crennel to the run the football behind.
13. Arizona Cardinals (8-8): Melvin Ingram, DE, South Carolina
Slightly undersized at 6'2" but powerful at 276 pounds, Ingram is a tenacious pass rusher who plays with great leverage off the edge.
14. Dallas Cowboys (8-7): Luke Kuechly, LB, Boston College
Kuechly is one of the most instinctive prospects to play the college game in years and compensates for physical limitations through toughness and smarts.
15. Philadelphia Eagles (8-8): Michael Floyd, WR, Notre Dame
A big, physical playmaking receiver is exactly what the Eagles are looking for. He's also the most decorated receiver to ever suit up for the Irish.
16. New York Jets (8-8): Quinton Coples, DE/DT, UNC
The UNC d-lineman is a falling prospect with intriguing physical tools. Rex Ryan can work with that.
17. Cincinnati Bengals (via OAK 8-8): David DeCastro, OG, Stanford
The draft's top interior lineman also hails from The Farm and is the third Cardinal player to go in the top 20.
DeCastro checks in at a solid 6'5", 312 pounds and plays with every ounce of it.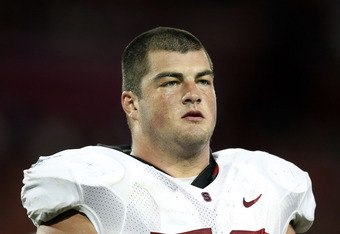 Christian Petersen/Getty Images
He's a big, physical mauler who can dominate inside, is athletic enough to pull up and through and he doesn't get beat in pass protection.
All these things were good enough to help Andrew Luck and the Cardinal win all but three games the past two season and they'll be good enough for Andy Dalton and the Bengals too.
18. San Diego Chargers (8-8): Alfonzo Dennard, CB, Nebraska
Solid all-around cornerback prospect who prides himself on playing bigger than his 5'10", 205-pound size.
19. Chicago Bears (8-8): Peter Konz, C, Wisconsin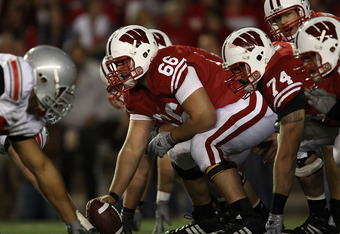 Jonathan Daniel/Getty Images
The massive Badgers center may not be a legitimate top 20 prospect, but he fits in perfectly for what the Bears want to do.
Konz stands 6'5", 315 pounds and is a mountain over the football. 
He's a sound, well-coached technician with a nasty demeanor and is obviously a load to blow off the blow off the ball.
Chicago can instantly plug him in at center, move Roberto Garza back to left guard, keep Chris Spencer at right guard and they'll be set with their interior.
20. Tennessee Titans (9-7): Vontaze Burfict, LB, ASU
Big, scary athlete oozing with intensity and, unfortunately, maturity issues.
21. Cincinnati Bengals (9-7): Lamar Miller, RB, Miami
Speedy running back with size, Miller could be a complete running back in the NFL and the potential starter for Cincinnati as a rookie.
22. Cleveland Browns (via ATL 10-6): Alshon Jeffery, WR, South Carolina
The Gamecock receiver possesses elite physical tools, but doesn't consistently play to his talent level. Until he proves otherwise he isn't safe to draft in the top 15.
23. Detroit Lions (10-6): Mike Adams, OT, Ohio State
A bit of a reach, but the Lions will be in the market for a tackle and Adams, standing 6'6", 320 pounds, has the size and frame to develop into a solid starter.
24. Pittsburgh Steelers (12-4): Cordy Glenn, OG, Georgia
The massive Bulldog captain (6'5", 350 pounds) can play tackle or guard and the Steelers need all the help they can get.
25. Denver Broncos (8-8): Jerel Worthy, DT, Michigan State
Worthy started the season much higher on the list and then fell much lower due stupid penalties and inconsistent play. He came on strong at the end of the year though and has the potential to be a damn fine disruptive force in the NFL at 6'3", 310 pounds.
26. Houston Texans (10-6): Mark Barron, S, Alabama
The draft's most complete safety prospect has been doing it for years in Tuscaloosa.
Barron isn't an elite coverage man, but he gets the job done and has displayed good ball skills throughout his career. He loves to play close to the box and is thumper filling the gap and around the ball.
The senior has a good combination of size and speed at 6'2", 218 pounds. What he lacks in overall quickness he makes up for with instincts and recognition.
He's an ideal fit in the back end of the Texans' top five defense.
27. New York Giants (9-7): Zach Brown, OLB, UNC
Brown is a super-athlete with more raw talent than actual football skill. The Giants seem to be doing okay with a similarly talented player now simply known as JPP.
28. New England Patriots (via NO 13-3): Mohamed Sanu, WR, Rutgers
Underrated and under-appreciated, Sanu recorded 109 catches in his first full season as a wide receiver and is a tremendously versatile athlete with size (6'2", 215 pounds) and speed.
29. Baltimore Ravens (12-4): Dont'a Hightower, LB, Alabama
One of the leaders in Nick Saban's defense, Hightower is a big, nasty linebacker with size, speed and tenacity.
Standing 6'4", 260 pounds, Hightower's ability to track down ball carriers and make plays in coverage are the main reason he's earned a first round grade.
He's played a number of positions in his Alabama career courtesy of his athletic ability and he was the key cog on the interior of this absolutely dominating defense.
He could be the potential replacement for Ray Lewis.
30. San Francisco 49ers (13-3): Kendall Wright, WR, Baylor
Wright is not much more than a deep threat right now, but he has great athleticism and could develop into a complete receiver rather quickly.
31. New England Patriots (13-3): Janoris Jenkins, CB, North Alabama
Coaches won't forget about the playmaking skills of Jenkins despite being thrown off the Florida team last spring. One coach who isn't afraid to gamble is Bill Belichick and we know he has a liking for Gators.
32. Green Bay Packers (15-1): Chris Polk, RB, Washington
Complete running back prospect with size, speed, vision and balance. Could be the all-around back the Packers have been missing.
*Order determined by coin flip at NFL Scouting Combine