The Steamiest Body Paint Jerseys Ever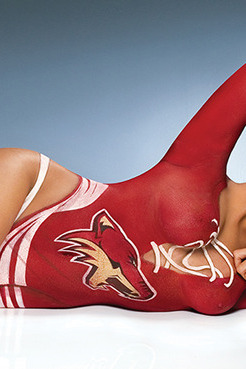 This article contains fake clothing.
Every woman you are about to see is not actually "wearing" a top, but instead has had one painted on, that covers her even better than Champ Bailey covers a WR.
If you were never a fan of body painting, this is the time to head on over to another post, because I have compiled a super sexy list of the best body painted-on jerseys of all time.
So pause your movie, turn down the radio, or stop doing anything else and relax for the steamiest body paint jerseys. Ever.
Enjoy.
Begin Slideshow

»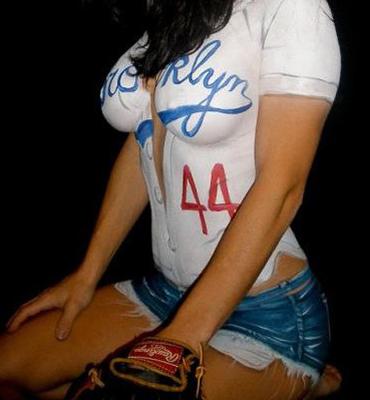 Before the Brooklyn Dodgers moved to Los Angeles, they were pretty dominant in the MLB. They won 12 National League championships and a World Series. They also sent ten men to the Hall of Fame, including Jackie Robinson.
Now, having a beautiful woman in body paint sporting the old Brooklyn uniforms needs to be added to that list. It might not be as respected, but when you have a body like hers, it deserves some kind of recognition.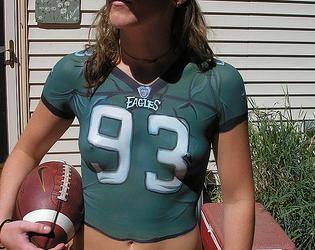 When Vince Young was asked to talk about all the high-end talent the Philadelphia Eagles put together for the 2011 season, he probably should have stuck to his gut and kept his mouth shut.
"Dream Team." Now that was the worst possible response anyone anywhere could have said.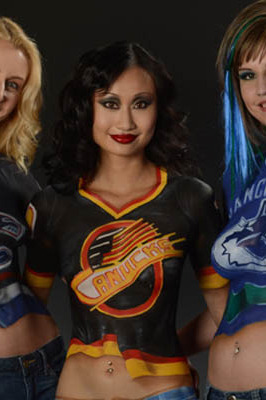 Trying to follow the NHL in the South is like trying to follow college football in the Northwest—all the real talent plays in the opposite direction.
If you want to enjoy professional hockey, get on a flight to Vancouver and go watch a Canucks game. Last season they made the playoffs as the top seed and found themselves in the Stanley Cup Finals.
We can all remember what happened next.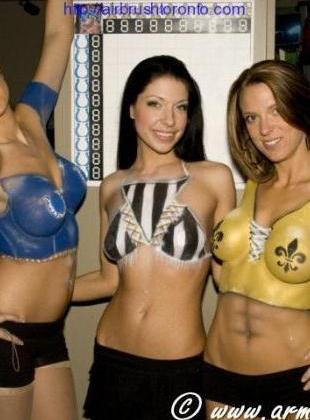 There was a time when my New Orleans Saints were losers.
When they hit rock bottom, instead of getting out of it, they made themselves comfortable and stayed down there for many years.
It wasn't until Super Bowl XLIV and a man by the name of Drew Brees came to town to lift us out of the mud hole.
If you are not a loyal Saints fan, you will never understand what it felt like that day. Words can't even begin to describe it, so I use pictures of women in body paint.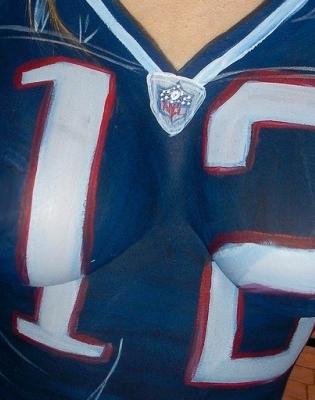 Has there ever been a better NFL quarterback for the New England Patriots other than Tom Brady?
The answer is simply no.
They made it to a few Super Bowls, but until Mr. Brady headed into town, they were winless in the big game. He has helped them win three Super Bowls and finish the 2007 season with a perfect 16-0 record.
It is only fair that we allow the beautiful fans paint his jersey over their bare chests.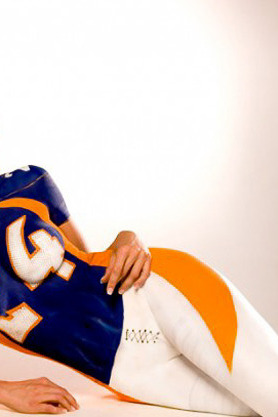 The Denver Broncos won a playoff game. They did it behind Tim Tebow and is winning ways.
Whether you like him or not, the guy flat out wins.
He does what he has to do to get a victory and when he tossed a perfect pass to Demaryius Thomas in overtime to beat the Pittsburgh Steelers, he once again proved that giving up is not an option.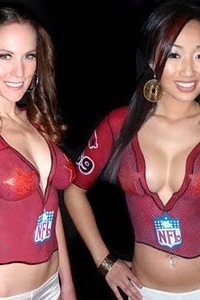 The biggest draft pick of the 2011 NFL draft was Patrick Peterson. The man can flat out return kicks—and he did so this year—four times for touchdowns.
Of those four touchdowns, two of them helped win a game, including an amazing 99-yard return against St. Louis in overtime. Now that was awesome.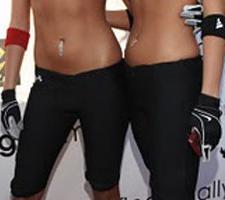 What is it about the number 69? Why do so many women seem to sport that number on a custom made jersey?
I understand the sexual appeal of it, but do you actually think the number on the jersey corresponds to the mentality of the person wearing it? Try picking up a chick in a jersey with the number 69 on it. Good luck my friend.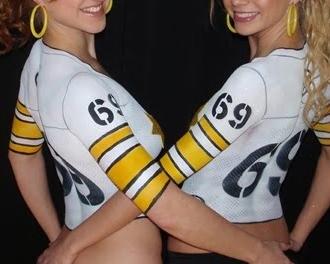 The terrible towel did not stop Tim Tebow from producing one of the greatest overtime wins in NFL playoff history.
Maybe next season Pittsburgh fans will have more body paint than towels. We could all use a little more of this.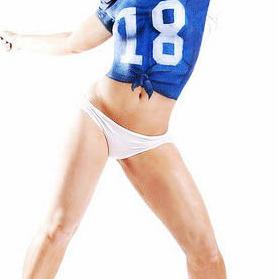 I think it is time the Cleveland Browns begin to talk to the Colts about trading the number one pick in the NFL Draft. If there was any team near the top that could use a QB, it would be the Browns.
Heck, even the Redskins could get involved in the mix and trade for the number one spot. It is very unlikely that the Colts will draft Andrew Luck before at least hearing a few trade offers.
Besides, this lady would have to wash off that jersey...wait up a second.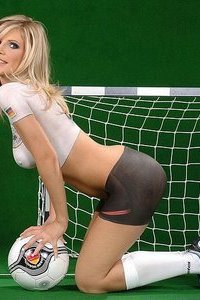 The newest form of flattery is body paint. If a woman is asked to paint a soccer uniform on her body, she must be rocking a winning personality, right?.
Body painting is an art and using it on the wrong body, well, that could be devastating.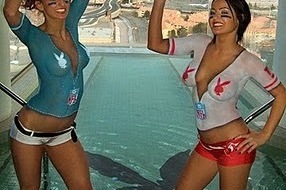 Leave it to Playboy to find a way to make women sexier. I am not sure if they were the inventor of the female body painting, but they are surely the group that has taken the idea to the next level.
Most of the women on this list have something to do with the Playboy brand, including these two women.
Anyone want to go to Vegas?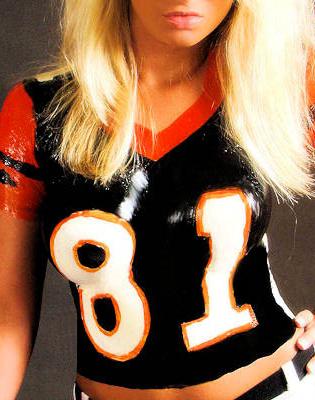 Oh those tricky Bengals. They had a better season that most people believed they would and they did so with a couple of rookies on offense.
Andy Dalton and AJ Green came into this league in 2011 but played like they had been around for a few years. Now it makes sense why they got rid of Carson Palmer, they did not need him.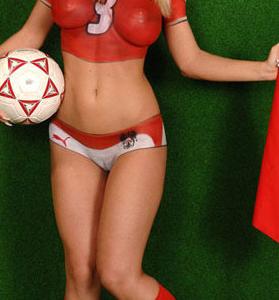 Now that the Lingerie Football League is becoming a yearly reminder that men will watch anything involving women in underwear, they should begin to consider another sport. Maybe a league dealing with body paint.
It would be very interesting to watch a bunch of women in body paint playing flag football or soccer—very interesting indeed.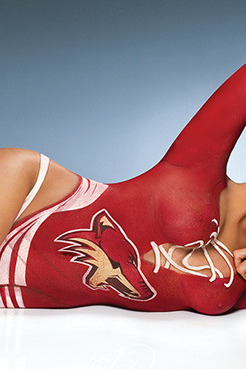 For a team located in the United States, can you guess how many American born players reside on the Phoenix Coyotes roster?
Two! Those tricky Canadians are ever so slowly taking over the NHL. We better hire John Candy's people to patrol the border again.
What a year for Japan. It began with one of the worse earthquakes ever recorded, but ended with the women's FIFA team beating the US in the Women's World Cup final.
If you do not understand the power of sports, then you would never understand how much that country enjoyed that victory. It was a great moment in sports history.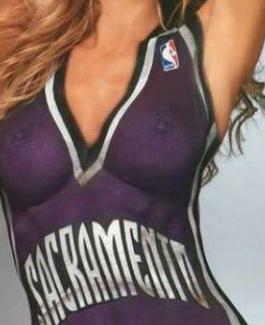 If Marisa Miller wants to wear a Sacramento Kings jersey, let her. If she wants to rock out with a 49ers one, let her. If she wants to do anything with any sports franchise, let her.
When you are that beautiful, the only thing we will not let you do is disappear.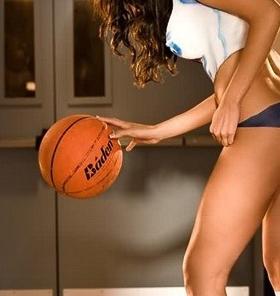 Jason Kidd has to be crazy. Something has to be wrong with his brain to dump Hope Dworaczyk. How can that be?
It is not like Jason Kidd is a hot piece of tail. He looks like someone who will end up going to jail, again.

Have you ever been to Phoenix? What about Tempe?
The women in those two cities are, to say the least, so far above average it is hard to even see it. In fact, they are hotter than the weather—and let me remind you that Arizona is mostly a desert.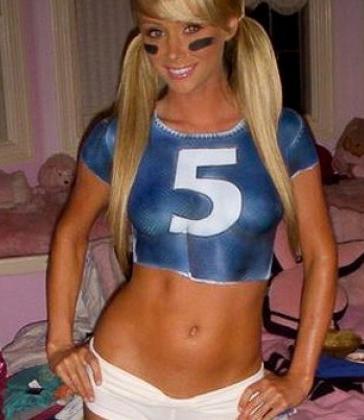 There are very few teams in the NFL that will have to deal with the same problem as the Colts.
Next year, they will be the first pick in the draft so naturally, they will go after Andrew Luck. But what about Peyton Manning?
It is going to be fun to watch the Colts next season.