LSU vs. Alabama: Tide Win Championship 21-0, Roll to Title No. 14
January 10, 2012
Kevin C. Cox/Getty Images
Zero.  One.  Two.  Three.  Four.  Five.  This was the story of tonight's BCS National Championship Game. Alabama wins, 21 to zip.  
Zero:  Points scored by LSU, the first time in the BCS bowl era.
One:  Penalties committed by Alabama, a mere offsides penalty committed with three minutes left in the game.
Two:  Turnovers by LSU, a stark contrast to Alabama's zero turnovers.
Three:  Amount of receptions by LSU's top receiver, Rueben Randle, for only 13 yards.  
Four:  Alabama dominated LSU for four quarters on both sides of the ball. 
Five:  Field goals made by 'Bama's walk-on kicker Jeremy Shelley.  
It was a game that no one but Alabama fans wanted.
Fans of other schools hated the fact they didn't get "their shot."  LSU fans hated it because they didn't want to play 'Bama twice.
But play them twice they did, and in the second round it looked a lot more like a Rocky film than a football game.  
The underdog that was beaten once in a heartbreaker comes around and swamps the opposition.  
You can't even call it a close game.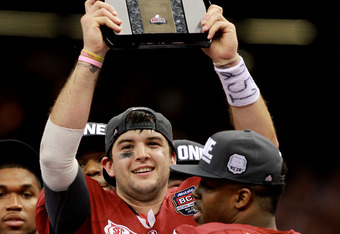 Ronald Martinez/Getty Images
LSU managed a whopping five first downs with 92 total yards on offense(53 passing, 39 rushing), numbers befitting of a national championship contender.  Not.  
LSU fans that I know personally have said for several years, "All we need is a quarterback," and they were right.  LSU's defense was second to, well, only Alabama.  A couple clutch plays by the quarterback could have made it even.
But LSU QB Jarrett Lee made a fool of himself in the first outing, and Jordan Jefferson's only strength, scrambling, was completely ineffective against 'Bama in Round 2.  
A quarterback.  That's all the Tigers needed.  Unfortunately for them, they didn't have one.  But Alabama did.
A.J. McCarron.
He was the offensive MVP of the game, and for good reason.  I've touted McCarron as a secret, underrated weapon for some time now.  I've believed in him since 2009, when he was next in line to replace Greg McElroy were he to be injured in the championship game.
McCarron was seen on the sidelines coaching a struggling Trent Richardson.  What he said is unclear, but as McCarron rubbed Richardson's shoulders and shouted into his ear you could see the mark of a leader.
Shortly after Richardson ran for a 34-yard touchdown.  Enough said.  
McCarron went 23-of-34 for 234 yards and a 67.6 percent completion rate.  All that against what Alabama critics called the "best secondary" in the nation.  He had no touchdown throws, but no receptions either.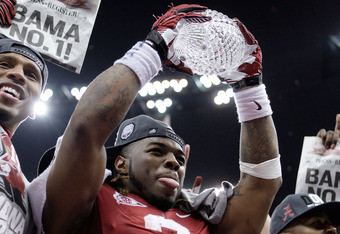 Andy Lyons/Getty Images
Oh, and he had a win.  
Morris Claiborne was almost nonexistent, and Tyrann "Honey Badger" Mathieu was a joke. They could do nothing against McCarron's passing attack that lacked the Tide's top receiver, Marquis Maze.
Maze suffered an apparent hamstring injury early in the game on the first punt return.  It was one hell of a return, but a pulled hamstring sat him out for the other 50 or so minutes.  
It was a heartbreaking moment when he realized he could not take the field with his team, but he accepted his fate like a man, despite the tears.  
His play gave Alabama momentum, and the Tide carried it all the way to the coaches' trophy.  In a land of "what ifs," Maze might have made the most important play of the game.  It was momentum-builder, something announcers are quick to praise when it works and quick to discredit when it doesn't.  
That momentum carried onto several key plays.
Backup tight end Chris Underwood caught a key first-down shovel pass from McCarron on fourth down. 
Backup nose guard Nick Gentry turned into a monster, putting the pressure on all game long and jumping on a fumble.  
It didn't stop until Nick Saban took a Gatorade bath.  He tried to stop it, but like the Tide, you cannot stop the inevitable.  
At one point Brad Nessler said this of the game and the Alabama defense: "This is a mauling, folks, a mauling."
But that's not as good as it gets.  He also said this: "Fear the Tide, Honey Badger."
LSU got lucky the first time around, but a regular-season game doesn't matter when you are on the national championship stage.
Alabama won.
'Bama fans will cry No. 14, and critics will cry some other arbitrary number.
It doesn't matter.  The only number that matters in 2011 is "One."
As in No. 1. 
National champions. 
Alabama Crimson Tide.  
ROLL TIDE ROLL!