MLB Draft 2012: Get Your First Video Look at the Top 20 Prospects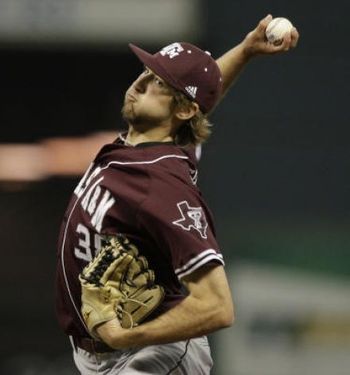 They say that pictures paint a thousand words. What about a video?
I sure as heck know that videos, especially when scouting players who will go on to be professional athletes in any sport, are the key to evaluating talent. Ever tried examining a throwing motion for a QB from a picture? How bout the movement on a pitcher's breaking ball?
Not so easy.
Luckily, however, we live in an age where even the most obscure college and high school athletes have some of their greatest (and worst) exploits plastered all over the web, making it easy for us random schlubs to get a closer look at the best and brightest upcoming athletes in our favorite sports.
Baseball's is easily the biggest crap shoot of any professional draft, but with new-and-improved scouting processes, it's becoming easier to identify the next Greg Maddux (or Mike Maddux).
Thank the sweet Lord for technology!
So let's get to know the cream of the 2012 MLB draft crop via video, for those players who have been lucky enough to get caught on tape.
20) Matt Smoral, LHP, Solon HS (OH)
At 6'8" and 225 pounds, Matt Smoral certainly looks the part of big leaguer, and with some seasoning he could turn out to be one of the best pitchers in this draft.
Playing in Ohio, where the baseball competition isn't quite up to par, has no doubt hurt his game, and will likely impact him on draft day.
That doesn't change the fact that his fastball is still sublime (mid-90s) and his slider is arguably the best of any high school pitcher. Hands down it's the best of any left-hander from the prep ranks.
Smoral is committed to UNC, which has churned out a remarkable number of draft-worthy prospects the past decade, including RHPs Matt Harvey, Andrew Miller and Alex White.
Smoral ranks as the third-best high schooler according to Perfect Game.
19) Carlos Correa, SS/3B, Puerto Rican Baseball Academy
Carlos Correa is arguably the top native Puerto Rican prospect to come along in quite some time, and there's little doubt that he's going to best 2011 draft pick Jorge Lopez's spot selection (70th overall), and could actually make a run at Ramon Castro, the highest drafted Puerto Rican prospect ever (17th overall, 1994).
Correa in many ways resembles 2010 first-rounder Manny Machado. Both players are still growing into their bodies and likely to get bigger and bulkier, making a potential move to third base likely. Correa right now checks in at 6'4" and 190 pounds, and still has the range to play shortstop.
He'll likely lose that range as he continues to grow, but luckily for him and whichever team drafts him, he has one of the strongest infield arms in the high school class. He'll be a great fit at either third base or in left field.
Correa's other big tool is power. He has shown flashes of well-above-average raw power, but has yet to translate it well into game action. He's put on quite a display in batting practice, though.
The rest of Correa's tools (speed, hitting for average and defensive range) are all solid enough to label him as a potential five-tool player.
He is committed to Miami, but as a great story on him from MLB.com notes, he's likely to turn pro if drafted high enough.
18) Travis Jankowski, OF, Stony Brook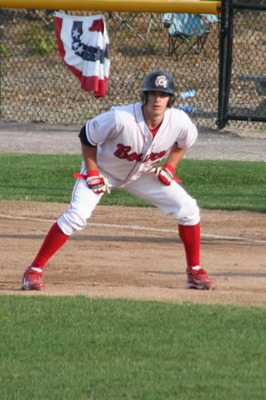 Arguably the top leadoff hitter available from either rank (college or high school), Travis Jankowski is going to be a solid find for whichever team selects him.
This past season for Stony Brook, Jankowski was a revelation. He hit .355 with 38 RBI and a team-leading 30 steals. He didn't offer much power, but that isn't expected to be a big part of his game regardless.
His sterling season extended to his play in the outfield, where he posted a perfect fielding percentage in 115 chances in center.
He further boosted his draft stock with a strong summer. He was named MVP of the Cape Cod League after hitting .329 with 22 RBI and 15 steals.
17) Gavin Cecchini, SS, Barbe HS (LA)
The Cecchinis are a proud baseball family. Just two years ago, Gavin's older brother Garin was drafted in the fourth round by the Red Sox.
Garin was touted as an impressive hitter for average; his questionable defense at shortstop led to a swift move to third base.
Gavin, on the other hand, is a superior defensive player who has a bit less potential with the bat. He's still good with the stick, which is why he's likely to end up getting tabbed before the fourth round...and most likely in the first.
The biggest plus that Cecchini has going for him is his defensive prowess, and the fact that he actually projects as a shortstop long term. He has the footwork, range and arm strength and has shown the ability to make all the throws.
16) Michael Wacha, RHP, Texas A&M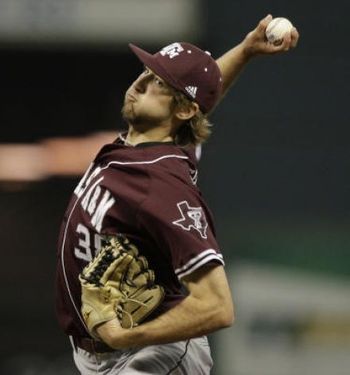 Michael Wacha earned a lot of praise late last season as he guided Texas A&M to the College World Series, even garnering some attention as a potential first-rounder in 2012. He certainly has all the attributes scouts are looking for.
While he doesn't offer as much upside as some of the other top arms, specifically Lucas Giolito or Lance McCullers Jr., he does seem like he's a much safer bet.
Like Stanford right-hander Mark Appel, Wacha deals in the low-to-mid-90s, and throws a mean slider. He also offers a changeup and curveball.
Wacha was especially impressive down the stretch last season. He led the Aggies in innings pitched, strikeouts and starts, and posted a stellar 2.29 ERA.
He really shined in the College World Series, putting together back-to-back gutsy performances against Florida State and California.
Wacha has prototypical size (6'6", 200 lbs) and figures to be the staff ace in 2012.
15) Lance McCullers, RHP, Tampa Jesuit Prep (FL)
Lance McCullers has all the tools of a potential top overall selection, and up until a few months ago he had been the consensus No. 1 prospect from the high school crop.
There's no denying that his fastball is one of the best in the class, sitting in the mid-to-high 90s. His command looked better than ever this past season, and he's made impressive strides with his secondary pitchers.
The reason he ranks ninth overall on Baseball America's high school top 100, and the same reason he'll likely slide on draft day, is due to the uncertainty surrounding how long he's going to remain a starter.
If a team believes he has what it takes, he could go as high as No. 1, but most teams right now seem to think he's destined to pitch out of the bullpen, meaning he could fall to the middle part of the first round.
14) Stryker Trahan, C, Acadiana HS (CA)
It's not often you find a catcher with Stryker Trahan's tool set.
Hitting for power or average, or even having above-average defensive skills is one thing, but being a plus-runner isn't exactly what most teams are looking for in a franchise backstop.
Fortunately, in addition to having the best speed of any catcher to come out of the high school crop in at least 10 years, California prospect Stryker Trahan also has a pretty impressive bat.
At the plate, he's consistently described as selective, showing great patience, and he's definitely not afraid to take a walk. He has decent power and could show 15-20 home runs per season in the Majors.
He has a solid frame (6'1", 215 lbs), one conducive to catching every day, and he is an excellent athlete. In addition to playing all over the diamond (catcher, first base, third base), he's also seen time at tight end and quarterback for the school's football team.
He has a cannon for an arm and has consistently produced some of the top pop times on throws to second on the showcase circuit.
13) Max Fried, LHP, Harvard-Westlake HS (CA)
Due to a budget decision by the state of California, Harvard-Westlake now has two top pitching prospects in RHP Lucas Giolito (see later) and LHP Max Fried. While Giolito will likely challenge for the top overall spot in the 2012 draft, Fried has a chance to go somewhere inside the top 15.
There's no denying that Fried is in the running for the top lefty in the high school class. In addition to offering premium velocity (91-94 mph), he also has two potential above-average offerings in a curveball and changeup.
He benefits, and will benefit down the road, from a very smooth delivery that should allow him to jump quickly right into pro ball. At 6'4" and 170 pounds, he could stand to put on some more weight, which might allow him to add a tick or two to his fastball. Adding some extra bulk also increases the likelihood that he remains a starter long term.
12) Brian Johnson, LHP, Florida
Whichever team ends up purchasing Brian Johnson's services will have a tough decision to make: allowing him to continue his development as a pitcher, or exploring the mostly uncharted depths of a potential plus-hitter.
It's likely that his brightest future lies on the mound, and if that's the path he chooses, he's likely to go in the upper half of the first round.
Like most of the players on the UF roster, Johnson was already drafted once, back in the 27th round of the 2009 draft by the Los Angeles Dodgers. He spurned that offer to come to UF, where he has continued to grow into his 6'3", 225-pound frame and develop his stuff.
Johnson has been excellent at keeping his low-90s fastball down but in the zone during his time with the Gators. He has shown a great curveball that got better as the 2011 season wore on.
Johnson had a great season in 2011, posting a 3.62 ERA and a 72-15 K-BB ratio in 15 starts before an errant Mike Zunino throw plunked him in the head and sidelined him with a concussion. Johnson had a fantastic freshman campaign as well, making 14 starts and picking up six victories.
11) David Dahl, OF, Oak Mountain HS (AL)
Alabama isn't exactly a haven for draft prospects, but prep outfielder David Dahl is out to change that.
As a legitimate five-tool stud, Dahl will have teams lining up for his services on draft day. He compares favorably to top high school position player Byron Buxton. Both players have blazing speed, incredible raw power and cannon-fire arm strength.
In Dahl's case, he's arguably the more talented hitter of the two. He shows a better feel for hitting and projects to have better plate discipline.
Dahl had an excellent showing at the 2011 Tournament of Stars showcase in North Carolina, showing one of the most electric bats of any attendee before succumbing to a bad case of mono.
He should be fully recovered and poised for another great season.
10) Victor Roache, OF, Georgia Southern
Despite the assumption that he's a one-trick pony, Victor Roache will likely go pretty high on draft day.
That's what happens when you slug 30 home runs in 62 collegiate games in one season...a season, mind you, where power hitting was supposed to be sapped by new bats the NCAA introduced.
All across college baseball, power was down—but not in Statesboro, GA, where Roache teamed up with Chris Beck, another potential 2012 first-rounder, to lead the Eagles to a 36-26 record and a Southern Conference championship.
In addition to having a tremendous college season, Roache excelled on the summer tour stops he made. He tore up the Cape Cod League, finishing second with eight homers and 28 RBI, and earned a spot on the league All-Star team.
Heading into 2012, he's already been named a preseason All-American by every publication of note and should garner some serious consideration for player of the year honors with another strong season.
9) Marcus Stroman, RHP, Duke
Don't let Stroman's size fool you
Despite checking in at a measly 5'9" and 175 pounds, Stroman is a likely preseason All-American and could be a major factor in the 2012 draft.
Splitting time between the bullpen and the rotation, Stroman racked up 90 strikeouts in a mere 64 innings. He only surrendered one home run and posted a 2.80 ERA. Furthermore, the diminutive right-hander wowed scouts with a low- to mid-90s fastball and a stunning slider that has the makings of a true plus-pitch.
An astonishing outing in the Cape Cod League in 2010 really put Stroman on the map. In just 25 innings he posted a 32-3 K-BB ratio. He only allowed 10 hits and didn't surrender a single earned run.
Developing a third pitch is a must to keep him out of the bullpen long term, and he'll likely get a full season in 2012 at Duke to show that he's capable starting every weekend.
Aside from the stuff, Stroman is a sensational athlete, who has played a little bit of shortstop for the Blue Devils. He should be an above-average fielder at his position and has the perfect attitude any team would want in a player.
If things go well for Stroman, he could be looking at a Trevor Bauer-like rise and could secure a spot inside the top 15 picks.
8) Kevin Gausman, RHP, Louisiana State
Like so many guys on this list, Kevin Gausman is no stranger to the draft process.
He was a relatively high pick (sixth-round) back in 2010 by the Dodgers after an incredible high school career that saw him earn his way onto the Perfect Game All-American squad twice.
He spurned Los Angeles for the chance to, in his words, "go to a place (which) is very rich in baseball tradition and LSU is definitely the right place for that."
In his first season at LSU, he practically emerged as the staff ace for an under-performing Tiger squad. The right-hander made 14 starts, winning five, including a complete-game shutout against Tennessee, the first by an LSU pitcher since 2009.
He posted a team-best 86 strikeouts in 89.2 innings and held opposing batters to a .215 average, also best among LSU starters. Twice he earned SEC Freshman of the Week honors.
Gausman kept busy during the summer as well, tossing 8.2 brilliant innings for Team USA, during which he was named the team's fourth-best draft prospect by Baseball America. He also made two appearances in the Cape Cod League (12.1 IP, 8 K, 0.75 ERA) before getting some well-deserved rest.
On his best day, the 6'4", 190 pound righty can throw his fastball in the mid-to-high 90s and has been known to scrape triple-digits every now and again. Back in 2010, his slider, curveball and changeup all rated as below-average pitches, but he's improved each offering, especially his curveball and changeup.
A draft-eligible sophomore, Gausman will again be eligible for the draft after the 2012 season.
7) Chris Beck, RHP, Georgia Southern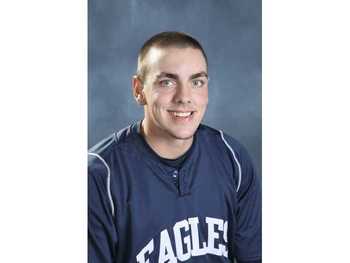 So who woulda thunk that the Georgia Southern Eagles would have two of the top draft prospects?
Regardless of the oddity, Chris Beck ranks as one of the top college pitchers and could give the top overall arm a run for his money with a strong season.
He certainly had one in 2011.
Coming off of a rough debut as a freshman in 2010 (2-4, 8.31 ERA), Beck thrived as the team's Friday night starter. He won nine games, accounting for a quarter of the Eagles win total, posted a strong 3.23 ERA in 19 starts and struck out a team-high 109 batters in 103 innings.
It's a wonder that Beck didn't end up pitching at a larger university in Georgia, or that he didn't get drafted higher than the 35th round back in 2009, especially considering he was a two-time Pitcher of the Year who led his team to back-to-back state championships.
At 6'3" and 220 pounds, Beck has a perfect frame. His fastball is an above-average pitch, sitting in the low-to-mid 90s, sometimes scraping the 96-97 mph range. His slider and his changeup both improved drastically over the course of the 2011 season, with the former showing potential as a plus offering.
He has also shown well during the summer, pitching incredibly well (2-3, 2.12 ERA, 41 strikeouts) in the Cape Cod League this past
MLB.com recently tabbed Beck as the No. 8 overall prospect in the 2012 draft class.
6) Byron Buxton, OF, Appling County HS (GA)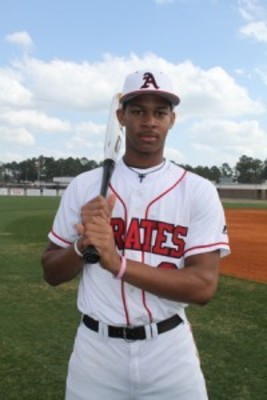 If you haven't heard anything about small-town (so small that there's not even video on him) native Byron Buxton, all you need to know is that he was recently tabbed as Baseball America's top high school prospect entering the 2012 draft season.
If you would like to know more, here's a quick rundown, courtesy of ESPN:
"It may be a small town, but there's big talent in Buxton. The right-handed hitter put on a clinic during batting practice in the Under-Armour All-American Game at Wrigley Field, and finished second to Lewis Brinson at the event's home run derby, though he did hit the longest homerun of anyone in the field. While the power is impressive – as is the fastball -- athletic prowess is the major calling card for the senior from Appling County High School. He's also a star quarterback for the school, and scouts have clocked his home-to-first times at right around four seconds – which would give him close to 80 raw speed.

"There's just so much athleticism" said the same scout. "His hands are as quick as you'll see from a high-school player, and he's got enough build to think there will be plus power. And then you see the guy run and throw in the outfield, and you just wonder how this guy isn't being talked about as a real high pick come 2012."
The scouting report on Buxton, from ESPN's Jason Churchill, reads like this:
"The grades listed below are based on the 20-80 scouting scale; 50 is considered Major League average. Prospects generally come up short on this scale as they are years from the big leagues, so the first grade is at present, the second a projected final grade once development is complete.

Hitting: 40/50
Buxton has a good idea of what pitches he can handle and does a good job getting to balls on the outer half. His swing is consistent, his wrists strong and his hands explosive, allowing him to let pitches get deep before he unleashes. This helps him recognize breaking balls, though he's still refining his plate discipline. He's synced up well in his swing mechanics and starts with an open stance. He stride can get aggressive at time, but hasn't been much of a hindrance in high school.

Power: 45/60
Buxton's strength is not limited to his hands and wrists as he's sturdily built from head to toe. He generates plus bat speed that could develop into well above-average power down the road, though the swing plane will need to mature to best take advantage of the natural physical tools. He already reaches the gaps with searing line drives and when he gets the bat head out shows good pull power.

Running: 75/75
Speed that plays on both the gridiron and the baseball diamond, Buxton has a smooth running stride and accelerates quickly to top speed, much like that of a premium running back. The two-sport star regularly posts home-to-first times between 3.9 and 4.1 seconds, landing under four seconds about half the time on the summer circuits. He may lose a half step as he fills out into his early 20s, but this is speed rarely matched in baseball.

Arm: 55/60
Buxton has a strong arm – he's touched 94 mph from the mound – and his throwing mechanics have improved since early in his junior season. He serves as Appling County High School's starting quarterback thanks in part to that arm strength. If he has to move to left field long term, his arm will play well there, too.

Glove: 45/55
Buxton has the speed and arm to become a supreme defender in center field, but his jumps and routes need work in order for him to maximize his potential in the field. He's made significant progress throughout his prep days and more improvement is sure to come.

Overall
Buxton is a five-tool athlete with two plus tools – speed and arm strength -- and the potential for another – power. He's a rare high-energy player that wastes no movements as he performs, making it look easy and effortless. He's committed to the University of Georgia but his tremendous all-around upside and elite athleticism are certain to earn him early first-day consideration and if those raw skills turn up polished next spring, the top half of the first round is not out of the question. One area scout compared Buxton to Detroit Tigers centerfielder Austin Jackson and called him a "potential future star," despite the risk involved in dreaming on the kid's high-ceiling tools."
5) Mike Zunino, C, Florida
In Mike Zunino, a team would be getting arguably the top hitting catcher in all of college baseball, and one who's incredibly agile and quick behind the plate.
The rising junior was a revelation for the Gators in 2011, taking over catching duties from Austin Maddox. Zunino did more than just take over a position, however, and by the time UF had reached the College World Series final (where they lost to South Carolina), the team had taken on his personality: hard-nosed, energetic and unyielding.
Zunino hit .371 with 23 doubles, 17 homers and 67 RBI en route to being just the second Gator (Matt LaPorta is the other) to be named SEC Player of the Year
Even more impressive than his play at the plate was his performance behind it, where he committed just three errors, threw out nearly 30 percent of attempted base-stealers and earned a spot on the SEC All-Defensive team.
Furthermore, he established himself as the leader of the Gators' pitching staff, earning the trust of each and every member and raising the performances of nearly every starter and reliever.
Zunino earned a spot on the NCBWA All-American First Team heading into 2012.
4) Walker Weickel, RHP, Olympia HS (FL)
Walker Weickel doesn't get as much love as some of the other big-name pitchers in the high school class. He doesn't have Lance McCullers' high-90s fastball or his big-league lineage, and he doesn't have a repertoire to rival Lucas Giolito.
Through it all, however, Weickel has continued to dominate the showcase circuit, wowing scouts along the way. His fastball, while not as blazing, is still very good, sitting at 91-96 mph, and he complements it with two potential above-average pitches, a curveball and a changeup. He has excellent control of both.
Like Giolito, and unlike McCullers, Weickel has the prototypical size for a top pick: 6'6", 205 pounds.
When he's not on the mound, Weickel sees time in the outfield, where he could be a day one pick, showing great arm strength (obviously) and immense power potential at the plate. It's his ability on the mound, however, where Weickel garnered a commitment to the University of Miami.
3) Deven Marrero, SS, Arizona State
Deven Marrero, one of the top shortstops in the 2009 high school crop, was drafted by Cincinnati in the 17th round that year. Since turning down the Reds' offer to attend ASU, he's done the following:
set an ASU freshman record with a .397 average
drove in 42 runs in 42 games as a freshman
earned first-team All-Pac-10 honors as a sophomore
was named the 2011 Pac-10 Defensive Player of the Year
led Team USA with 19 hits and 14 RBI in 14 games during the summer of 2011
was named a 2011 Cape Cod League All-Star
And don't forget that state and national championship he won as a senior in high school at American Heritage (FL), where he served as the team captain on a team that included Eric Hosmer.
Think of Marrero as a more seasoned version of 2011 first-round pick Francisco Lindor. He might not be as flashy, but he's a better defender at shortstop and his bat has more pop and a greater chance to hit for average.
2) Lucas Giolito, RHP, Harvard-Westlake HS (CA)
The top player from the 2012 high-school crop, Lucas Giolito has arguably the highest ceiling of any prospect, regardless of class, exceeding even that of the probable No. 1 pick.
Giolito has it all.
He's been blessed with fantastic size (6'6", 242 lbs) and a blazing fastball (mid-to-high 90s). For a high schooler he has an extremely varied repertoire: a two- and four-seam fastball, a curveball, slider and changeup.
He has a smooth, easy delivery and the only issue he appears likely to face is some command problems that come with being as big as he is. Oh, that and his scholarship offer to UCLA, where recent draft picks have tended to honor their commitments.
Giolito has earned a few comparisons to 2010 No. 2 overall pick Jameson Taillon, and was named the top overall prospect in the high school crop this past September by Perfect Game.
1) Mark Appel, RHP, Stanford
Without a Bryce Harper or a Stephen Strasburg, the 2012 class is clearly lacking when it comes to a sure-fire future All-Star from the college level.
Since that's the case, the mantle of the top collegian falls to Stanford right-hander Mark Appel.
Appel has everything a team is looking for in a No. 1 overall pick: size (6'5", 200 lbs), stuff (mid-90s fastball) and a strong level of competition.
The only thing he doesn't have—and this is what separates him from previous top college players—is a consistent track record of production. As a freshman he saw time in relief and posted a 5.92 ERA. This past season he went 6-7 with a 3.02 ERA.
He looked solid in conference and NCAA tournament play, but as a whole failed to generate much enthusiasm among scouts looking for a consensus top overall player for 2012.
Heading into the 2012 college season, Appel is looking to generate even more momentum, and so far he's off to a solid start: He was named a preseason first-team All-American earlier in the month.
Keep Reading