Duke Basketball: Blue Devils Still Lock for No. 1 Seed Despite Loss to Temple
January 9, 2012
Chris Trotman/Getty Images
Duke recently slipped up against the unranked Temple Owls, in what was their last non-conference game before they opened ACC play. However, despite allowing Temple to shoot for 56.4 percent, the Blue Devils will rebound during their conference schedule, thus earning a No. 1 seed in the NCAA Tournament. 
The loss against Temple was more of a fluke, when you think about it. More than likely, teams are not going to shoot over 50 percent from the floor, and they are not going to make half of their three-point attempts either.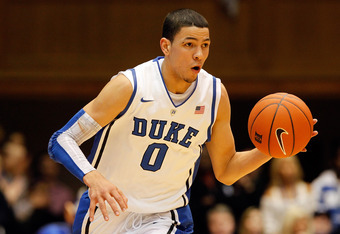 Streeter Lecka/Getty Images
If anything, the loss to Temple is more of a wake-up call for this Blue Devils team.
After the loss to Temple, Duke freshman Austin Rivers said, "We were slow and they played a lot harder than we did. Every 50-50 ball, they got them. They just out-hustled us. We have a great team, but we just didn't fight tonight." 
Three days later, Duke won a tough road game at Georgia Tech 81-74. The Blue Devils held the Yellow Jackets to .491 shooting percentage, while allowing the Yellow Jackets to convert on six of 13 three-point attempts. 
Duke coach Mike Krzyzewski saw a lot of toughness coming from his team in there ACC opener saying, 
There's a lot of stuff happening with our team, but I thought we really showed some toughness. When it got down to two points and Rice is putting up shots like that, to win a game down the stretch like that is very important for the development of our kids.
The development that Coach K is talking about is what will lead this Duke team to bigger wins down the road this year.  
Duke has another tough test in their young ACC season, when they host No. 17 Virginia. Duke should be able to shut down a Cavalier offense that ranks 228th in the NCAA, only scoring 65.7 points per game.  
With a big win over a ranked opponent, it should vault the Blue Devils back into the top five in the next rankings. However, looking ahead at Duke's schedule, they should finish in the top five, as they only have one more ranked opponent, North Carolina.  
If they can get past the Tar Heels, plus at least one win in the ACC Tournament, there is no reason why this very talented Duke team does not gain a No. 1 Seed in either the East or South bracket.  
They just have to stay tough on defense and not let teams shoot lights-out against them.