Forged Through Tragedy and Triumph, Michael Kidd-Gilchrist Shines Like a Star
January 11, 2012
Andy Lyons/Getty Images
Despite a devastating, buzzer-beating last-second loss to the Indiana Hoosiers on their home court in early December, the Kentucky Wildcats have been churning through their schedule with relative ease. Adding to their already impressive 15-1 record is the fact that they have beaten three Top 25 opponents this season in Kansas, North Carolina and Louisville.
Right now, the Wildcats are sitting comfortably as the second-ranked college basketball team in the country, behind only the undefeated Syracuse Orange. It's safe to say that the college basketball world isn't surprised by the Wildcats' early-season success; however, many people are a bit shocked at who's leading the charge.
Michael Kidd-Gilchrist is leading the Wildcats' surge toward a national championship, and in the process, his own personal feat, a National Player of the Year award. 
Coming into the season, there was plenty of buzz surrounding UK's crop of star-studded freshman comprised of Anthony Davis, MKG, Marquis Teague and Kyle Wiltjer. The headliner of the class was without a doubt the 6'11" spidery power forward Anthony Davis.
He came to Lexington as the nation's number-one ranked freshman, surrounded by NBA buzz and expectations as a player capable of carrying Kentucky on his frail shoulders all the way to New Orleans. While he is having a spectacular season with averages of 12.7 points, 10.6 rebounds and a staggering 4.6 blocks per game, the glue that holds this young bunch together is Michael Kidd-Gilchrist.
The 6'7" small forward may only be an 18-year-old rookie, but he accepted a leadership role early on for head coach John Calipari. If you're looking for eye-popping statistics to wow you, you won't find them. However, what makes him an ideal National Player of the Year candidate is what can't be gauged in any box score, and that's heart.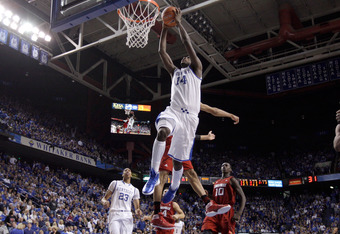 Andy Lyons/Getty Images
Sure, his 13.6 points, 7.8 rebounds, 2.0 assists and stout defense are very solid numbers, but it's his tenacity, intensity, heart and leadership that's keeping the young Wildcats together.
In order to play the game of basketball with such a big heart, passion, determination and will to succeed, you must build it through heartache.
From the time he was a freshman in high school, Kidd-Gilchrist was looked upon as the next prince of the basketball world. Fans and media alike saw the glitz and glamour of being a schoolboy superstar, but failed to notice the hardships MKG endured along the way.
At the tender age of two, his father was murdered. Since that fateful day, his uncle, Darrin Kidd, had been the primary male role model in his life. In his senior year of high school, on the day he was signing his letter of intent with the University of Kentucky, his uncle passed away of a heart attack (hence the tribute to his last name which was added before this season).
The tough times he has endured give him an edge that hardly any other players in the game of basketball possess, other than Kansas superstar Thomas Robinson. Much like his life situations, when the going gets tough, Michael Kidd-Gilchrist gets even tougher.
Against then No. 11 Kansas, MKG registered 12 points, nine rebounds, four assists and three blocks in the Wildcats' 75-65 victory.
The next ranked opponent UK faced, No. 5 North Carolina, he played ever better, dominating the Tar Heels to the tune of 17 points and 11 rebounds.
Then came his shining moment of the young college basketball season. On New Year's Eve in a rivalry game against Louisville, he absolutely dismantled the Cardinals. He scored 24 points and pulled down an incredible 19 rebounds, outmuscling and outhustling anyone in his path.
There will always be players bigger than him, faster than him and more skilled than him, but he will always have an advantage, and that is an internal organ trained to do anything in its power to succeed, to forge through the toughest of times in order to reach its goals. You can't teach the qualities that he possesses. They are intricately woven into the fabric of his upbringing, one that should help him win the 2012 National Player of the Year award.