NBA Power Rankings: Which Stars Have Propelled Their Squads to the Top?
January 10, 2012
Kevin C. Cox/Getty Images
Now that we're two weeks into the NBA season, we're getting a better feel for where teams stand in this lockout-shortened season. We have seen some of the established contenders live up to their top billing and we've seen some sleepers emerge out of nowhere.
There has been a lot of shakeup in this week's rankings, and if you have anything to say, make sure to leave it in the comments, along with any questions you may have about the Association.
NOTE: These rankings were complied before Monday's games.
1 (2). Miami Heat: No Big Three, no problem for Miami as it overcame a game in which both LeBron James and Dwyane Wade were on the sideline with injuries. Maybe that's a commentary on the Atlanta Hawks, but it was impressive nonetheless. Since the season started, the Heat have come out on a mission and are the cream of the crop in the early going.
2 (1). Oklahoma City Thunder: After going the first week undefeated, Kevin Durant and company faltered, losing back-to-back games to the Mavericks and Trail Blazers. No shame in that, but a win over San Antonio on Sunday to cap off three wins in three days kept Oklahoma City from falling too far down the rankings. Losing Eric Maynor for the year with a torn ACL will be a bigger loss than most expect, and Reggie Jackson will have to step up with increased playing time.
3 (3). Chicago Bulls: A 4-1 week keeps the Bulls at third in this week's rankings, and they would have surpassed the Thunder if it weren't for the dreadful 15-point loss to the Atlanta Hawks. I get that it was on a back-to-back on the road after a hard-fought win over the Magic, but it was a game they should have won.
4 (4) Portland Trail Blazers: After ending last week with a loss to the Los Angeles Clippers, the Blazers rebounded with a 3-1 week, beating the Thunder and Lakers in back-to-back games. Impressive, to say the least. Unfortunately, they followed it up with a horrific loss against the Suns, in which they were dominated from start to finish, which hurts their credibility.
5 (7). Denver Nuggets: In the early going this season, the Nuggets are proving their surge last year was no fluke. Denver put together another solid run, with the only blemish being a tough loss at the hands of the San Antonio Spurs. These Nuggets have more toughness than people realize, and truly play team basketball. 
6 (4) San Antonio Spurs: Manu Ginobili's injury is more than concerning for a veteran squad that is going to be pushed to the limit by a 66-game schedule, and I have a bad feeling that this isn't the last we'll hear of the Spurs' injury woes before it's all said and done.
7 (12). Atlanta Hawks: Who knows what to make of this team? First they lay an egg against the Miami Heat, who had Chris Bosh and a whole lot of no one, then they turn around and dominate the Chicago Bulls. This is a bi-polar team that will frustrate fans all year.
8 (10) Los Angeles Lakers: It's not quite time to sound the alarm in Los Angeles, thanks to a monster week from Kobe Bryant, who proved he can still play at a high level despite his wrist injury. The Lakers don't have a truly signature win outside of last week's evisceration of the Knicks, and that will be a concern going forward.
9 (15). Philadelphia 76ers: So who had the Sixers leading the Atlantic Division after two weeks? Philadelphia is a balanced, deep team with a lot of options, even if none of them are particularly overwhelming. Doug Collins has this young group playing hard-nosed basketball and they're putting bad teams away early, beating Detroit and Toronto by a combined 58 points. However, I'm going to need to see more from this group before pushing them higher.
10 (17). Indiana Pacers: Maybe this group isn't ready to contend, but this will be a fun squad to watch all year long. The Pacers have balance and used it to rip the aging Celtics to shreds. Last year's playoff series was a sign of things to come in Indiana, and we'll see if this group has enough to get to the next level.
11 (8). Los Angeles Clippers: Lob City is a work in progress, but having watched them, one thing is blatantly clear—Chauncey Billups has next to nothing in the tank. The stat line looks good (16.0 ppg), but he's shooting a dismal 37 percent from the floor. Mr. Big Shot should have lost that moniker long ago, and his ill-advised three pointers and haphazard running of the offense could hold this Clippers group back from being something truly special.
12 (5). Orlando Magic: It is the same old story for this Magic squad, who are good, but not quite good enough to beat the best teams in the Eastern Conference. Orlando had a chance to make a statement against Derrick Rose and the Chicago Bulls but once again came out on the short end of the stick. Until that changes, it's hard to see this team doing damage come playoff time.
13 (23). Dallas Mavericks: It's getting better in Dallas, but wins over Oklahoma City, Phoenix and New Orleans don't hide the fact that the defending champs were beat down at the hands of the Spurs. The signs of last year's championship team are there, but I have my reservations about this group's ability to truly do damage in the Western Conference.
14 (9). New York Knicks: I know Mike D'Antoni teams don't play defense, but it's bordering on absurd with this Knicks team. Giving up 118 points to Charlotte and 96 to Washington is inexcusable, considering the level of competition, but it was nice to see New York show some toughness against a hapless Pistons squad.
15 (11). Boston Celtics: Want to watch a run of greatness fall apart before your eyes? Watch this Boston team and you'll get an idea. This is a team that can do damage against the bottom half of the league, but when they run up against a competitive team like Indiana, they fall flat. There are too many miles on the Celtics' tires, and soon, they'll fall off.
16 (29). Utah Jazz: Maybe I was too hard on this Jazz squad, who have rebounded nicely from their horrid first week. Utah won all four of its games this week, none of them are much to write home about, but it's brought the Jazz all the way up to 5-3 in the Western Conference. Not bad for a team that looked dead in the water last year without Deron Williams.
17 (26). Phoenix Suns: A dominant win over Portland highlights what has been an impressive week for the Suns, who went 3-1. This won't be a terrible team as long as Steve Nash is on the roster, but as we saw against Dallas, this isn't a group that can consistently compete against the Western Conference's elite.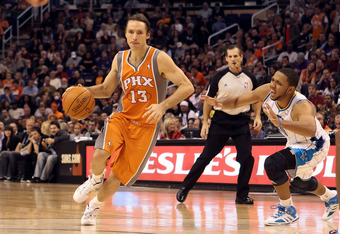 Christian Petersen/Getty Images
18 (13). Memphis Grizzlies: The injury to Zach Randolph is a huge blow, but this hasn't felt like the same group who upset the San Antonio Spurs in the playoffs and took the Thunder to the brink in last year's playoffs. Injuries and uninspired play threaten to bring down a squad that could have been something special in 2012.
19 (24). Toronto Raptors: Could we be watching Andrea Bargnani emerge into his own as an NBA player? Probably not, but he has been playing at a fairly high level, even if he isn't rebounding like a center. Bargs is averaging 6.4 rebounds a game, which would be the highest total of his career. Sad but true.
20 (21). Cleveland Cavaliers: Kyrie Irving makes this team fun to watch, but the Cavaliers were dismantled by the Trail Blazers on Sunday night. This team has a whole lot of nothing around the rookie from Duke and it's hard to believe how much "The Decision" crippled this franchise.
21 (22). Minnesota Timberwolves: If you haven't been watching Ricky Rubio, you've been missing quite the show. The electric rookie from Spain has been brilliant in early action and is spitting in the face of all of those skeptics who said he couldn't cut it as an NBA point guard. Throw in All-Star caliber play by Kevin Love and you have a young team that will be on the rise sooner rather than later.
22 (19). Sacramento Kings: What in the world is going on in Sacramento? First DeMarcus Cousins blows up and then the franchise fires Paul Westphal in response to the entire saga, only to quickly extend his successor, Keith Smart. This is a franchise in disarray, and it shows.
23 (16). Houston Rockets: If there was any glimmer of hope that this Rockets team could hang with the big boys, this week promptly stomped it out. Two losses to Oklahoma City coupled with losses to the Los Angeles powers are early warning signs that Kevin McHale's squad aren't going to make much noise in the Western Conference. 
24 (14). Golden State Warriors: Stephen Curry's bothersome ankle injury hasn't helped, but Mark Jackson clearly has a lot of work to do to change the culture in Golden State. It may be a long season for the Warriors, but with the offensive talent on the roster, it won't be a boring one, that's for sure.
25 (20). New Orleans Hornets: It is getting real ugly in New Orleans without Chris Paul. The Hornets have lost six straight games after winning the first two. An injury to Eric Gordon hasn't helped, and New Orleans is on a slippery slope that ends in playing for ping pong balls in March and April.
26 (18). Milwaukee Bucks: The Bucks hit the road and their season hit the skids, as they have lost five in a row, and it looks to be another long season in Milwaukee. There is talent on the roster, but sadly, it hasn't come together.
27 (25) Charlotte Bobcats: Charlotte hasn't beaten many teams this year, but who would have thought they would beat the Knicks? The Bobcats dropped 118 on New York and it was a lone bright spot in what stands to be a very long season in Charlotte. How many years have we been saying that?
28 (27). New Jersey Nets: This isn't what Mikhail Prokhorov had in mind coming into this season. Brook Lopez got hurt and things fell apart as the Nets have struggled out of the gate, Deron Williams looks completely bored and rumors have already started about his unhappiness in New Jersey. I hear the weather is wonderful in Dallas and Orlando this time of year. Just saying.
29 (29). Detroit Pistons: Allow me to be the first to say it—Joe Dumars should be fired. The once highly-regarded executive fought tooth and nail to keep veteran members of this team together and now the Pistons have limped out of the gate once again. A win over Orlando is nice, but after getting blown out by Chicago, Philadelphia and New York, Dumars' seat should be more than a little toasty.
30 (30). Washington Wizards: What a disaster. John Wall is struggling, players are complaining and Flip Saunders is doing what he does best—nothing. The Wizards are already playing for draft position and this looks like a group that could challenge the Nets' mark for futility. Washington sits at 0-8, and it doesn't look like it will be getting in the win column any time soon.
Follow me on Twitter @TomKinslow