Detroit Pistons vs Chicago Bulls: TV Schedule, Live Stream, Spread Info and More
January 9, 2012
Ezra Shaw/Getty Images
The slumping Detroit Pistons (2-6) travel to the Windy City to face off with the Chicago Bulls (7-2). Chicago cruised to victory when the two teams met just five days ago in Detroit thanks to a balanced offensive attack and strong defense.
Aside from the emergence of Greg Monroe, it's been a disappointing start to the season for the Pistons. The lack of a true point guard has led to a lot of empty possessions, and when a team doesn't have an elite scorer, that becomes costly over the course of a game.
On the flip side, the Bulls have been operating like a well-oiled machine so far. Derrick Rose is leading the way once again with 19 points and eight assists. But it's the team's depth that should ensure they remain near the top of the Eastern Conference for nearly the entire season.
Where: United Center in Chicago, Ill.
When: Monday, Jan. 9 at 8 p.m. ET
Watch: Fox Sports Detroit (Pistons), Comcast SportsNet Chicago (Bulls) or NBA League Pass
Listen: WXYT 97.1 FM (Pistons) or WMVP 1000 AM (Bulls)
Betting Line: Bulls -14
Key Injuries (via CBS Sports)
Pistons: PF Charlie Villanueva (out, foot), PG Rodney Stuckey (out, groin) and SF Austin Daye (questionable, ankle)
Bulls: SG Richard Hamilton (doubtful, groin) and PG C.J. Watson (doubtful, elbow)
What's At Stake?
The season is still young, so the stakes aren't too high quite yet. That said, every game a contender like Chicago can win now will provide them with an opportunity to rest key players down the stretch. It's something that will be especially important during the condensed season.
Since the Pistons don't appear ready to make any noise this season, having their young players gain experience against a legitimate title threat like the Bulls will pay dividends down the road. It's all about building for the future.
What They're Saying
Perry Farrell of the Detroit Free Press passes along some thoughts from Pistons head coach Lawrence Frank, who understands his team will go through some growing pains this season:
"This is going to be a series of one step forward, two steps back or two steps forward and one step back," Frank said. "This is not representative of who we want to be. We all have to own it, starting with me."
CBS News White House correspondent Mark Knoller passed along some thoughts from President Barack Obama, who met with the defending champion Dallas Mavericks today: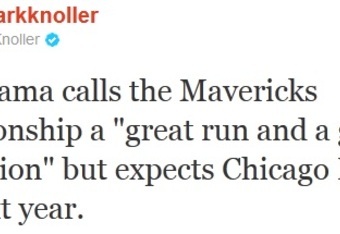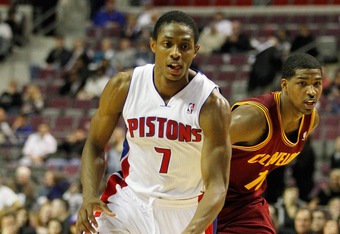 Gregory Shamus/Getty Images
Pistons Player to Watch: Brandon Knight
The Pistons knew Knight would be a work in progress when they drafted him, so his early struggles haven't been a surprise. The rookie point guard out of Kentucky is averaging 11 points and three assists per game, but has been a volume scorer to this point.
Moving forward, the most important thing for Knight will be improving his assist-to-turnover ratio. It's barely above one through eight games, which isn't nearly good enough to be the main ball handler on a good team. Simply put, there's a lot of room for improvement, but the potential is obvious.
Bulls Player to Watch: Luol Deng
Even though Deng has gotten off to a slow start shooting the ball, he's still one of the league's most underrated players. He's really the glue that holds Chicago's entire lineup together because he can make significant contributions in so many different areas of the game.
He's not a high-flying dunk master, which is probably why he doesn't get much time on the highlight shows, but he's a dependable option nevertheless. If the Bulls make a deep playoff run this season, you can bet Deng will be a major reason they did.
Key Matchup: Greg Monroe vs. Joakim Noah
Monroe has taken a big leap forward in his second season. He's averaging 16 points and nine rebounds while shooting 57 percent from the field. He'll be the centerpiece of Detroit's rebuild for season's to come if he can continue to improve his post presence.
Noah is one of those players where the statistics really don't tell the whole story. He's a tireless worker that's going to make all of the hustle plays which need to be made to help a team win games. Whether it's chasing down a loose ball or taking a charge, Noah knows his niche and fills it well.
Prediction
Bulls 99, Pistons 83