NHL Trade Rumors: Bobby Ryan and Players Who Will Be Moved at Deadline
January 9, 2012
Harry How/Getty Images
The NHL Trade Deadline is still awhile away, but some teams are starting to float out some players that could be moved either before the deadline or at the deadline. These three players will be major players at the deadline and will help their new teams go far in the Stanley Cup Playoffs. 
There are rumors that Ducks captain Ryan Getzlaf is a player that the Ducks are looking to move at the deadline. However, as the deadline creeps closer, it looks like Ryan is the more likely player to get moved. 
From the Edmonton Journal:
Another league executive agrees Ryan is the most likely to move on.

"He's really good, don't get me wrong, but Getzlaf and (Corey) Perry? They go together," he said, unsure what Ryan would fetch other than young players.

Philadelphia seems the most logical bet as a destination — Ryan would be a John LeClair-type player with the Flyers — and Philly vice-president Bob Clarke and Ryan's dad are friends.

I can see James Van Riemsdyk in a package for sure. The Ducks might ask for Brayden Schenn. Sean Couturier is off-limits to all teams, and Anaheim would want a defenceman like Braydon Coburn.
Ryan would push the Flyers over the top as the favorite in the Eastern Conference. They already have one of the best goaltenders with Ilya Bryzgalov and a great offense with Claude Giroux. With Ryan, they would have two top lines that showcase six deadly scorers. 
Nashville Predators: Ryan Suter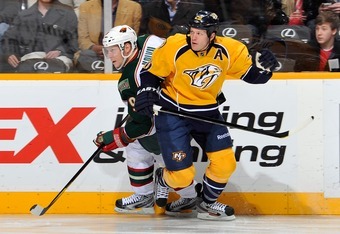 Frederick Breedon/Getty Images
Nashville has a number of free agents that they have to resign at the end of this year. However, if Nashville starts to fall out of the playoff race, there is a good chance that the Predators could move Suter to a team like the Detroit Red Wings. 
From the New York Times: 
As long as the Predators are in the playoff race, Botta doesn't see them trading Ryan Suter or Shea Weber. After signing Pekka Rinne, Suter is next on their list, and Poile will try hard to re-sign him. 
The Predators are currently in sixth place in the Western Conference with 48 points. However, they are just one point above 10th-placed Colorado and only three points ahead of 11th-placed Phoenix. 
If Nashville does go on a multiple-game skid to start the second half of the season, Suter could be on the move. 
Edmonton Oilers: Ales Hemsky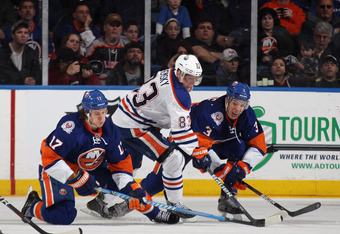 Bruce Bennett/Getty Images
Hemsky looks like his days are numbered in Edmonton. The talented winger should attract a few teams that could benefit from his scoring ability. 
From the Edmonton Journal:
Here's what we know about Edmonton Oilers winger Ales Hemsky. Teams have started asking questions.

"How are his shoulders?" an NHL executive asked.

"Where are the points? Is it just because he's not on the first power play anymore? I saw him on TV the other night and he didn't look good," said another NHL team official.
Hemsky may be dealing with shoulder injuries; however, a change in scenery will do the winger some good. 
These three players will be moved before the trade deadline is up. They will go onto give a "shot in the arm" to whichever team they happen to get traded to, pushing them deep into the playoffs.