Manchester United Legend Paul Scholes Returns: Why This Could Be a Good Thing
January 9, 2012
Laurence Griffiths/Getty Images
The Premier League threw up one of its more intriguing stories, as two legends of the Premier league era, returned to the clubs in which they made their name. Thierry Henry has signed a two month loan deal with Arsenal. However, more surprisingly was the return of Paul Scholes, who came out of retirement to take his place on the bench on Sundays Football Association Challenge Cup tie against Manchester City.  
The return of Henry has been met with a mixed but largely positive press. Many believe this to be good business for Arsene Wenger as both Gervinho and Chamakh depart for the African Cup of Nations this month.  The reliable back up is needed for current talisman Robin van Persie. Henry, at 34, will have lost the breakneck pace he was known for in his first, hugely successful spell at Arsenal. He is still a clinical finisher, and still performs well for the New York Red Bulls.  Although, not on the same level as the Premier League, he is still in an improving league of MLS. 
The return of Paul Scholes has been met with a somewhat disdain and general bad press. Many, have seen this as a result of desperation in response to the abnormal injury in December, and in some quarters an admission that the emerging youth, namely Ravel Morrison and Paul Pogba are not good enough to step up to regular first team action. Supporters greet the move more favorably then the press, who have cited the often denied but increasingly obvious lack of funds available from the much maligned owner of the Glazers. 
Contrary to general opinion, I do think that this move will be a good one for Manchester United. With the injury crisis seemingly continual, and with key figures such as Darren Fletcher ruled out for the season and the return date of Tom Cleverly unclear, we are short of number.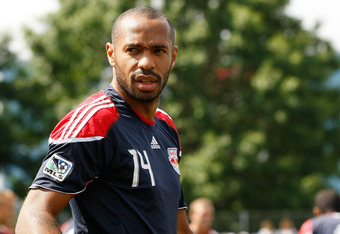 Mike Stobe/Getty Images
Manager Alex Ferguson has stated on numerous occasions the unwillingness to delve into the January transfer window, portraying  a lack of value in the transfer market. Being realistic, United can not compete with their oil-rich neighbours Manchester City in both wages and transfer fee.  A player linked with Manchester City sees their value hugely inflated. Secondly, to get the calibre of player who can compete in the Champions League, Manchester United needs to look at an estimated 15 million dollar plus outlay to attract the likes of Mario Gotze.  In January, clubs are unwilling to let go of the top players, and many of the Champion League fans will not let their clubs trade coveted players. So those expecting world class signings will be sadly disappointed.
The return of Paul Scholes will add much needed creativity and possession retention to the centre of United's midfield, though he can not be expected to operate as a box-to-box midfielder as he did back in his heyday. He still without a doubt possesses the ability to unlock defences and spread the play around the field. He made more passes for United then any other player and 97% accuracy certainly lives up to the well coined "Sat-Nav" nickname. Many detractors will point to the misplaced pass that led to City's second goal, but I think Lindegaard and the central defence falling asleep were more to blame. 
Scholes experience and know-how will provide a massive boost for morale in the dressing room, and is still good enough to play at the highest level when required. I stress this is only as a temporary solution to a long term problem. This allows Ferguson to seek a replacement in the summer. The only risk in this shortterm deal is that Scholes loses the dignity of retiring at the top of your game. 
Long live the Ginger Ninja