Chicago Blackhawks: Dan Carcillo Needs to Change His Playing Style or Else
January 11, 2012
Jonathan Daniel/Getty Images
If Dan Carcillo is able to return to the Blackhawks this season he needs to change his style of play.
The 'Hawks cannot afford any more plays that lead to him being suspended. They need more plays like the one he made earlier in the game against Edmonton where he stole the puck leading to a Jonathan Toews goal.
The Blackhawks needed an agitator after last season. Stan Bowman went out and got Carcillo and Jamal Mayers to give the team that edge and toughness. At times, Carcillo's addition has looked great and at other times it has left me screaming at the TV.
Adam Burish and Ben Eager who were tough guys, but were never considered dirty players, filled that role when the 'Hawks hoisted the Stanley Cup.
So far, rookie Andrew Shaw has done a decent job replacing Carcillo dropping the gloves in his first game and has shown no fear. Shaw has also gotten some ice time on the penalty kill.
Let's forget about the injury for now because it could possibly cost him the season. The team has yet to announce how long he is expected to be out.
With this most recent suspension, Carcillo will have missed 11 games this season due to suspension. The first two games came from an incident last season, but the other nine games have come from two incidents this season.
Can the 'Hawks, who are currently struggling, survive Carcillo committing a stupid major penalty?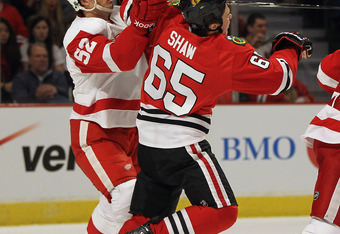 Jonathan Daniel/Getty Images
While he has spent a lot of time this season on the top two lines Carcillo is probably better suited on the fourth line. However, while more rookies continue to make an impact, it leaves me wondering where does he fit on this team?
If the 'Hawks make a trade for a second-line center or at the very least a top-six forward then Carcillo would have to be moved down. The issue with that is can he make as much of an impact as Jimmy Hayes or Shaw on the third or fourth line?
TV announcer Eddie Olczyk was saying in a game recently that Dan Carcillo's presence on a team's bench makes everyone feel bigger because they know he is there to back them up. I have an issue with that because this team also has Mayers and John Scott who, to me personally, are scarier guys to drop the gloves with.
If Carcillo is able to return this season there will be a big question for coach Joel Quenneville. Does the positive outweigh the negative?
If the answer is no then Carcillo might find there is no room for him on this team.
Unlike in years past, the 'Hawks have plenty of cap space so they would be able to eat the rest of Carcillo's salary of the season. Carcillo, like all the other free agents signed by the 'Hawks, was given a one-year deal. 
Hopefully, Carcillo takes this time while he is out with injury and suspension to really think about some of the stupid things he does on the ice. He already has two strikes this season and I think if he gets a third, he might be out.