Washington Capitals: How Long Can the Team Last Without Backstrom and Green?
January 9, 2012
Jim McIsaac/Getty Images
As the Washington Capitals approach the halfway point of their 2011-12 NHL season, the team appears to be playing the way that's expected of them, having won four of their last five games.  
However, recently minted head coach Dale Hunter is being forced to deal with two devastating blows to the team's lineup, as both Mike Green and Nicklas Backstrom are nursing potentially serious injuries.  
Green's groin problems are well-documented, and after leaving Saturday night's game against San Jose due to pain in the same groin that has kept him out of 29 of the Caps' 39 games, his long-term status appears to be in question.
In addition to Green, Nicklas Backstrom, who has been easily Washington's most valuable player this season, is out with a concussion after being on the receiving end of an elbow from Calgary's Rene Bourque.  
Backstrom's situation is delicate considering that he has suffered from migraines in the past, so the team will have to monitor his status very carefully.  Assuming both are out of action for tonight against Los Angeles and Wednesday's tilt with Pittsburgh, Hunter will have to receive bigger contributions from his other offensive weapons.  
Fortunately, both Alex Ovechkin and Alexander Semin have been scoring more consistently of late, but neither has found the net without Backstrom's help often, and it will be a challenge to generate scoring chances without the team's offensive catalyst.  
As far as Green goes, the Capitals are simply a different team with a healthy Mike Green in the lineup.  It's no coincidence that Washington is 9-1 when Green plays, which is why he's twice been a finalist for the Norris Trophy.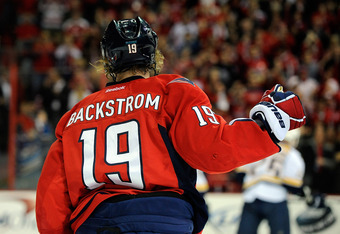 Patrick McDermott/Getty Images
Going forward, there will be more pressure on Ovechkin, Semin, Marcus Johansson, Troy Brouwer and Brooks Laich to score, as Backstrom and Jason Chimera are the only forwards producing at a satisfactory level.  
If Backstrom's absence is a prolonged one, the Caps will need to make a move to acquire a center, because the team won't make the playoffs with Johansson and Laich as its top two pivots.  
Fortunately for Hunter and his troops, the Caps face a struggling Los Angeles Kings team tonight, an undermanned Pittsburgh Penguins squad on Wednesday and the underachieving Tampa Bay Lightning on Friday, so Washington could well emerge with a winning record for the week even without Green and Backstrom.  
However, if the Caps hope to deliver on the city's expectations of a conference finals appearance in 2012, general manager George McPhee will need to execute a trade for a skilled playmaking center if Backstrom doesn't return soon.