NFL Playoff Picture: 10 Surprises to Expect This Weekend
Justin Edmonds/Getty Images
Can Tim Tebow and the Broncos keep the magic going?
With one weekend of playoff football in the books, home-field advantage reigns supreme. With two upsets—one minor (New York over Atlanta) and one major (Denver over Pittsburgh)—we are down to the NFL's version of the "Elite Eight."
So what can we expect in the Divisional Round?
Unlike last weekend, I don't see home-field advantage meaning as much, as at least two games should be won by the road team. I also see a major upset in the making, with at least one of the "heavyweight teams" bowing out after only one playoff game.
Which road teams will win? Which fans will be screaming about poor coaching or missed field goals on Monday morning? Can Tim Tebow keep the magic alive?
Well, if you want those answers, you'll just have to keep reading.
Begin Slideshow

»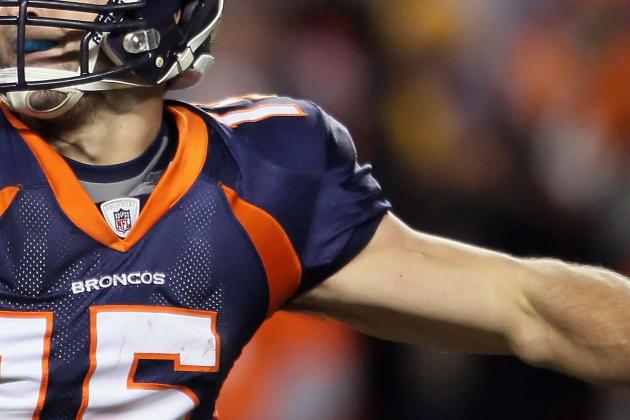 Jeff Gross/Getty Images

Tim Tebow just threw for 316 yards against the Pittsburgh Steelers, who had the best defense in the NFL. He is about to go up against the New England Patriots, who have one of the worst secondaries in recent football history.
I think Tebow will throw for over 300 yards again. I have no doubt that Bill Belichick will have some exotic blitzes dialed up, but it won't change the fact that his defense can't stop anybody. Their best hope is to get a pass rush on Tebow, but with Andre Carter, their best D lineman, out for the season, expect Tebow to have time to throw.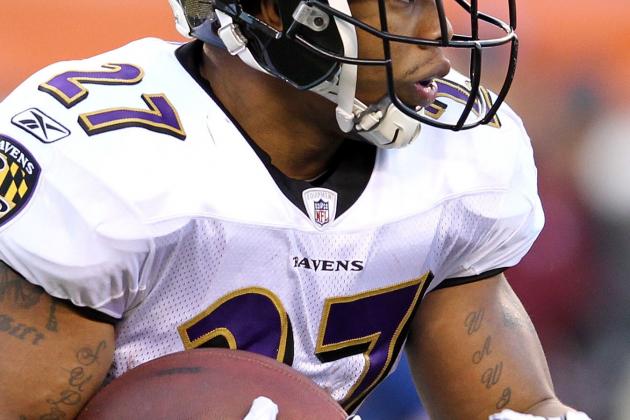 Andy Lyons/Getty Images

Ray Rice is a beast. He is the engine that makes the Ravens offense go. Texans' defensive coordinator Wade Phillips knows that, and he will have his 3-4 defense harassing Rice all day long. The Ravens are an excellent football team, but the formula for beating them is simple.
Stop Ray Rice, and you have a chance to win.
Joe Flacco is going to have to step his game up in order to lead Baltimore into the AFC Championship Game, because the Texans are going to put the clamps on Ray Rice.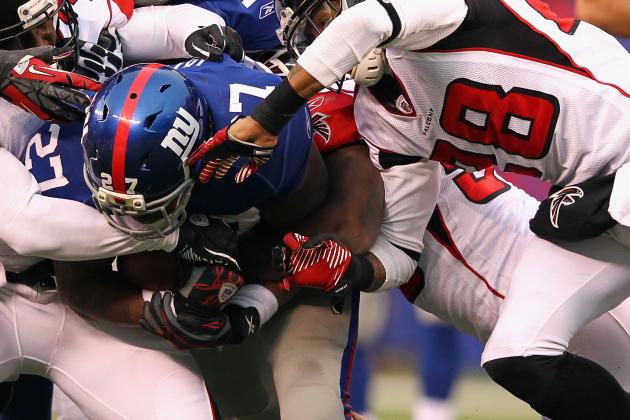 Al Bello/Getty Images

The Giants ran for 172 yards against the Falcons, who had a pretty decent defense. This weekend, they are going up against the Packers, who have a fairly awful defense. This game is going to be played in cold weather, so running the ball is going to take on added importance.
When Brandon Jacobs and Ahmad Bradshaw are both running hard, it is really tough on the opposing defense because Eli Manning has elevated himself into one of the elite QB's in the game. So now, if you are the Packers, you have to pick your poison. Do you let Eli pick apart your weak secondary? Or do you let Bradshaw and Jacobs grind out yards and chew up the clock?
I see the Giants running for at least 150 yards again this weekend.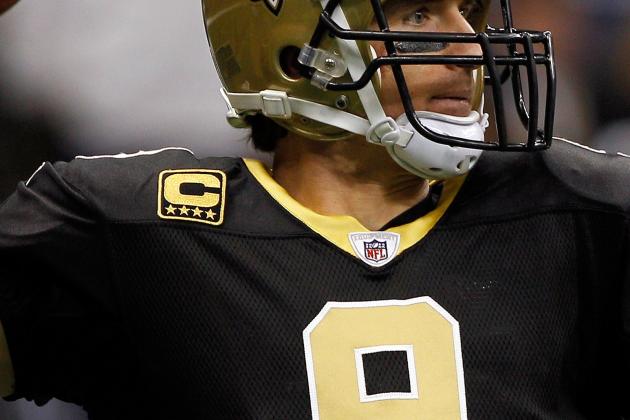 Chris Graythen/Getty Images

Drew Brees is the most accurate QB in the NFL. He has had a terrific season. However, the Saints are a different team outdoors, and he is about to face the best defense in the NFL.
Last weekend against the Lions, there were three passes that could have been picked off by the Detroit secondary. This weekend, I think the Niners will have similar chances to force turnovers—only they will capitalize where the Lions failed.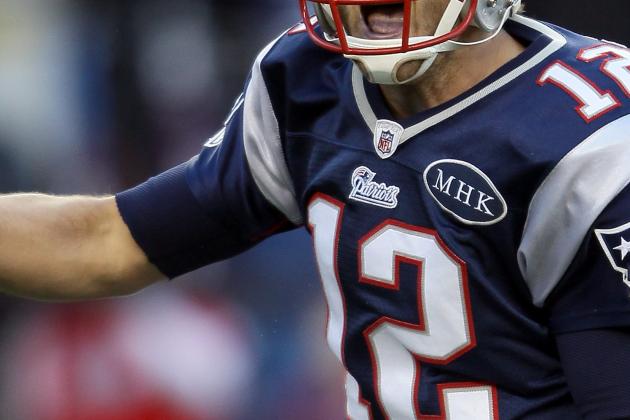 Elsa/Getty Images

The Broncos have a great defense. They can get after the quarterback. I can see them making life hard on Tom Brady and company. On the other side of the ball, I've already told you that Tebow is going to go off for 300-plus yards again.
Add it up, and the Patriots are going to trail going into halftime. At some point in the second half—not necessarily the fourth quarter—I think Belichick will make the right adjustments on defense to slow down the "Tebow-to-Thomas" connection. At that point, Tom Brady will do what Tom Brady does and find a way to win the football game.
PATRIOTS 30, BRONCOS 23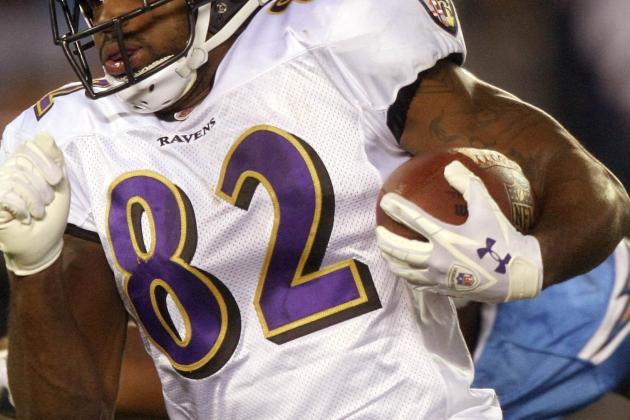 Donald Miralle/Getty Images

The rookie out of Maryland has speed to burn. He has been inconsistent this season, as most rookies are. He has 50 catches for 841 yards (16.8 avg) and seven touchdowns—not too shabby—but he also has dropped passes at crucial moments of games.
So will the real Torrey Smith please stand up?
As I told you, the Texans are going to key in on Ray Rice and shut him down. It's going to come down to Joe Flacco making plays, and Flacco hasn't shown the consistent ability to carry this football team yet. What Flacco is going to need is a big play, and Torrey Smith is his big-play receiver.
I see Smith catching five or six passes, with at least two of them being long plays for touchdowns. Ultimately, that is going to be the deciding factor in a Ravens victory.
RAVENS 24, TEXANS 16.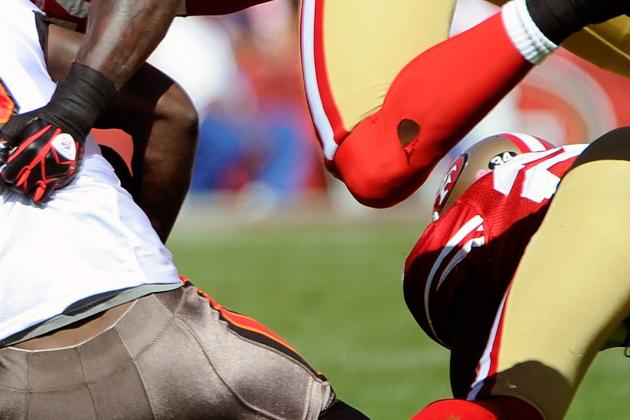 Thearon W. Henderson/Getty Images

The Niners have the best front seven in the NFL, and they play with a mean streak. They arrive at every play with bad intentions. I love their intensity.
The Saints have a prolific offense, but they are a different animal on the road. Take a look...
SAINTS AT HOME: Average score, 41-18
SAINTS ON THE ROAD: Average score, 27-24
The Saints have played five outdoor games this year—at Green Bay, Jacksonville, Carolina, Tampa and Tennessee. They are 3-2 in these games. They have not played outdoors against any defense that even approaches how good the Niners' D is going to be this weekend.
The Niners are going to stuff the run, and they are going to put pressure on Drew Brees all day long.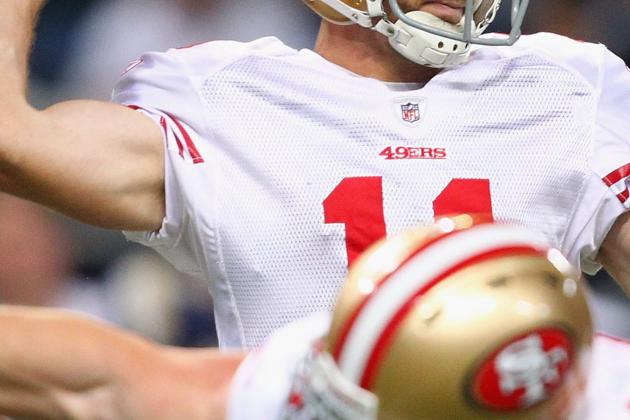 Dilip Vishwanat/Getty Images

If the Saints had beaten the lowly Rams this season, then they would have home-field advantage, and I would take the Saints in a rout. Since the game is being played in San Francisco, on grass, I'm taking the Niners.
With the Niners stopping the run, pressuring Drew Brees and picking him off twice, that is going to give them a chance to hang around. I see the Niners holding the Saints to 21 points or less.
That gives Alex Smith a chance.
The Niners are going to have to pound the run with Frank Gore, but in order to win this game, Alex Smith is going to have to put together a couple of good drives and throw at least one touchdown pass. Can he do that? Can he carry the Niners to the NFC Championship Game?
I think he can, and I think he will.
NINERS 23, SAINTS 20.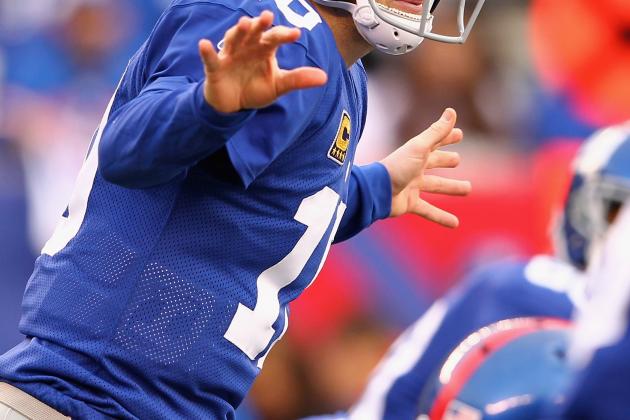 Al Bello/Getty Images

Eli Manning gets to pass the ball against the Packers defense, which isn't very good. Eli Manning has a great running game behind him. And Eli Manning is getting pretty darn good protection to throw the football right now.
Compare all of that to Aaron Rodgers' situation right now.
True, Rodgers has the best set of receivers in the NFL to throw the football to. Also, Rodgers is the best quarterback alive right now. I get all that.
But Rodgers is going up against a good Giants pass rush that is going to be in his face all day. The Packers' O-line is not an elite unit, which is going to force Rodgers to have to make a lot of plays on the run, something he does very well.
Having said all that, we all remember what the Giants' pass rush did to Tom Brady at the height of his powers, right? Well, that Patriots O-line was twice as good as the Packers' is.
Add it all up, and Eli Manning is going to throw for more yards and have a better game than Aaron Rodgers.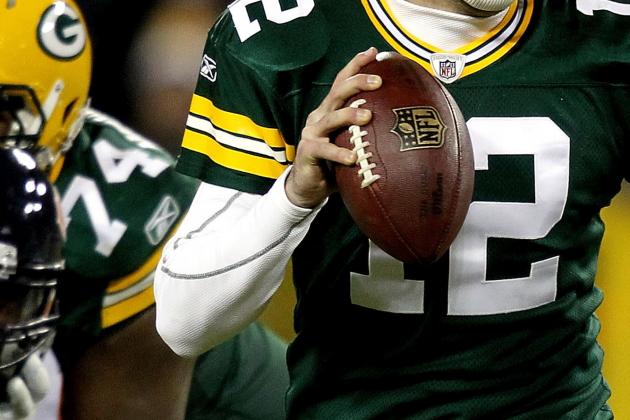 Matthew Stockman/Getty Images

The Giants are going to run the ball down Green Bay's throat. The Packers' D can't stop the run, and they won't stop Eli Manning and the Giants' passing game. Add it all up, and the Giants are going to control time of possession in this game.
That is the best way to contain Aaron Rodgers and the Packers' prolific offense.
At some point early in the game—maybe as early as the second quarter—the Packers are going to be forced to abandon the running game to keep up with the Giants. When this happens, the Giants' pass rush will tee off on Rodgers.
The Giants won't stop the Packers—they won't shut them down—but if they can even give the Pack attack a hiccup, then the Giants will have every opportunity to win this football game.
The Packers' offense has bailed this team out several times this year, most notably against New Orleans (42-34 final score), San Diego (45-38 final score), Tampa Bay (35-26 final score) and these same New York Giants (38-35 final score).
That is my point. If the Giants can control time of possession with the running game (they will), and put enough pressure on the Packers so that they won't go crazy and score 40-plus points (they will), then they are going to have every chance to win this game!
At that point, it's going to come down to Eli Manning. Can he lead this Giants' team to a victory at Lambeau Field, in the cold, with all those fans screaming, in the playoffs?
He's done if before. This weekend, Manning will do it again.
GIANTS 34, GREEN BAY 31.
Raise your hand if you had "Niners hosting the Giants in the NFC Championship Game" before the season started. Nobody? Me neither! Thanks for reading.