Los Angeles Lakers: Is the Team Buying into Mike Brown's Defensive System?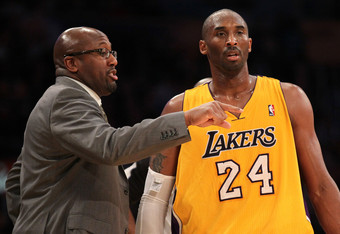 Stephen Dunn/Getty Images
Have the Los Angeles Lakers bought into Mike Brown's blue-collar, roll-up-your-sleeves defensive schemes yet? And, if so, do they have the necessary talent to really exploit it against the top-tier teams in the league.
The answer? Your guess is as good as mine.
From all accounts, this team has bought into the system Brown brought with him when the team unexpectedly named him head coach last June. Brown is all about defense and, in reality, defense does win championships.
Heading into Sunday night's game against Memphis (another sloppy victory with an incredible 27 turnovers), the Lakers as a team were allowing the opposition 91.7 points per game, a nice improvement over 95.4 from a year ago. Those nine opponents shot a collective 42 percent, a slight improvement over the 44 percent the Lakers allowed in 2011-12.
With just under 14 percent of the season in the books, the Lakers are also rebounding better, hauling in 46 per game versus 44 last year. The opposition averages 39 boards against Los Angeles, down from 41.5 a year ago.
So why are the Lakers just 6-4? There are a number of factors to consider, including the team's inability to stop other teams in transition and an offense that often appears out of sync and clumsy.
The Lakers could just as easily have been 8-2 as 6-4. Their brilliant second-half play against the Chicago Bulls on Christmas day brought them way back and into a seven-point lead with just a couple of minutes remaining. Chicago was just 5-of-24 shooting the first eight minutes of that second half as the Lakers defense rose to the occasion.
Are the Lakers a Better Defensive Team Under Mike Brown?
But, as has been the case so far, the team managed to break down in other areas. The Lakers did not make clutch plays or convert free throws down the stretch when they mattered most. Four missed attempts at the charity stripe, a couple of turnovers and a blocked shot on Kobe Bryant in the final seconds proved their undoing.
The problem isn't so much that the Lakers are not buying into the Brown defensive philosophy. Quite the contrary—Andrew Bynum has been a beast on the boards, while Bryant, Derek Fisher, Matt Barnes, Josh McRoberts and even Pau Gasol to a degree have stepped up their play on defense. Barnes has been stellar defensively the past couple of games, and his play Sunday was the difference-maker against Memphis.
No, the problem seems to be that this team still lacks a strong point guard who can play and stay with the lightning-quick young PGs in the league such as Derrick Rose, Raymond Felton, Chris Paul, Monta Ellis, Tyreke Evans and others. I don't care how nice a stroke Steve Blake has—he makes too many bad passes, does not defend that well and does not possess the ability to penetrate to the basket and draw fouls.
The Lakers are also missing a lot on offense, having said goodbye in the offseason to both Shannon Brown and Lamar Odom; the two combined to score 23.1 point per game, with Odom also taking in close to nine rebounds on average.
The Lakers of 2011-12 seem like a playoff contender with little hope of winning a championship. They are, for the most part, playing better defensively and relishing the role of blue-collar, lunch-pail players who have bought into their enthusiastic coach's philosophy.
But they don't seem strong enough to challenge the elite teams, as witnessed by their defeat at the hands of Portland last week. The Trail Blazers exploited the Lakers' lack of transitional defense, which was often caused by poor outside shooting. The Lakers are an abysmal 23 percent from three-point range this season with Blake hovering at just under 32 percent.
Harry How/Getty Images
"We've got to be able to put the ball in the basket," Bryant told Stephen Alexander of the Portland Tribune following the team's loss at the Rose Garden last week. "As many players as we have that command double-teams, myself and Andrew (Bynum) and Pau (Gasol), we've got to be able to knock those shots down."
Kobe Bryant will get his points—he had 27.8 points per game prior to the Memphis game on 44 percent shooting and six assists. He scored 26 with nine assists Sunday night in the Lakers victory.
But he needs to do a much better job from beyond the arc (just 20 percent thus far) and defending. He has coughed up the ball and leads the team with more four turnovers per game.
As Matt Barnes said Friday night after Los Angeles beat Golden State: "We're a work in progress."
That is an understatement. There definitely is an emphasis on strong defense this year and the Lakers will grind out their share of wins because of it. Showtime has given way to the Lunch Bucket Brigade.
But I, for one, still think roster changes are still in the cards for the Lakers.
This article is
What is the duplicate article?
Why is this article offensive?
Where is this article plagiarized from?
Why is this article poorly edited?

Los Angeles Lakers: Like this team?