Minnesota Golden Gophers: Its Time for Tubby Smith to Go
January 9, 2012
Andy Lyons/Getty Images
It is generally said that when a new coach takes over a college program, he should be given at least three or four years to bring in "his" players and develop his system before issuing a full judgement on that coach's abilities.
Now, almost five years into his tenure with the Minnesota Golden Gophers, I am ready to pass my judgement on Men's Basketball Coach Tubby Smith.
He needs to go.
When the rumors started floating around in 2007 that legendary, championship-winning coach Tubby Smith was considering coaching the Gophers, I was ecstatic. After the debacle of Don Monson's coaching tenure, a legend like Smith was exactly what this program needed to become relevant again.
I was sorely mistaken.
After Sunday's loss to the Purdue Boilermakers, the Gophers are now 0-4 in Big Ten play. Against the Boilermakers, the team never even looked capable of putting up a fight—going down 15 at halftime and never getting closer than eleven points in the second half.
This followed a loss to the ever-hapless Iowa Hawkeyes at home, and two losses to Michigan and Illinois. Clearly this team is unable to finish in the clutch.
Each year has been the same story for this program. An exciting early season, beating up on "Directional State" type schools and a couple bad major conference teams and then going nowhere once the big boys of the Big Ten start rolling around. So far in Smith's tenure with the Gophers, the team has gone 32-44 in Big Ten play.
He has not won an NCAA Tournament game either. That is simply not acceptable with the expectations made when he was hired.
The complaints with Smith have been the same since he won the NCAA Championship with Kentucky in 1998. The offense he runs is unremarkable and has no flow to it. The Gophers have averaged under 70 points per game under Smith. Last year he forced a pure shooting guard in Blake Hoffarber to awkwardly try and run the point for the first time in his life. Smith's substitution patterns baffle and surprise opponents, but not in a good way.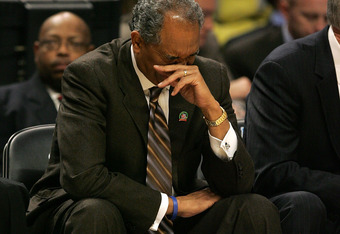 Jonathan Daniel/Getty Images
For a coach that generally relies on good defense to win games, the Gophers have consistently struggled to defend the perimeter. In the last game against Purdue, the Boilermakers shot ten-of-twelve from three in the first half. That is sadly not an uncommon performance against the Gophers.
Additionally, Smith has failed to recruit any star players, and has struggled to develop the players he has gotten. For a coach with a championship under his belt and coaching at a Big Ten school, Smith should be able to recruit a top class every year.
In his first two seasons, he was able to bring in two top-25 ranked groups, however he was not able to develop the players from the first class. The jewel of his second class, Royce White, never played a game for the Gophers, which brings us to another problem.
Smith has been unable to keep control of his players. From Royce White's announcement on YouTube and via Kare 11 that he was quitting basketball (YouTube video since removed), or Devoe Joseph leaving the team after eight games last year, Smith has not been able to maintain control over his locker room.
This could have something to do with my next point.
Every offseason, there are multiple rumors of Smith leaving the Gophers to take over another program. Rumors of Smith heading to Georgia, Georgia Tech, Maryland, Arkansas and Oregon—among others—make it difficult for recruits to commit to him, and makes it difficult for current players to trust him. If Smith truly was not interested in these teams, then he should immediately squash the rumors like a good coach would. Instead, he states that he would listen to any offer if they called.
Mind you, the University of Minnesota paid Smith about $1.8M last season, according to Joel Maturi via Minnesota Public Radio. That is a salary higher than Wisconsin's Bo Ryan, North Carolina's Roy Williams, Illinois' Bruce Weber and Purdue's Matt Painter.
The Gopher program is no better now than it was in Smith's first year with the team.
In five years, Smith has failed to post a better than .500 record in conference play or to win a single NCAA Tournament game. At this point in the season, it will take a miracle for either of those things to change.
Smith has been given ample opportunity to turn this program into something that hasn't been seen in Minnesota since the 1997 Final Four run (that was stricken from the official records). Instead, he has done nothing more than middle around the bottom half of the Big Ten and earn a large paycheck.