Alabama vs. LSU: 'Bama Kicker Cade Foster Will Be X-Factor in BCS Title Game
January 9, 2012
Kevin C. Cox/Getty Images
Alabama's success in the 2012 BCS Championship Game is dependent on the right leg of sophomore kicker Cade Foster.
That isn't exactly encouraging for Tide fans, considering Foster made just one of his four tries in Alabama's first matchup with LSU this season. He hasn't fared much better during the rest of the year, missing seven of his nine total attempts.
Granted, he has a pretty tough job—most NFL kickers would have missed the 52-yarder in overtime against LSU.
However, that won't lessen the criticism he'll face if he comes up short again.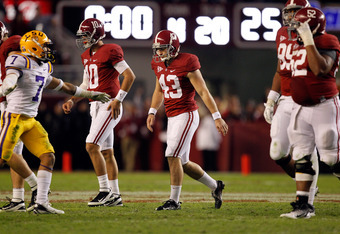 Streeter Lecka/Getty Images
Both teams have good running games, decent quarterbacks and elite defenses. Unfortunately, that means this one will come down to the kickers.
Field goal kicking is the kryptonite of college football's best teams. Boise State, Oklahoma State and Oregon all had their hearts broken by missed field goals in the regular season. Ditto for Stanford, Georgia and Virginia Tech this bowl season.
If Foster doesn't step up tonight, Alabama will be added to that list.
Jeremy Shelley, the Tide's short field goal kicker, has been solid this season. However, it's unlikely that Alabama's offense will even be able to get inside his range.
The Tide will struggle will field position all day long, and that means that they're going to need Foster to make a couple deep kicks.
If he doesn't, they will fall to LSU for the second time this season.