Year No. 2 of the Tim Tebow Era....Flames out
January 17, 2012

Jeff Gross/Getty Images
Tebowmania is over for now and it was one hell of a ride.
Let's forget about his religious faith for a second. No matter what team you root for, you have to admit it was fun to watch him lead the Broncos to numerous fourth quarter comebacks. 
2012 is the year Tebow needs to either poop or get off the pot.  The question about whether or not he can be a successful NFL quarterback is still up in the air. Will he ever surgically dissect a defense the way Tom Brady/Aaron Rodgers/Drew Brees can? I don't think so. Can Tim Tebow be an unorthodox but effective quarterback that can scramble for yards, make high percentage passes, score points and wins games? Absolutely 
It's tempting to write Tebow off after he was humiliated by the Patriots, but we can't do that just yet. The number one reason why you can't declare him a misfire is because the sample size isn't big enough. In two years he's gone 8-6 as a starter with a 75.1 QB rating, which is about where a young signal caller should be. Keep in mind that Tebow hasn't even played a full season's worth of games. If you want an idea of where he is as a passer let's look at the quarterback ratings of Tebow's peers. 
1. Sam Bradford 76.5
2. Mark Sanchez 63.0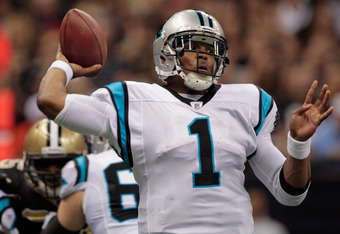 Chris Graythen/Getty Images
3. Matthew Stafford 61.0
4. Josh Freeman 59.8
5. Cam Newton 84.5  
6. Christian Ponder 70.1
7. Joe Flacco 80.3
8. Blaine Gabbert 65.4
The old cliche of "the NFL is a passing league" is annoying but true. If you don't have a quarterback that can consistently make plays from the pocket you're not going to win many games. When you try to asses just how Tebow will look in the future you can see a fork in the road. Here are the two realistic scenarios I think could happen.
1. Tebow's career ends up a lot like Kordell Stewart's. Like Tebow, "Slash" Stewart was a successful college quarterback with amazing scrambling skills.  He didn't play much his first two years but was moderately successful in '97. In 16 games he went 11-5 as a starter with 440 attempts 236 completions 53.6% 3,020 yards 21 TD 17 INT and a 75.2 QB rating.  His rushing numbers were pretty good; 88 attempts 476 yards 5.4 yards per attempt and 11 TD.
Unfortunately Slash was never really able to build on his '97 season. Yancey Thigpen left in free agency while his offensive line kept getting hurt. Bill Cowher was a great coach, but not even he could turn Slash into a pocket passer. Kordell struggled in '98, '99 and 2000. Mike Mularkey did a fine job with him in 2001 (442 attempts, 266 completions, 60.2% 3,109 yards 14 TD 11 INT 537 rushing yards and 5 TD) but the next year he was benched in favor of Tommy Maddox.  Pittsburgh released him and he wasn't very good in Chicago or Baltimore.  He was out of football by 2006.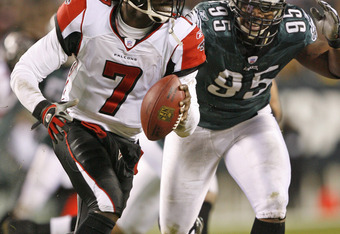 Hunter Martin/Getty Images
2. Tebow's career is kind of like Michael Vick's. Both quarterbacks are athletic lefties that show a mobile quarterback is both a blessing and a curse.  The great thing is that you have a dual threat that can salvage a broken play with a long run or buy time to allow his receivers to get open. The curse is that they leave themselves vulnerable to extra hits and compromise their ability to stay healthy. Michael Vick has only played a full 16 game season once in his NFL career. Tebow has to slide more and run out of bounds to preserve his body. His 2011 rushing numbers were stellar (122 carries 660 yards 5.4 yards per carry and 6 TD) but he won't be able to repeat those numbers with all the extra hits he took. Michael Vick was never that accurate (only 53.8 percent of his passed were completed) in Atlanta but won a lot of games. In six years he was 38-28-1 as a starter and led the Falcons to the conference championship game in 2004. 
Tebow's physical skills, makeup and competitive fire are off the charts so I'm thinking he ends up more like Vick than Kordell Stewart. 
We'll see!