25 Stars Whose NFL Draft Stock Skyrocketed After Incredible Bowl Performance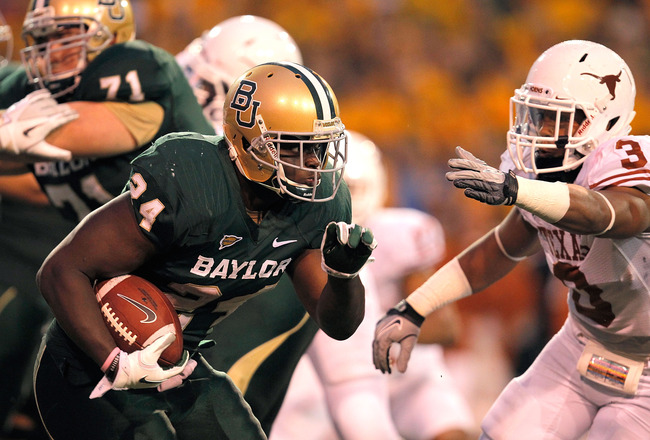 Sarah Glenn/Getty Images
If you had never heard of Terrance Ganaway before the Valero Alamo Bowl, I'll bet you do now.
That's of course if you stayed up late into the night to watch him.
A great bowl performance can make any player gain more name recognition. But can it help a player improve his draft stock?
Well, an impressive game certainly can't hurt.
Here are 25 players who definitely improved their standing going into the draft.
Justin Blackmon, Oklahoma State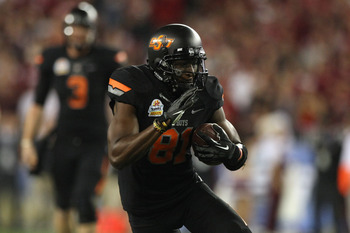 Donald Miralle/Getty Images
It's not like Justin Blackmon needed a big game, as he's a sure-fire first-rounder and more than likely the top wide receiver.
But if a GM or coach didn't believe Blackmon can be a game changer, then his performance in the Fiesta Bowl sent a clear message of what he can bring to a team.
When Oklahoma State needed someone to make a play after falling behind Stanford 14-0, Blackmon tried to fire his teammates up on the sideline.
Then, he went back onto the field and caught a short pass and raced 43 yards for a touchdown. On the very next possession, he caught another Brandon Weeden pass and cruised past the Cardinal defenders for a 67-yard score.
Just like that, the game was tied at 14.
He added another 17-yard touchdown to complete the trifecta. He also had 186 receiving yards.
Bernard Pierce, Temple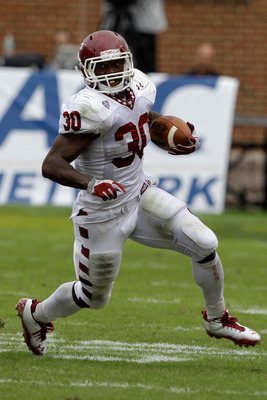 Rob Carr/Getty Images
Bernard Pierce had a great career at Temple, but always seemed to miss a game each year because he was banged up a bit.
That's probably why he came out early, since he carries the ball a lot for the Owls and takes a lot of hits.
He has been considered a third- or fourth-round pick.
Pierce closed his career with 100 yards and two touchdowns on 25 carries in a 37-15 victory over Wyoming in the Gildan New Mexico Bowl.
He scored Temple's first two touchdowns and showed off his speed and strength.
Ryan Lindley, San Diego State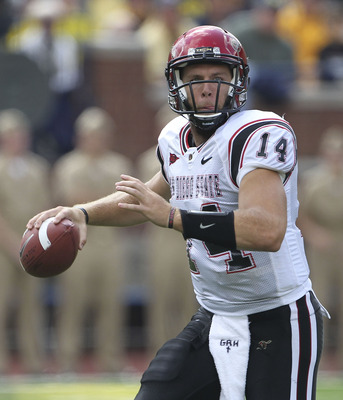 Leon Halip/Getty Images
Ryan Lindley was one of those preseason dark horse Heisman guys.
Then San Diego State didn't pull the upset at Michigan, and the Aztecs struggled in the Mountain West more than last season.
Still, Lindley had a nice season, and the scouts didn't forget about him.
While San Diego State lost to Louisiana-Lafayette, 32-30, in the R+L Carriers New Orleans Bowl, Lindley did his best to rally the Aztecs.
Lindley threw three second-half touchdowns as the Aztecs scored 27 points.
He finished 28-of-49 for 413 yards and no interceptions.
Doug Martin, Boise State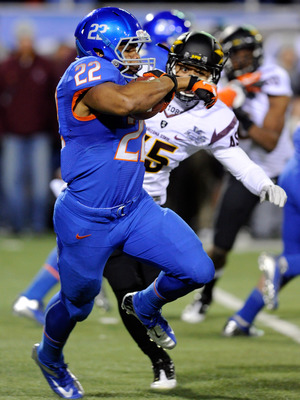 Ethan Miller/Getty Images
When you talk Boise State, you have to talk about Kellen Moore.
But running back Doug Martin should never be overlooked.
If you blinked at the beginning of the Maaco Las Vegas Bowl, then you missed Martin take the opening kick off 100 yards for a quick 6-0 lead.
Martin also added 151 yards on 31 carries and a touchdown.
He is a three-year starter, but his showing against Arizona State might push him from the third round to the second.
Chris Polk, Washington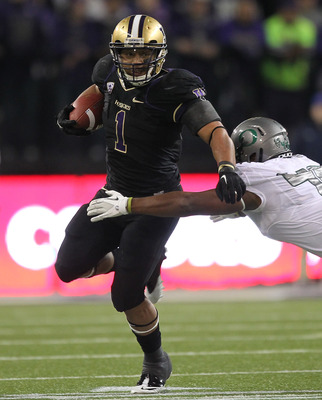 Otto Greule Jr/Getty Images
Washington lost a shootout to Baylor in the Valero Alamo Bowl, but it wasn't Chris Polk's fault.
His performance probably convinced him he needed to leave Washington early.
Polk, who had a nice career, finished the night with 147 yards and one touchdown on 30 carries.
He finished the season with 1,488 yards behind an average offensive line.
Polk may slip into the bottom of the first round with a good showing at the combine.
Kendall Wright, Baylor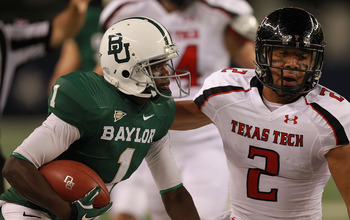 Ronald Martinez/Getty Images
Well, Baylor won the crazy Valero Alamo Bowl, and receiver Kendall Wright played a big hand in the outcome.
Wright should go in the first round, but his performance against Washington (and all season) might be enough for a team to trade up to get him.
Wright grabbed seven receptions for 91 yards and a touchdown.
Mohamed Sanu, Rutgers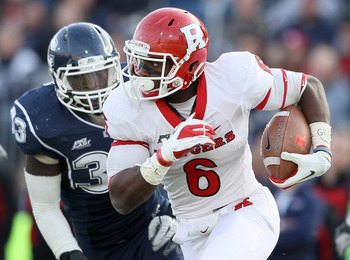 Elsa/Getty Images
Mohamed Sanu didn't have much more to prove at Rutgers, especially after pulling in 115 receptions for 1,206 yards.
Sanu didn't have any touchdowns in a 27-13 victory over Iowa State in the New Era Pinstripe Bowl.
But he did pull in six catches for 62 yards.
It's not a real explosive performance, but watching Sanu catch, run and block is why he should be a late first-round pick.
Vick Ballard, Mississippi State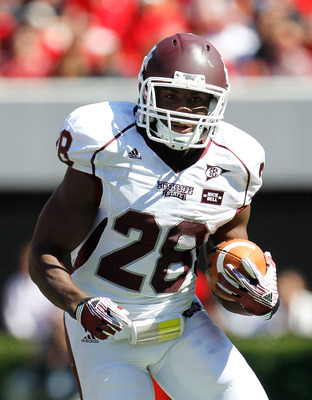 Kevin C. Cox/Getty Images
Mississippi State's 2011 season was a huge disappointment, and running back Vick Ballard's solid senior season went unnoticed.
Ballard definitely opened some eyes with his performance in the Franklin American Mortgage Music City Bowl.
He scored on runs of 60 and 72, which accounted for most of his 180 rushing yards in the Bulldogs' 23-17 victory over Wake Forest.
It will be interesting to see if Ballard can move from a projected fifth rounder.
Travis Lewis, Oklahoma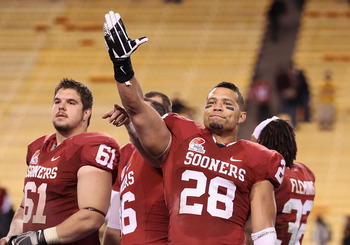 Christian Petersen/Getty Images
Travis Lewis could have left for the NFL after last season, but the star linebacker wanted one more shot at a BCS National Championship.
It didn't go as he planned, but Lewis still had another outstanding year.
Lewis had a solid performance against Iowa in the Insight Bowl.
He had five tackles and one sack as the Sooners dominated the Hawkeyes, 31-14.
Jeff Fuller, Texas A&M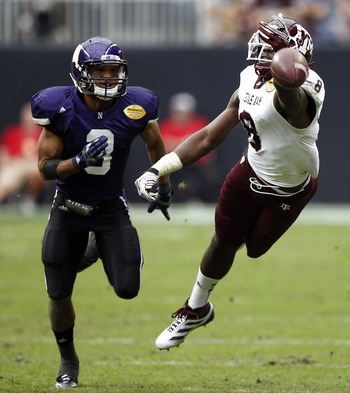 Bob Levey/Getty Images
Jeff Fuller's draft stock has dropped this season since he didn't have a productive final year at Texas A&M.
He still caught 70 passes, but he wasn't the deep threat that NFL teams were hoping he would be.
Fuller did show off some of his promise in the Aggies' 33-22 victory over Northwestern in the Meineke Car Care Bowl of Texas.
He grabbed seven receptions for 119 yards and one touchdown—a 26-yarder from Ryan Tannehill.
Maybe Fuller still has the skills to be a decent NFL flanker.
Whitney Mercilus, Illinois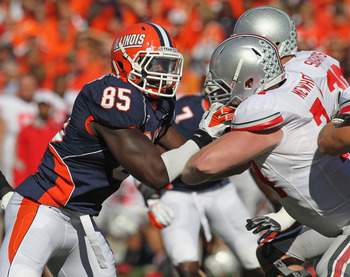 Jonathan Daniel/Getty Images
It was not a shock when Illinois' Whitney Mercilus announced he would be leaving early for the NFL.
While he had not had much of an impact until this season, he showed off some exceptional skills this fall.
If any NFL team doubted his ability, Mercilus put on a good showing against UCLA in the Kraft Fight Hunger Bowl.
He finished with five tackles, 1.5 sacks and three tackles for a loss.
That ability to make plays behind the line of scrimmage are what will likely make Mercilus a first-round pick in April.
Case Keenum, Houston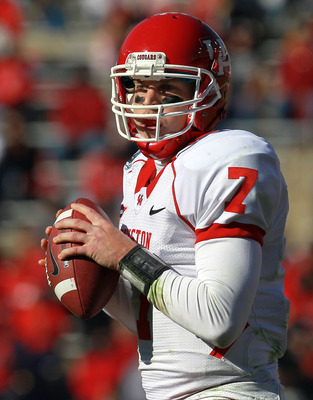 Ronald Martinez/Getty Images
It's not like Case Keenum didn't already have an unbelievable season, and for that matter, one crazy career at Houston.
But Keenum didn't want his career to end with back-to-back losses.
So he rebounded from a sub-par performance in the Conference USA Championship to shred Penn State's defense for 532 yards and three touchdowns in the Cougars' 30-14 win in the TicketCity Bowl.
Kirk Cousins, Michigan State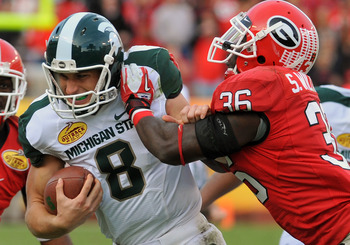 Al Messerschmidt/Getty Images
Kirk Cousins may have thrown three interceptions against Georgia, but he showed his leadership skills as Michigan State rallied for a 33-30 win in overtime.
This was after the Spartans were held scoreless in the first half.
His lone touchdown pass in the game came with 8:22 remaining to give MSU its first lead 20-19. Cousins also threw for 300 yards.
Cousins had a great career in East Lansing, Mich., so this was a sweet way to close out his Michigan State career.
Alshon Jeffery, South Carolina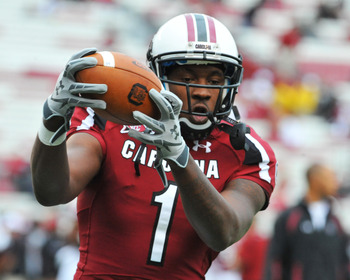 Al Messerschmidt/Getty Images
South Carolina receiver Alshon Jeffery didn't even make it to the fourth quarter of the Capital One Bowl, but he was still voted the game's MVP.
Jeffery is already one of the top receivers in this year's draft, but a big game can't hurt.
He delivered four catches for 148 yards and a touchdown on a 51-yard Hail Mary as the first half expired.
Jeffery also proved to be too much for Nebraska's Alfonzo Dennard.
Russell Wilson, Wisconsin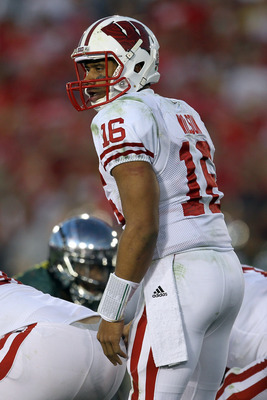 Stephen Dunn/Getty Images
Wisconsin quarterback and former minor league baseball player Russell Wilson has decided he's going to make football his career.
Wilson had a year to remember during his one season in Madison, Wis.
Despite losing to Oregon in the Rose Bowl, Wilson did everything he could to deliver a win.
He completed 19-of-25 passes for 296 yards and two touchdowns. He also rushed for one touchdown.
LaMichael James, Oregon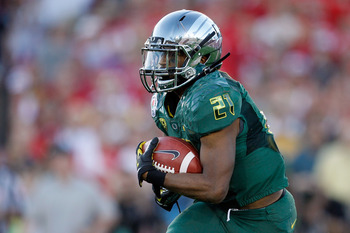 Jeff Gross/Getty Images
Oregon's LaMichael James is leaving early despite projections that he'll likely be a third-round pick.
Despite being a smallish back, James showed in the Rose Bowl against Wisconsin's big defense that he can carry the ball 25 times.
He finished with 159 rushing yards and a touchdown in Oregon's 45-38 victory.
He could be a serious steal for the team that gets him in the mid rounds.
Robert Griffin III, Baylor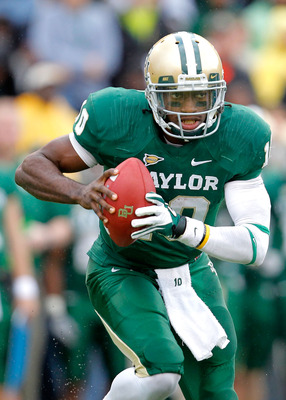 Sarah Glenn/Getty Images
Robert Griffin III hasn't announced his intentions yet, but since he's projected by many to be the second quarterback taken, he has likely played his last game at Baylor.
What an exciting final game it was.
Griffin displayed his athletic prowess by throwing and running against Washington in the Valero Alamo Bowl.
The Heisman Trophy winner completed 24-of-33 passes for 295 yards and one touchdown. That was actually a pretty tame night for Griffin.
He also rushed for 55 yards and a score.
After Andrew Luck goes No. 1 overall, it will be interesting to see if a team like the Redskins or Dolphins trade up to get Griffin.
Brandon Weeden, Oklahoma State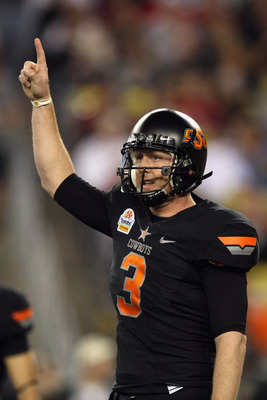 Donald Miralle/Getty Images
Brandon Weeden is not your typical senior quarterback since he's already 28 years old.
He's sort of in the Chris Weinke mold.
But that's OK. Weeden will likely make for a strong back-up for about five years in the NFL.
If he can play at the level he did in the Fiesta Bowl, Weeden might actually get a shot at starting in the NFL one day.
His strong right arm helped the Cowboys knock off Stanford in overtime.
Weeden finished with 399 passing yards and three touchdowns.
Patrick Edwards, Houston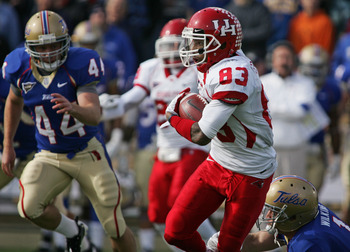 Brett Deering/Getty Images
Many football fans' lone memory of Houston receiver Patrick Edwards is when he was injured at Marshall.
But Edwards is a legitimate NFL receiver.
He has benefited from Houston's pass-happy offense, but he still delivered a great performance in the TicketCity Bowl.
Penn State's defense didn't have an answer for Edwards, who caught 10 passes for 228 yards and two touchdowns.
His TD catches came on plays of 40 and 75 yards.
Bruce Irvin, West Virginia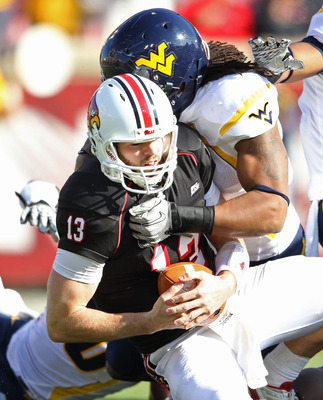 Andy Lyons/Getty Images
West Virginia's Bruce Irvin became a folk hero for Mountaineer fans because of his great tweets and his ability to rush the quarterback.
Irvin saw a lot of double teams this fall, and that cut down on his sacks, but in the Discover Orange Bowl, he made his presence felt.
While the offense got all of the credit for the 70-33 win over Clemson, Irvin and the defense made an impact as well.
Irvin recorded a sack and two tackles, but he also forced a critical fumble when tackling quarterback Tajh Boyd.
The Mountaineer offense responded by scoring a touchdown right before half.
Jarius Wright, Arkansas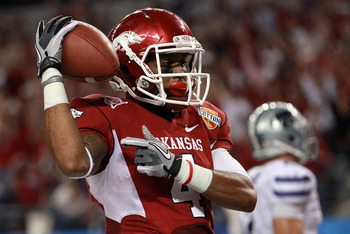 Ronald Martinez/Getty Images
Jarius Wright was one of Arkansas' slew of outstanding receivers this season.
With Greg Childs, Joe Adams and Cobi Hamilton, it's easy to get overlooked at times during games.
Wright had just three receptions in the Razorbacks' 29-16 victory over Kansas State in the Cotton Bowl.
But he made those three catches count.
He totaled 88 yards and one touchdown.
Trent Richardson, Alabama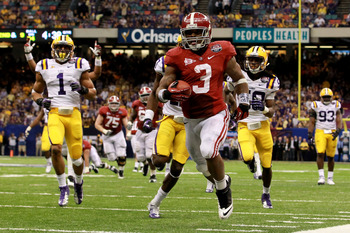 Ronald Martinez/Getty Images
Trent Richardson is already considered a top-five pick in the upcoming NFL draft.
Against LSU's stingy defense in the BCS National Championship, Richardson was bottled up for most of the game.
However, he made a few runs really count, including a late 34-yard touchdown that sealed the 21-0 victory for the Crimson Tide.
Richardson and Eddie Lacy split time at running back, but by doing so, Richardson remained fresh the entire game.
Richardson will make a strong No. 1 back for whatever NFL team drafts him.
Chandler Harnish, Northern Illinois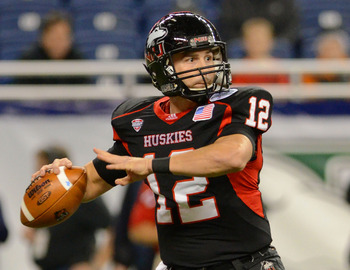 Mark A. Cunningham/Getty Images
After falling behind 13-0 to Arkansas State in the GodDaddy.com Bowl, Northern Illinois' quarterback Chandler Harnish led the Huskies on a nice comeback.
Harnish, who finished the year with 3,216 passing yards and 28 touchdowns, finished the game 18-of-36 for 274 yards.
He also completed two touchdown passes, including a 43-yarder to Martel Moore to give NIU a 28-13 lead.
Harnish will try to improve his draft status by playing in the annual East-West Shrine Game on Jan. 21.
Nick Gentry, Alabama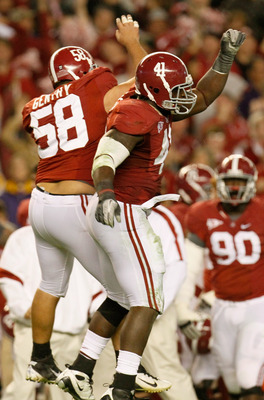 Kevin C. Cox/Getty Images
Nick Gentry, a senior defensive lineman for Alabama, is not one of the first names that comes up when discussing the Crimson Tide.
But the 6'1", 284-pounder kept blowing up plays against LSU in the BCS National Championship game.
When he wasn't stopping Spencer Ware short of a first down or knocking down Jordan Jefferson, Gentry was jawing a little at the LSU linemen.
Gentry showed up to play for Alabama.
Terrance Ganaway, Baylor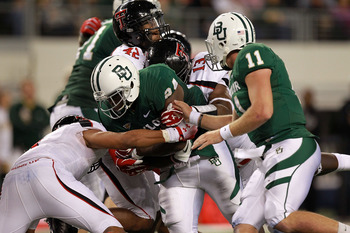 Ronald Martinez/Getty Images
I have already included three other players from the Valero Alamo Bowl, but no one was more impressive than Baylor running back Terrance Ganaway.
Ganaway rushed for 200 yards on 21 carries.
But more impressive was his five touchdowns on runs of 89, 43, 4, 1 and 1.
His last two TD runs put Baylor up and then iced the game.
Ganaway's stock has to be on the rise after that performance.
Keep Reading