Broncos vs Steelers: Tim Tebow, Unleashed!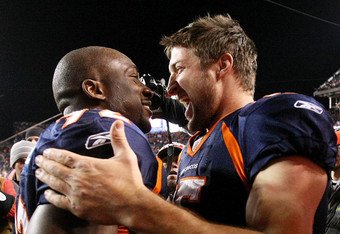 Jeff Gross/Getty Images
The game that Denver fans have been waiting for has finally happened. Tim Tebow has officially been unleashed in the most glorious fashion and on the biggest of stages, the NFL playoffs.
Tebow's completion percentage was nothing short of terrible, once again, but what's that number matter when you are completing monster passes and stressing the defense?
He completed 10-of-21 passes for—wait for it—316 yards, which is around 15 yards per attempt. That included his 80-yard touchdown strike to Demaryius Thomas on the first play in overtime to win the game.
The throw was placed right where it needed to be with a near-perfect spiral, allowing Thomas to catch it in full-stride. That's something Tebow supposedly can't do, right?
It was a performance that has cemented Tebow as the Broncos quarterback, and John Fox is the clear-cut choice to be his coach for years to come. He let Tebow be Tebow.
On a night in which the running game was grounded, with Willis McGahee managing only 3.2 yards per carry, Tebow was the guy that stepped up...with a "little" help from Thomas.
Sure, he struggled at times, but these were the Pittsburgh freakin' Steelers and that bushel of hair, Troy Polamalu. They are one of the best defenses the NFL has to offer, if not the best. Tebow wasn't even supposed to get a first down, let alone two touchdown passes and a big, fat "W".
The man Tebow owes his thanks to is none other than John Elway, who reportedly called for letting Tebow "pull the trigger".
Doug Pensinger/Getty Images
And pull the trigger he did, looking a lot like the perennial Heisman Trophy contender we remember from his days at Florida.
The playoffs are the place where the contenders are discerned from the pretenders, and the Pittsburgh Steelers are contenders. A solid, hard-fought victory over a contender makes the Denver Broncos just as worthy of the title.
Some are already waving the victory off due to injuries the Steelers dealt with, especially the wounded left ankle of quarterback Ben Roethlisberger, but Denver has had it's own share of injuries.
The Broncos have been without their top two running backs, Knowshon Moreno and Jeremiah Johnson, almost the entire season. That left a beat-down, worn-out, 30-year-old Willis McGahee to shoulder the load in an offense than ran on almost every play.
In addition to that, Denver lost its top receiver, Eric Decker, early in the game with an undisclosed knee injury. He suffered the injury when a Steelers defender plowed Decker's knee with his helmet, so one can only imagine how severe it was.
The bottom line is that the injuries were irrelevant. Both teams were missing players in key positions, but only one team had the depth to cover it.
To top it all off, some forget that a good portion of Denver's defense is a bunch of grey-beards. Cornerback Champ Bailey isn't the only guy that eclipsed the 30-year mark years ago.
How do you feel about Tebow being unleashed?
Both teams proved that they were worthy of being in the playoffs, but Tebow and his top receiver tonight, Demaryius Thomas (204 yards on only four catches), showed that they are, indeed, first-round draft quality, as well as NFL quality players.
Tebow and the Broncos are contenders. Any doubts that the season leading up to the playoffs was a "fluke" have been thoroughly squelched. Had they just beaten the Washinton Redskins, or the Colts, the critics might have an argument.
But Roethlisberger, Polamalu and the rest of the Pittsburgh Steelers?
The Broncos are still a million-to-one shot to win the Super Bowl, but they just beat the Steelers in the post-season, and Tebow played no small part.
A lot of people owe Skip Bayless (who was about the only guy that said Tebow could win games) an apology, and he has a big fat crow pie—feathers included—for them, as well as himself. He may have believed in Tebow all along, but he didn't think Denver had a chance tonight.
The critics' mouths will be too full of crow to say anything.
This article is
What is the duplicate article?
Why is this article offensive?
Where is this article plagiarized from?
Why is this article poorly edited?

Denver Broncos: Like this team?