Orlando Magic: Why Trading Brandon Bass for Glen Davis Was the Wrong Move
January 9, 2012
Mike Ehrmann/Getty Images
When Orlando Magic General Manager Otis Smith swung a deal to acquire the talents of former LSU Tiger Glen Davis in exchange for starting power forward Brandon Bass in a sign-and-trade, many fans were puzzled. 
Not only was Smith shelling out a four-year, $26 million cumbersome contract to an unproven big man, but many were wondering what Davis brought to the table that Bass didn't already possess. 
So far, it looks like extremely little. 
In the first eight Orlando Magic games, Davis has averaged a measly seven points and four rebounds per game. That is a considerable amount lower than last season's averages of nearly 12 points and five rebounds per game. 
Bass, on the other hand, is playing the role of consistent front-court contributor while averaging a career-high 13 points per game to go along with six rebounds per match.
Sure, "Big Baby" did put up a season-high 20 points on a fantastic 8-of-13 performance from the field versus the Sacramento Kings on Sunday, but Davis' start to his first season with the Magic can be summed up by one word: inefficient. 
Since being drafted in the second round of the 2007 NBA Draft, Davis' shot selection has been more than questionable. Even though the former Boston Celtic has a refined post-up game, the fifth-year veteran still insists on shooting his inconsistent mid-range jumper. With the Celtics, Davis averaged 10.3 shots off the bench, most of them coming from the outside.
This season has been no different, as Davis is averaging an extremely poor 32 percent from the field. 
Plus, it seems as if Davis is more interested in personal accolades than team achievements. A few months ago, the young power forward stressed his desire to make an All-Star team. Now that the big man has an increase in minutes, Davis is chucking up every shot in sight with hopes of earning that title.
But if there is one reason that this transaction was horrible for the Magic, it is the sad fact that the Magic lost a ton of athleticism, hustle and leadership with the absence of Bass. It is quite obvious Orlando lacks in the aforementioned areas, and substituting in Davis was definitely not the answer.
When Orlando added Davis to the roster, the Magic thought they obtained a player who could help crash the boards and do the "dirty work" with Howard. However, Davis has done the exact opposite and, instead, has been somewhat soft in the paint.  
Despite being a backup to one of the most hard-working, intense leaders in Kevin Garnett, Davis has shown little to none of the qualities that made KG one of the best power forwards of all time.
The Orlando Magic's Friday night game against the powerhouse Chicago Bulls was a perfect testament to Davis' lack of hustle and leadership.
Going into the matchup against the 6-1 Bulls, the Magic knew they would have to come out with energy, determination and efficiency if they were to come away with the win. However, Glen Davis and the Magic accomplished none of these goals.
First of all, Davis shot a terrible 25 percent in the game and allowed countless offensive rebounds to the likes of Joakim Noah, Carlos Boozer and Taj Gibson. In a league where rebounding is a necessity, giving up offensive rebounds is an absolute killer.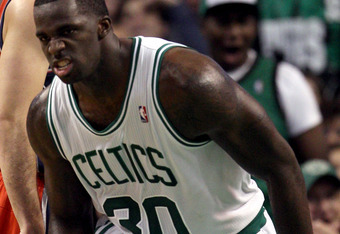 Elsa/Getty Images
However, the real kicker of the night came when All-NBA center Dwight Howard jokingly acted like he was reviving teammate Davis after he fell going for a loose ball. Even though it was quite funny, would other championship-caliber teams be all smiles if their teams were losing by five in the fourth quarter?
In the end, Glen Davis is only 26 years old and still contains some potential to grow into a star in Orlando. But with each passing game, Brandon Bass seems to weigh more and more on the minds of Magic fans.
Follow Hunter Konsens on his brand new Twitter account.