Pittsburgh Steelers: Outplayed and Outcoached in Playoff Loss to Denver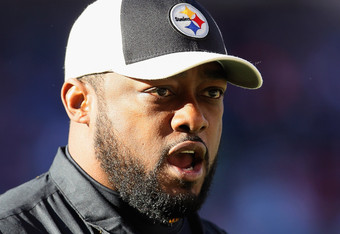 Mike Tomlin was clearly outcoached in Denver
Jeff Gross/Getty Images
The 2011 Pittsburgh Steelers are better than what they showed tonight, but a team cannot overcome a bad game and an overrated head coach.
Yes, I said it—Mike Tomlin is completely overrated, and I've felt this way since he blew the Jacksonville game in 2007.
Before we talk about Tomlin, let me get this off my chest—Ike Taylor should be cut immediately. Tonight wasn't his first poor performance on the big stage. This is the same cornerback who got torched for two fourth quarter touchdowns by Larry Fitzgerald in the Superbowl and gave up the big third down conversion to Green Bay wide receiver Greg Jennings in last year's Super Bowl.
I do understand that Ike Taylor is matched up against the elite talent from the other team, but when the chips are down, if you want to be considered a good player, you need to make the plays. Ike Taylor was repeatedly exploited—and it ultimately cost the Steelers the game.
The Steelers won't fire Mike Tomlin, and I don't think they should, mainly because the players love him and they play hard for him. Despite those facts, Mike Tomlin is another main reason why the Steelers lost tonight.
What was with the aggressive defensive game plan? Why were the Steelers loading the box with both safeties for most of the game? Yes, Dick LeBeau is the defensive coordinator, but Mike Tomlin is ultimately responsible for both coordinators.
While that helped slow down the Broncos, it ultimately allowed Denver to take great shots down the field, and Ike Taylor was unable to make a single play. The Steelers came into the game tonight with the No. 1 rush defense, so having both safeties in the box was overly excessive.
Bruce Arians has no clue how to call a game, and the Steelers ultimately lack an identity, especially in the red zone, where they blew numerous chances tonight and had to settle for field goals.
Didn't the Steelers learn from the second game against the Ravens? Don't throw the quick screen, because nothing good comes from it. Luckily for the Steelers, the Broncos weren't awarded the ball after quarterback Ben Roethlisberger threw a backwards pass to wide receiver Mike Wallace that was recovered by Denver.
Now, I have to be fair. The Broncos played a very good game and I'm not trying to take anything away from them, but the Steelers did have a lot of injuries to overcome.
Despite the injuries, the Steelers roared back in the final 15 minutes and had a chance to win, but Ike Taylor was left in single coverage and a 20-yard play went for 80. So while injuries were a part of the Steelers' problem, the play of the team and the schemes were less than desirable.
Where does that leave this team?
We're loaded at WR, even with the probable retirement of Hines Ward and the probable departure of Jerricho Cotchery. I absolutely love Mike Wallace, even though he disappeared in the second half and dropped that long pass from Roethlisberger.
The offensive line is terrible. I love Maurkice Pouncey and I really believe rookie Marcus Gilbert can be a solid player. Besides those two, the entire offensive line needs to be replaced.
The defensive line is another problem. Aaron Smith might try to comeback, but he's injury prone, so we can't expect a lot from him. Brett Keisel is good, but he's 33 and his best days are probably over. Casey Hampton is 34 and is no longer an elite nose tackle.
I do like Ziggy Hood, but the Steelers need more talent and depth on the line. First-round pick Cameron Heyward hasn't shown me enough to give him the benefit of the doubt yet.
At LB, James Harrison is 33, and between his injuries and ineffective play at times, the Steelers cannot assume he'll return to his dominant ways. Lamar Woodley is a special player, but his hamstring was a problem all year, including tonight.
I believe Lawrence Timmons is the second best inside linebacker, behind Patrick Willis. However, James Farrior is clearly on the decline, and we need an infusion of talent to play next to Timmons.
In the secondary, Keenan Lewis has really improved, but outside of him, I don't see a decent cover corner on the entire roster. Missing Ryan Clark hurt tonight—even though Ryan Mundy was good—but let's not forget, Clark is 32 and is do to drop off.
I'm a big Ben Roethlisberger fan, even though a lot of "experts" don't give him the credit he deserves. I don't know what Phil Simms was watching tonight, because he blamed Ben for the interception when it was clear that Heath Miller never turned around to see the ball.
The Steelers have talent, but it's mostly on the offensive side of the ball, and aside from a few players and without a better offensive line and better game plans, this team might not be a real contender next year.
This article is
What is the duplicate article?
Why is this article offensive?
Where is this article plagiarized from?
Why is this article poorly edited?

Pittsburgh Steelers: Like this team?