Boston Bruins: Alain Vigneault Should Be Fined For Brad Marchand Comments
January 9, 2012
Dale MacMillan/Getty Images
Just clear things with any Vancouver Canucks fans who click on this column, this author is fully expecting Brad Marchand to be barred from at least one or two games for his injurious hit on Sami Salo in Saturday's game. A lack of discipline would be inexplicable and unjustified for all parties concerned.
But just like an on-ice official or an off-ice disciplinarian, a responsible columnist must call it both ways. For that reason, it is time to rebuke Canucks' head coach Alain Vigneault for his out-of-line statement on Marchand, which warrants a financial penalty just as much as Marchand's actions call for a few nights in the TD Garden press box.
As quoted in the Vancouver Sun, Vigneault spoke of the Bruins' feisty forward in a manner that can only be described as dangerous.
"Marchand—and this is just my feeling—but someday he's going to get it. Someday, someone's going to say 'enough is enough' and they're going to hurt the kid because he plays to hurt players. And if the league doesn't care, somebody else will."
Hopefully, the league will care and this cyclonic thundercloud will thus rapidly taper off. Otherwise, even if Marchand does serve the time that his careless action calls for, Vigneault's comments could spawn an ugly firestorm in the near or later future.
Based on Vigneault's failure to hold his tongue this time around, it just might be him or one of his players someday saying "enough is enough," whether that be in reference to Marchand or to any other NHL player. Or maybe he will learn better by facing a fiscal consequence.
For the purposes of safety and the image of the sport, the NHL cannot afford to let incendiary comments like Vigneault's go unpunished. A precedent must be set for all competing personnel, whether they are wearing pads or suits, to keep their competitive spirit within respectful boundaries.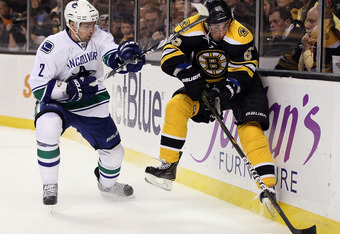 Elsa/Getty Images
It might not even be off-base to issue a slightly lighter fine to Bruins' head coach Claude Julien for his dubious allegation that Salo was "taking a run" at Marchand. Even if that has been a widespread problem in other incidents and is worth dissecting, Julien did not have to call out the victim in defense of the perpetrator.
But for Vigneault, never mind the fact that he borderline slandered Marchand in claiming that "he plays to hurt people." We can trust that those words were uttered in the heat of the moment and are far from true.
Marchand is a sturdy and skilled power forward who competes in an inherently fast and physical game. But when he is less than prudent when engaging an opponent, injuries are suddenly more likely. That is true of a vast majority of NHL players.
For everyone, and Canucks fans especially, what should really jut out is when Vigneault let the proclamation slip that somebody else is "going to hurt the kid."
That is not quite the same as when former Canuck Brad May said of Colorado Avalanche forward Steve Moore, "It's going to be fun when we get him." Vigneault's remarks do not reek of nearly the same level of malice aforethought.
Even so, different means can amount to comparable ends. And at the very least, it is a coach's responsibility to ensure that his team's thirst for retribution does not lead to the loss of livelihood and the premature end of a player's career.
That was certainly something that Vigneault's distant predecessor, Marc Crawford, failed to do behind the Vancouver bench when Todd Bertuzzi avenged Moore's concussive hit on Markus Naslund in the ugliest possible manner. And at best, Vigneault has unwittingly condoned the same overly bellicose atmosphere and philosophy that led to Moore's concussion and fractures in his upper vertebra.
Four current Canucks can bear witness to that unfortunate saga from 2004: Daniel Sedin, Henrik Sedin, Ryan Kesler and Salo himself. As such, those four have an obligation to step back, clear their heads and tell their current coach that, regardless of what he was trying to convey, his remarks on Marchand were precarious.
In fact, they, along with at least one NHL official, ought to tell Vigneault that he could end a player's career saying that. He just might know what they are talking about.
If there is any justice between the boards, Marchand will be disciplined by way of suspension for his physical recklessness. But if there is any justice in the NHL overall, Vigneault will also be disciplined by way of a fine for his verbal recklessness.
The former already resulted in an unnecessary injury. If handled correctly, the latter will be deterred from future occurrences and will fail to result in a more severe, more intentionally inflicted injury.