Alabama vs LSU: Tigers Deserve No Less Than a Split Title This Year
January 9, 2012
Kevin C. Cox/Getty Images
I've heard all of the reasons why Alabama should be the clear-cut national champion if they win on Monday night.
Those reasons are wrong. Unless Alabama absolutely smokes LSU, that is.
For one, I've heard people say that you win championships in January, not November.
Just ask Oklahoma State or Stanford if that is true. Each lost in November (Oklahoma State to Iowa State, Stanford to Oregon), and each was passed over for fellow one-loss team Alabama in the final BCS standings.
You see, in college football, a team's body of work counts far more than the result of one game, which is why Alabama surpassed the other one-loss teams in the country. Voters felt that they had compiled a more impressive body of work over the course of the season, especially after they only lost to the nation's top-ranked team by a field goal in overtime.
LSU didn't lose this year—there was no question they belonged—but Alabama's berth came at the hands of voters.
So if we consider a team's body of work when deciding who is worthy of being in the BCS National Championship game, why can't we consider a team's body of work when determining who the nation's top team is after that game?
Consider the following: If Alabama beats LSU, the two teams would have split their matchup this year. But LSU's resume also includes wins over nine top-25 teams, including the winner of the Rose Bowl (Oregon), Orange Bowl (West Virginia) and the Cotton Bowl (Arkansas).
Alabama would have three victories over top-25 teams: Penn State, Arkansas and LSU.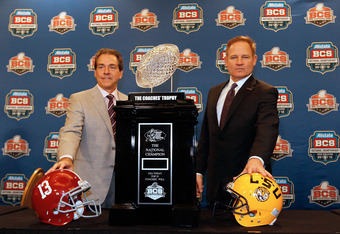 Kevin C. Cox/Getty Images
Of course, the coaches in the game see it as a winner-take-all, as they should. From ESPN:
"The opportunity to go play for the national championship is a completely different scenario" than a regular-season game, LSU coach Les Miles said after the game was set. "It's the same opponent. But it will be played with the title at stake."

Alabama coach Nick Saban dismissed the topic, pointing out several times that when the New York Giants lost to the Patriots during the 2007 season, then beat the New England in the Super Bowl, there was no question who was the champion.
Both make interesting points, but neither point should override the fact that voters are asked to consider a body of work when compiling their rankings for the entire season, then asked to throw them out after a championship game that could result in the two teams splitting the season series.
Even in a loss, LSU will have the more impressive resume; it's not even close. They will have beaten Alabama on their home field, while Alabama will have won on a neutral site. And don't go claiming that the game isn't on a neutral site just because it is in Louisiana—each school was allotted 17,000 tickets for the game.
The problem with Saban's point about the Giants is simple—the Giants had to survive the playoffs to get to the Super Bowl. Their championship berth wasn't left in the hands of voters.
If you were hired at a job due to your resume, you wouldn't expect to get a bonus after your first day of work over a coworker—one who had a better resume at the company than you—just because you outperformed them on your first day.
That would be absurd, right?
Well, that's what the BCS represents this year if Alabama is named sole champion in a win. And until we have a playoff in college football, a team like LSU deserves consideration for a split National Championship in a loss.
Though they could really make things easier on everyone if they just won.
Hit me up on the Twitter—it's the best way to spend the last year of existence.