Eric Maynor Will Miss Remainder of Season After Suffering Torn ACL
January 8, 2012
Ronald Martinez/Getty Images
The Oklahoma City Thunder's championship aspirations just took a hit.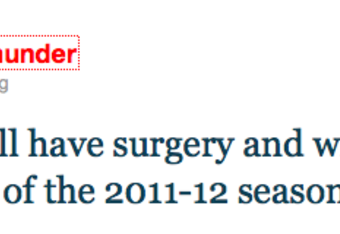 On Sunday, the team announced that backup point guard Eric Maynor would be out for the season with a torn right ACL. Sam Presti, the team's general manager, made the following statement in regard to the injury:
"It is unfortunate to lose a player like Eric, whose work ethic and leadership has contributed to the culture of our organization. Knowing him and the mental toughness he possesses, we are confident that he will do everything necessary to come back from this injury and be prepared for the 2012-13 season. Injuries are part of the NBA, and although it is tough to lose Eric, we must move forward and focus on our continued improvement as a basketball team."
Maynor averaged 4.8 points, 2.6 assists and 16.1 minutes in eight games this year.
Rookie Reggie Jackson will probably fulfill Maynor's role as backup point guard, and Thunder coach Scott Brooks said on Saturday that Jackson was ready to step in if needed:
"That is an old NBA saying," Brooks said. "You better be ready because you never know. And I don't know. I don't know how Eric's going to feel (Sunday). We'll see. But Reggie's been preparing himself. He's been working with (assistant coach Brian Keefe) every day, sometimes too long because he wants more.

Reggie is one of those guys who wants more. He's a sponge. And he'll be fine if that's what it calls for."
Hit me up on the Twitter—it's the best way to spend the last year of existence.