Post-All Star Games NFL Quarterback Prospect Rankings
Sarah Glenn/Getty Images

With reports surfacing a few weeks ago that the Colts will select Andrew Luck with the No. 1 overall selection in the 2012 NFL Draft, it seems almost pointless to bring up rankings which don't place Luck as the No. 1 prospect and No. 1 quarterback.
In fact, it's a huge battle within my mind as to whether Luck or Robert Griffin III is the best quarterback in this year's class.
Neither USC's Matt Barkley or Oklahoma's Landry Jones will be in play in these rankings due to their announcements to return for their senior seasons. These announcements weaken the quarterback class as a whole and adds some new players to the top-10.
Most believed this to be a predominantly top-heavy quarterback class, but the depth is there without a doubt. Interestingly enough, it could also cause players who may have been sixth or seventh-round selections to now be picked before the fifth.
Time will tell for sure, but these rankings, as always are going to be based on what I believe should happen, and not what is necessarily most likely to happen.
The bowl games and college all-star games do play an significant role in the rankings A player's ability to excel in trying circumstances should be weighed in an overall evaluation. So here it goes.
Begin Slideshow

»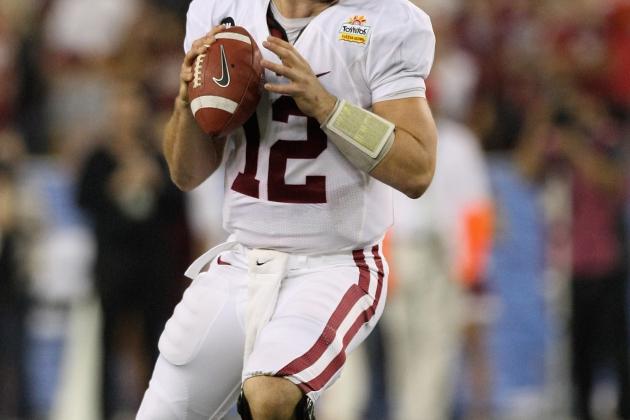 Donald Miralle/Getty Images

As much as I've dogged Luck this past season and tried to challenge his status as the No. 1 quarterback in this class, it's undeniable given the reports of Luck becoming a Colt that he is the guy.
Do I agree? Not necessarily, but there isn't much I can do about that. What I will say is that he is a tremendous fit for what the Colts are likely to do under Chuck Pagano and Bruce Arians—the new offensive coordinator.
Arians' offense will be a run heavy scheme with a lot of passes built off playaction and the deep throw. Luck does both those things very well. In fact, there is nothing Luck does better than playaction and throw the ball down the field.
With the Colts drafting Luck, look for them to search out a pounding running back sometime in this draft, or in free agency. That is what the Ravens did, and what the Steelers did. Gone is the spread/finesse of the Colts in the Manning era. In is the physical and powerful run heavy Colts.
Luck will succeed because this style of play is perfect for him. It is what he did so well at Stanford, and the natural progression may take place for him quicker than most quarterbacks.
Prediction: No. 1 Overall Selection and Opening Day Starter for Indianapolis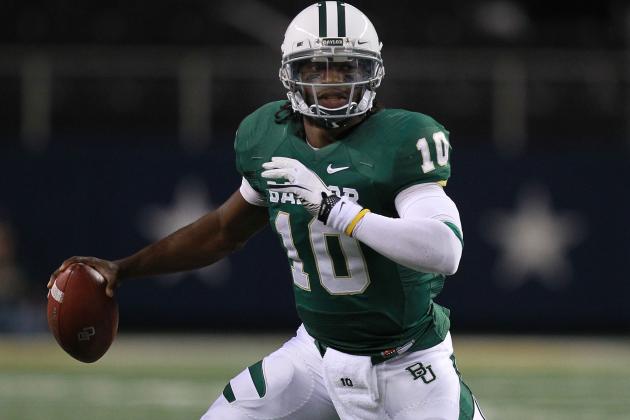 Ronald Martinez/Getty Images

In my eyes the difference between No. 1 and No. 2 is very small. Granted, Griffin and Luck are fairly different quarterbacks who come from very different offenses. But they were the two most productive quarterbacks this past season in college football.
Griffin is insanely accurate with much better football acumen than most scouts would expect given that he is coming from a spread offense. He struggles a bit with deep ball accuracy but is better than any quarterback in this class, other than Luck or Case Keenum.
I love that he uses his athleticism to keep plays alive but always keeps his eyes down the field in hopes of finding a receiver break free. For a guy blessed with such running ability, this is beyond my greatest expectations.
Griffin's throwing mechanics aren't perfect. He has a bit of a three-quarters side arm windup making for a slow release. Because of that he needs to pick up his coverage reading ability. However, he does possess elite arm strength and can zip the ball when he needs to.
Griffin is by far the best spread quarterback prospect ever. He is miles ahead of where Cam Newton was just one draft season ago, and through one year that's turned out a-okay.
Prediction: Someone trades up to No. 2 overall to select Griffin.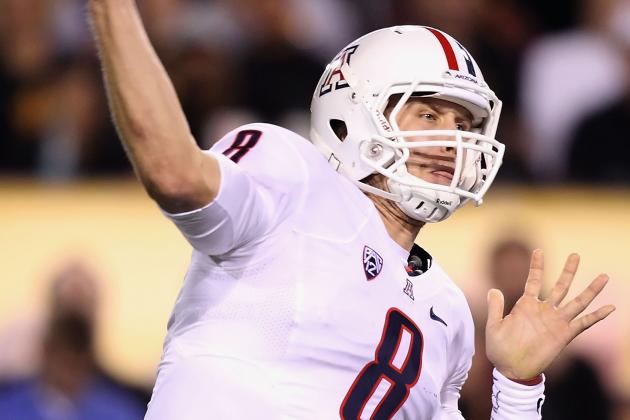 Christian Petersen/Getty Images

The Senior Bowl last week was the first chance fans, coaches, and scouts got to see Nick Foles since late November. Though the fact that his team didn't play in a bowl game cannot be put exclusively on Foles.
At Arizona, the senior proved to be as great a competitor as one can imagine given his team was going through a tumultuous season. That is one aspect that has impressed me.
But I have also found myself marveling at his arm strength, which I don't normally do. He has tremendous ball handling, something not to be taken for granted. People also say he's a gym rat.
Of course Foles is not perfect. His decision-making can be shoddy. His feet need some work. He's also inconsistent in his ability to play within the pocket.
But all the skills are present. Foles' main enemy is himself as he sometimes becomes inconsistent.
Prediction: With throwing workouts Foles will rise above Brandon Weeden and anyone else to become third quarterback. He will be selected either late in the first round or early in the second.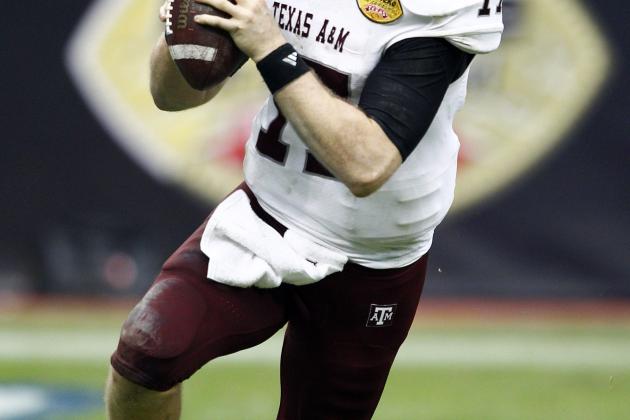 Bob Levey/Getty Images

There are a ton of reasons I shouldn't like Ryan Tannehill. His experience at the position is limited. He struggled late in the season, as did his team. Also, he isn't great late in football games.
He also does some things very well. He has elite athleticism for a guy his size at the quarterback position. He has great arm strength. His accuracy and poise improved for the most part as he got more experience. He handled a tremendously diverse offensive system under Mike Sherman.
These are all positives for a player whose stock has been on the fritz. I want to reinstill a belief in Tannehill. This kid's got game.
While his recent ankle injury doesn't help his cause it's not going to effect my rankings. Though I believe Weeden will be selected ahead of him, I don't believe he should. I see Tannehill as a better prospect.
Prediction: Tannehill will be the fifth QB taken late in the second round. But he should be fourth in my opinion.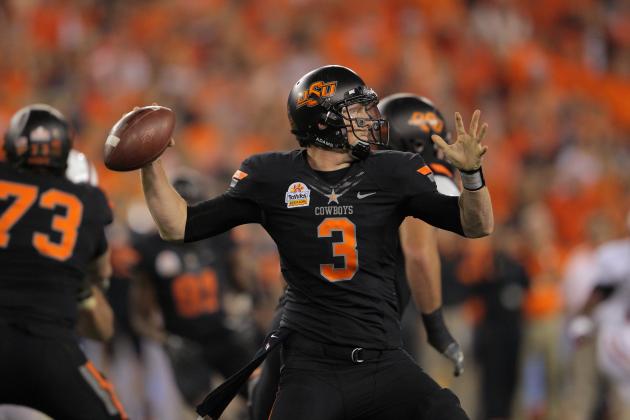 Doug Pensinger/Getty Images

There's a lot to like about Brandon Weeden. He's killer accurate. He made Oklahoma State a legitimate national title contender. He has a quick release which reminds me of Jay Cutler. He keeps coming at you regardless of what's happened earlier in a game. Heck he even looked pretty good at the Senior Bowl.
But, his experience taking snaps from under center is almost nonexistent. He lacks athleticism—most noticed by his lack of pocket mobility. And his arm strength is good but doesn't translate to deep throws or throws against pressure where he often short arms the ball.
Then there's that whole age thing. At 28-years-old, Weeden isn't your prototypical draft prospect. Yes he is mature, but he is probably already at the peak of his athletic ability and production ability. It's unlikely that he's going to improve tremendously from when he played at Oklahoma State.
For that reason he isn't much more than a backup prospect in my mind. However, his positive traits make him as good a backup prospect as I've ever seen.
Prediction: Weeden is taken in the second round, though I believe he should be a third or fourth round pick.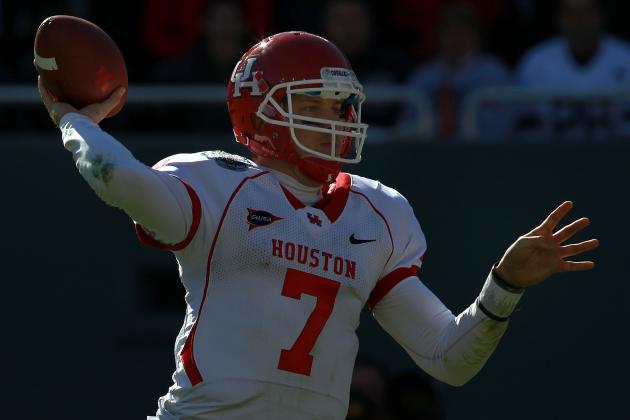 Ronald Martinez/Getty Images

Very few draft analysts have given much credence to Case Keenum as anything more than a late round pick. Perhaps I ought to know, but I don't remember seeing him at any of the all-star games.
What am I missing? This guy was supremely accurate with much better than advertised arm strength. He can move within the pocket and throw effectively against pressure.
He throws a very accurate deep ball that hits his receiver right in stride. He excels at escaping pressure and getting outside to allow his receivers time to get open. Much like Andrew Luck, he basically called the offense at Houston.
The only legitimate questions are the height and whether playing in a quarterback-friendly system in college is to his detriment. I liked Kevin Kolb coming out of Houston, but I love Case Keenum. He is by far the most underrated quarterback in this class.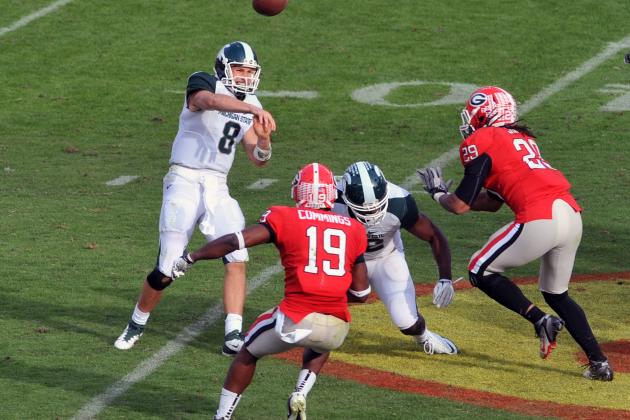 Al Messerschmidt/Getty Images

I've come a long way on the next four players.
Kirk Cousins is a guy who I first saw and dismissed as your typical Big Ten game manager. As I watched him a little more I started believe he could be a sleeper—a la Tom Brady.
Now I still see him as possessing those same traits and abilities. But I see him as a realistic prospect who has a ton of experience playing in a pro-style system throwing to good receivers. In my opinion that's not something to sneeze at.
For Cousins it means he is used to making NFL type throws at a relatively high game speed. He is used to dropping back, surveying the coverage and selecting the best option. He doesn't lock onto a particular receiver but stands in against pressure and throws accurately much of the time.
Sure he lacks elite arm strength, or accuracy up the field, but he is reminiscent of a coach in his ability to operate an offense. In fact, his background and skillset remind me a lot of T.J. Yates, which is a compliment.
Prediction: Cousins is drafted in the fourth round to be a backup then eventually gets an opportunity to start.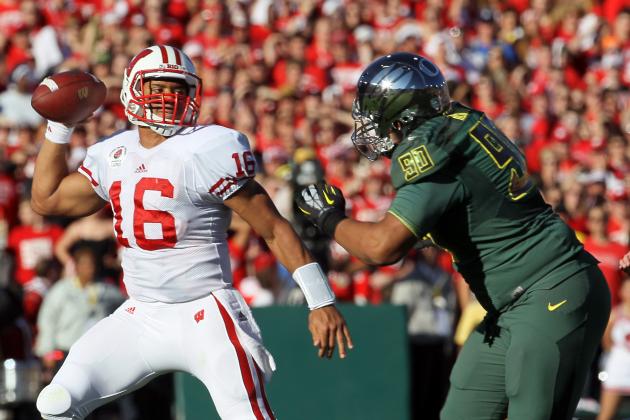 Stephen Dunn/Getty Images

You know what gives Russell Wilson a chance in the NFL? It isn't that he's shown he cares more about football by giving up on baseball. It's not that he has a ton of experience playing in pro-style offenses, or even that he's very smart.
None of those things hurt of course. But Wilson's opportunity to make it in the pro ranks is due to his great athleticism. Over the past few seasons we've seen mobile quarterbacks come into vogue and have great success in the NFL.
The thing is that Wilson didn't really show his elite athleticism while at NC State. It wasn't until he got to Wisconsin that Paul Chryst allowed him to show off his athleticism and running magic. It transformed Wilson from a good college QB who was likely to play pro baseball, to a quarterback with a realistic shot at the NFL.
It's funny how the game is changing to a point where there is a spot for a player who is limited by his size and arm strength but with his athleticism has an opportunity to make waves in the NFL.
Prediction: Early Sixth Round selection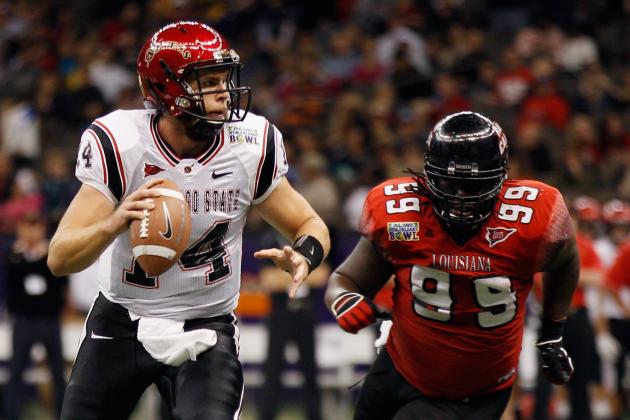 Chris Graythen/Getty Images

Isn't it funny that every picture I could find of Ryan Lindley featured him running? For me it is not because San Diego State's offensive line sucked. In fact, they weren't too bad.
It's because Lindley is known for a lot of things, but one of them is not mobility. Though he throws with a strong arm and good accuracy on the run, that is generally only on designed roll-outs. If a straight drop-back is called, don't expect Lindley to ever avoid pressure.
He's about as bad as a quarterback can be at avoiding pressure or even stepping up to throw. But when Lindley has time and makes a good decision, he shows off amazing arm strength and great trajectory.
He is definitely a traditional pocket passer. He is a guy who would have excelled in a Mike Martz offense. Of course he won't get that opportunity, but should get a chance to compete for a job in someone's camp next summer.
Prediction: Late Sixth or early seventh round selection.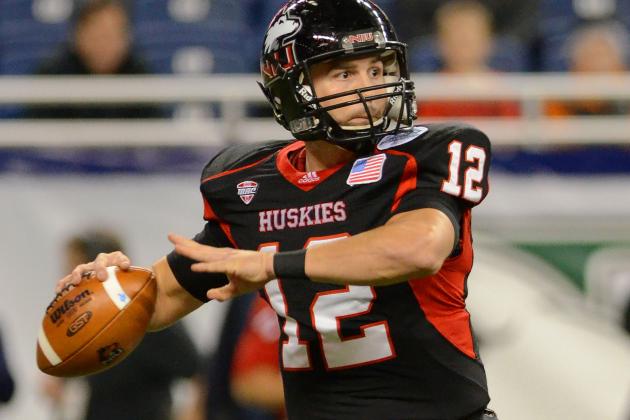 Mark A. Cunningham/Getty Images

I'll gladly admit I haven't seen much of Chandler Harnish. A few snaps in the East/West Shrine Game and some highlights is about it. But I'll say this, he's got to be better than the alternatives for the No. 10 spot.
Considering the competition includes Kellen Moore and John Brantley I feel VERY secure placing Harnish at the No. 10 despite much observation.
The very fact he was selected for the East/West Shrine Game after a nice senior season and great career leads me to believe he's a pretty good college quarterback.
Prediction: Harnish is selected at the end of the seventh round.