Falcons vs. Giants: 5 Things We Learned from Atlanta's Loss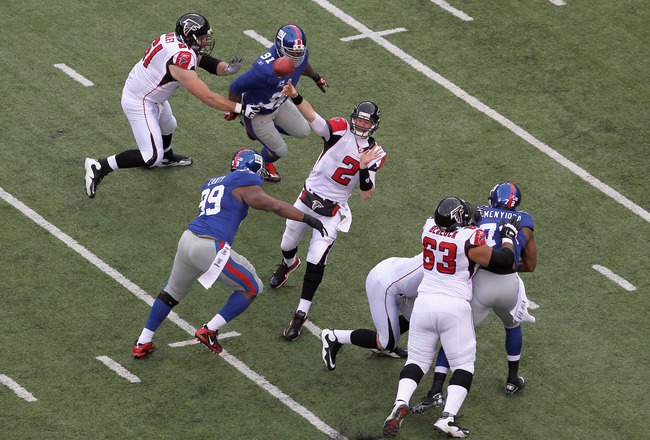 Nick Laham/Getty Images
Atlanta's season has come to an end. The Falcons were knocked out of the playoffs on Sunday, and their aspirations of winning their first playoff game under Mike Smith were destroyed by Eli Manning and the Giants.
The first round of the playoffs went nothing like the Falcons expected, as the only points they put on the scoreboard came from a safety in the second quarter. They walked off the field with a final of 24-2, leaving everyone disappointed and a bit shocked, to be honest. The team that averaged 25 points a game in the regular season failed to score a single offensive point against New York.
The Falcons looked like a team that was on a path to victory in the early stages of Sunday's contest. Their defense came out strong, but Matt Ryan and the offense just couldn't find a way to put points up.
New York ultimately pulled away, and after a huge 72-yard touchdown by Hakeem Nicks, the deficit appeared too large for a dejected Falcons club to overcome.
2011 was a roller coaster for Atlanta, but this was hardly the way they wanted to go out. Unfortunately, for the last time of this season, let's see what we learned from this one.
Changes Are Coming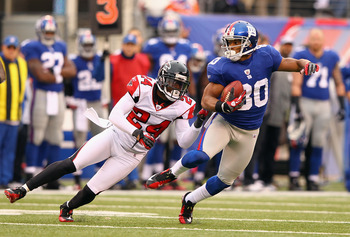 Al Bello/Getty Images
I've already reserved an individual slide for Mike Mularkey, so don't get upset that I'm not mentioning him here. A 24-2 loss is an eye-opener to any franchise, and we can't expect the status quo to remain unchanged.
Brian VanGorder has been in the midst of all kinds of criticism this season, but he was not the reason they were blown out against the Giants. The Falcons defense played without their best cornerback in Brent Grimes and still managed to keep New York at bay for a good part of the game.
Eventually Eli Manning hit his stride and connected for two more touchdowns later in the second half, but the game had changed at that point. Atlanta looked completely deflated, and there's no telling how much effort they were really giving towards the end. You can only do so much when your offense provides zero help whatsoever.
Keeping all of this in mind, they still need to address some areas on defense. The linebacking corps is one of the best in the league, with Curtis Lofton and Sean Weatherspoon consistently paving the way to big plays. Stephen Nicholas is a solid player as well, if he can stay healthy.
The D-line needs more help. John Abraham can only do so much on his own, and he is a free agent after this season. I expect to see him back, but he's getting older and is always the center of attention from opposing offense. Ray Edwards didn't pan out like they expected, so they might be looking for linemen again this offseason.
The secondary obviously needs improvement as well, but what will the Falcons do? Grimes will need a new contract after this season. Franks and Owens are young, so hopefully they continue to find their place in the NFL. Robinson is overpaid, and there's not much they can do about that. Moore has looked better this season. DeCoud always seems to be in the wrong spot. I see bright spots here and there from everyone, but as a whole this group has been a weakness for some time now.
Atlanta only has five drafts picks this April, so they will have to make the most of what's left. Arthur Blank wants this team to succeed, and after a loss like this, he has to be wanting more.
I can't say what exactly the Falcons will change in the offseason, but dire changes are necessary.
Mularkey Could Be on His Way out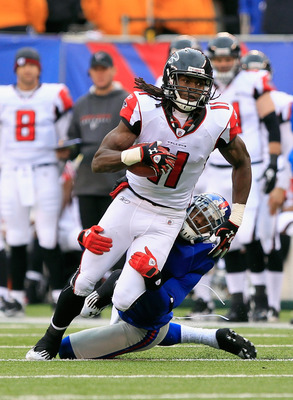 Chris Trotman/Getty Images
I understand that Mike Mularkey was a part of the new regime brought in back in 2008, and since then the Falcons have seen more success than ever in franchise history. That being said, Mularkey's tenure may have run its course here in Atlanta.
With Matt Ryan, Michael Turner, Roddy White, Julio Jones and Tony Gonzalez, you would expect much more out of this offense. If you can't score a single point with this group of guys, something is wrong.
Fans and critics throw of plenty of negative comments in haste after a loss like this, but this time I'm afraid the majority of them are correct. Mularkey has received interest recently about head coaching positions.
All I can say is that if another team wants him leading their team, have at it.
Matt Ryan Has Yet to Prove Himself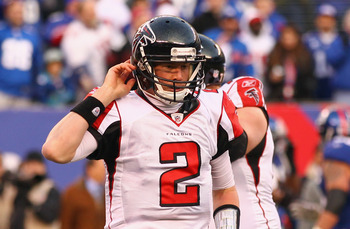 Al Bello/Getty Images
Matt Ryan is a star in Atlanta. He came to Atlanta in 2008 and has led the Falcons to a winning record in each of his four seasons. One thing he hasn't accomplished: winning a playoff game.
The 26-year-old quarterback has always been under fire for his performance. He can't throw the deep ball, he can't win big games—those are just some of the comments often made about Ryan.
There is no way they will supplant Ryan with another QB anytime soon, so don't think he's in danger of losing his job. However, he will continue to be chastised by many until he can come through for Atlanta in the postseason.
This loss to the Giants doesn't fall solely on Ryan, but he definitely deserves some of the blame. He made some poor decisions and inaccurate passes and looked uncomfortable in the hostile environment of MetLife Stadium.
It's hard to say whether it was the play-calling or just the pressure from the Giants' pass rush, but Ryan looked timid. He barely took any shots downfield and averaged a meager 4.9 yards per attempt.
I believe that No. 2 can lead the Falcons to their first playoff win since 2004. When it will happen, though, remains to be seen.
They Might Want to Try a Different Fourth Down Play
Kevin C. Cox/Getty Images
Instead of sending Matt Bryant out to tack on three points, Mike Smith opted to go for it on two 4th-and-inches situations. Both calls were the same, and both produced the same result.
We saw the Falcons go for it against the Saints on fourth down in overtime back in Week 10. At the time, it seemed like a plunge up the middle from Matt Ryan should have been the play to utilize. Now it appears that play wouldn't have worked either.
Ryan attempted twice, unsuccessfully, to convert the short-yardage situation by falling forward. It seemed like it was the best call for the scenario the first time around, although Smith could have just kicked a field goal. However, the second time around, they ran the exact same play.
Why not change things up?
I know it can be difficult to pick the right play in those cases, but throw in something new.
Ovie Mughelli Makes a Difference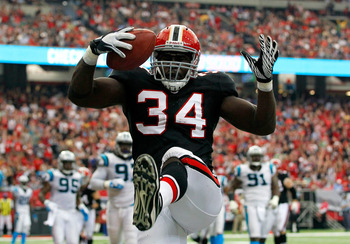 Kevin C. Cox/Getty Images
Ovie Mughelli went down weeks ago, and was placed on IR shortly after the game against Detroit. The two-time Pro Bowler is a huge part of their ground game, and it was noticeable today.
Mike Cox has made some good plays filling in at fullback, but Turner seems like he hasn't been able to find those same gaps as he could with Ovie blocking for him.
Aside from his insane performance against Tampa Bay, a team that had basically given up, Turner hasn't been seeing the same kind of success with Mughelli out. Today he averaged just 2.7 yards per carry.
It's hard to say how big of an impact Mughelli makes for the Falcons, but they need him back. Maybe he could have paved the way for The Burner today.
Keep Reading

Atlanta Falcons: Like this team?