Steelers vs Broncos: Why Denver Presents a Nightmare Matchup for Pittsburgh
January 8, 2012
Garrett Ellwood/Getty Images
Who are Las Vegas casinos most afraid of? The player who is not afraid to lose, for they are the ones who makes the bets that cautious men refuse to make.
In this match up between the 12-4 Steelers and 8-8 Broncos, it is the heavily favored Steelers who are being forced to go on the road and try to score a win that they are expected to get.
Denver, on the other hand, is clearly playing with house money by virtue of securing a playoff berth that they may or may not deserve, and playing with zero expectations except that they are one of 12 teams with a chance to win the Super Bowl.
If the Pittsburgh Steelers are to believe the news reports coming out of Denver, they need to be as prepared to face Brady Quinn as they are Tim Tebow.
In fact, for all the Steelers know, the VP of Football Operations for the Broncos may have dusted off his No. 7 jersey and activated himself for the game in an effort to keep the Steelers guessing.
Ready for the "Elway Package" there, Pittsburgh? Didn't think so.
The truth is that Pittsburgh has no idea what Denver is capable of trying in this game in an attempt to score a win that nobody expects them to get.
Normally, a team with a young quarterback will try to do things that do not ruin the confidence of their young passer, who they hope to cultivate for years to come. However, in Denver there is no guarantee that either QB will be back next year, so why not just let it all hang out?
Wildcats, reverse wildcats (where Denver actually takes out the running quarterback in favor of the passing quarterback) and any other trick in the book could be on display for Denver. Head Coach John Fox is in no jeopardy of losing his job or being chided for letting an opportunity slip away, so why not go for a few fourth downs and mix in some fake punts?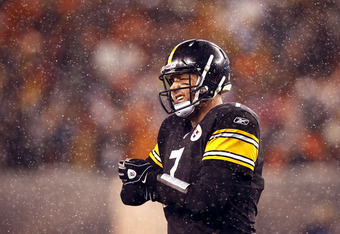 Matt Sullivan/Getty Images
If you are Pittsburgh, how do you game-plan for that?
Throw into the mix that the Steelers are as banged up as anyone in the playoffs and missing many key pieces, and it is easy to say that this is the classic trap game in the NFL playoffs.
A hobbled Big Ben is going to be forced to move by the resurgent Denver pass rush, but if he can limp away enough, there is a huge gap in the Denver secondary without Brian Dawkins that can be exploited.
The Steelers are the team with everything to lose in the matchup and will be forced to play the conservative playoff style that is required when traveling and missing key personnel.
Denver, though, is just looking to do anything they can to keep this miracle ride going.
The Steelers are still the superior team despite the unfavorable conditions in which they are being forced to play, and they will most likely not do many things to hurt themselves.
Still, sometimes playing it by the book and hitting on a 15 or 16 can cause you to bust.
Whereas Denver may be doubling down on every hand and inexplicably be walking away with all the chips when the game is done.