John Fox Must Be Fired If Tim Tebow Gets Benched During Playoff Game
January 8, 2012
Hannah Foslien/Getty Images
John Fox deserves to lose his job on the spot if decides to bench Tim Tebow during the Denver Broncos' postseason game against the Pittsburgh Steelers.
It sounds completely and utterly insane that a coach who brought in a QB off the bench to replace a floundering starter and then watched him lead his team to success and an improbable postseason appearance would even consider doing this.
Unfortunately, rumors are that it isn't outside the realm of possibility.
Mike Florio of ProFootballTalk.com has a multitude of sources reporting that Brady Quinn, the Broncos' backup, has received about half of the snaps with the first-team and is likely to be installed in certain packages on specific down and distances.
It's also possible that Tebow gets benched completely if he falters out of the gate and Quinn would be relied on to win a game, something he hasn't done since a meaningless 41-34 victory over the Chiefs when he was with the Browns back in 2009.
He's never even been on a postseason team until this year.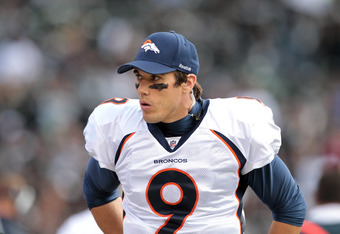 Ezra Shaw/Getty Images
Pat Bowlen, the Broncos' owner, should come down onto the field and burn coach Fox's contract if he decides to make the maniacal and boneheaded move to bench the quarterback, who is the heart and soul behind their postseason appearance, in favor of an unproven, career backup that hasn't earned a starting job for more than a few games for a reason.
It would be an affront to Tebow, the players on the roster, the organization and the fans to see their starting QB on the bench if he makes a mistake in his first playoff game and has to ride the pine.
If you have watched him this year, it's no secret that Tebow thrives in the fourth quarter and overtime and his prowess in those final minutes is the reason why they are in the postseason.
Hopefully, Fox comes to his senses and realizes that the key to this game, and the future in Denver, is letting Tebow find himself today and play the entire contest.