NFL Draft 2012: Riley Reiff and Offensive Linemen Your Team Needs
January 8, 2012
Doug Benc/Getty Images
The 2012 NFL draft is not as deep at many skilled positions as it usually is, but there are plenty of offensive line prospects to be had.
While teams are wasting high picks on overrated quarterbacks and wide receivers, you should be hoping that the squad you root for comes home with one of these three stellar offensive linemen.
All of the following players will be Pro Bowl-caliber players in the NFL, so be happy if any of them fall to your team in the first round.
Riley Reiff, OT, Iowa
In my opinion, the best offensive lineman in this draft is Riley Reiff from Iowa. At 6'6" and 300 pounds, Reiff is athletic enough to play any spot on the line.
The Iowa standout is also country strong, which would make him an ideal franchise blindside tackle. Reiff has the potential to be one of the best in the business.
With many teams reaching early for skill positions, there is a chance that Reiff could fall all the way into the mid-first round, where a team like the Buffalo Bills can't pass on him.
If Buffalo is series about Ryan Fitzpatrick as their quarterback of the future, it's time to start protecting him like his health actually means something to the franchise. That means taking Reiff.
Jonathan Martin, OT, Stanford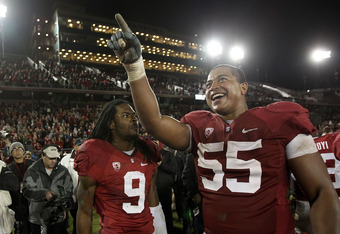 Ezra Shaw/Getty Images
The duty of protecting Andrew Luck is intense, but nothing more than another day at the ballfield for stellar tackle Jonathan Martin. Martin lives for the big moments.
While all of the focus will be on Luck and his passing, it is the extra time he has in the pocket that allows him to make his plays. Martin was the protector of Luck's blindside and one of the best tackles in college football.
If Martin is still on the board when the Kansas City Chiefs pick at No. 13, they have to grab him to secure their terrible offensive line.
With a few picks on the offensive line through the draft and a few offensive line moves in free agency, the Chiefs could build around Martin and finally protect Matt Cassel.
David DeCastro, OG, Stanford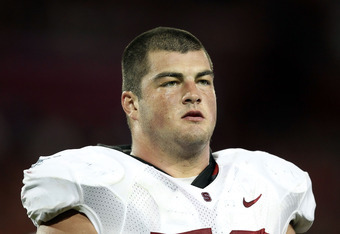 Christian Petersen/Getty Images
There is no better guard in the 2012 draft than David DeCastro from Stanford. DeCastro is another part of the vaunted offensive line that protected Andrew Luck throughout his career.
DeCastro has the size, strength and power to be a stellar NFL offensive lineman, but more time with a great offensive line coach will allow him to fix some of his flaws.
While DeCastro can be exposed in pass coverage at times, if he went to a team like Philadelphia in the first round, a legendary line coach like Howard Mudd would have the kid a star in no time.
Philadelphia could slide DeCastro to left guard and move Todd Herremans to the right tackle position that the Eagles have lacked at for too long.
Check back for more on the National Football League as it comes, and check out Bleacher Report's NFL Page to get your fill of all things football.