Memphis Grizzlies vs. LA Lakers: TV Schedule, Live Stream, Spread Info and More
January 8, 2012
Jeff Gross/Getty Images
The Memphis Grizzlies are taking a trip to Los Angeles to take on the Lakers in a Western Conference showdown.
Both teams are projected to be in the playoffs after season ends in late April, but they have a lot of work to do up until then, and the top seeds in the conference are all up for grabs.
This will be a great game, so keep reading to find out how you can watch it, what's at stake and much more.
Where: STAPLES Center, Los Angeles, Calif.
When: Sunday, Jan. 8 at 9:30 p.m. EDT
Watch: FOX West, NBA League Pass (Live Stream)
Listen: 680 AM ESPN: Memphis, 710 AM ESPN: LA
Betting Line: Lakers -7 (Via ScoresAndOdds)
Grizzlies
Zach Randolph, OUT (Knee)
Lakers
Josh McRoberts, DBT (Toe)
Matt Barnes, PRB (Shoulder)
What's At Stake?
LA is trying to continue their winning streak at the Staples Center after dropping their season opener to the Bulls there.
They have won five straight and are looking for a sixth consecutive despite the fact that they have played a high number of games in a short period of time with an aging roster.
The Grizzlies are trying to find their rhythm without Zach Randolph and were on their way to a third consecutive win until they blew a game late against the Utah Jazz.
They showed fatigue down the stretch and need to figure out how to close out games if they want to be serious title contenders.
What They're Saying
Bill Plaschke of The Los Angeles Times found that Josh McRoberts is happy with his new team and also helping them quite a bit with his rebounding and unselfish play.
"I want to make the kind of plays where people in the locker room say, 'I want that guy on my team,' " McRoberts says.
Ronald Tillery of The Commercial Appeal is reporting that Josh Davis is content with being the backup center to Marc Gasol while Zach Randolph is injured and Marreese Speights is now in town.
"People in Memphis are amazing," Davis said. "It's amazing that they can get behind somebody that's not even on the team. I feel every bit of it. It makes me feel good. It makes me feel welcomed. ... You have to do the little things to make a team. Hustle is one of those things you can't take from anybody."
Lakers Player to Watch: Kobe Bryant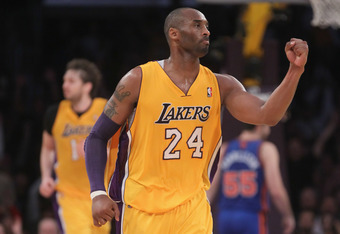 Jeff Gross/Getty Images
Kobe has been reportedly taking a pain killing injection before every single game since injuring his right wrist but that has not slowed him down.
He's the second-leading scorer in the league with 27.8 points per game and repeatedly proves that he hasn't lost a step, and if he has, he's certainly made up for it in other areas of his game.
Grizzlies Player to Watch: Rudy Gay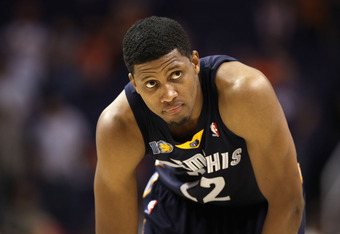 Christian Petersen/Getty Images
Gay was on the verge of stardom before going down with an injury and missing the playoffs last season.
Now he's healthy and needs to carry the load for a team that lost their most consistent scorer in Randolph.
See if he can take control tonight against the Lakers on the road.
Key Matchup: Fourth quarter play.
The Grizzlies are going to be able to hang with the Lakers for three quarters. How they perform in the final 12 minutes will decide the game.
If they can't figure out a game plan and execute in that critical stretch, they have no chance of winning.
Prediction
Lakers 95, Grizzlies 90