Strikeforce Rockhold vs Jardine: Memorable Moments from the Hard Rock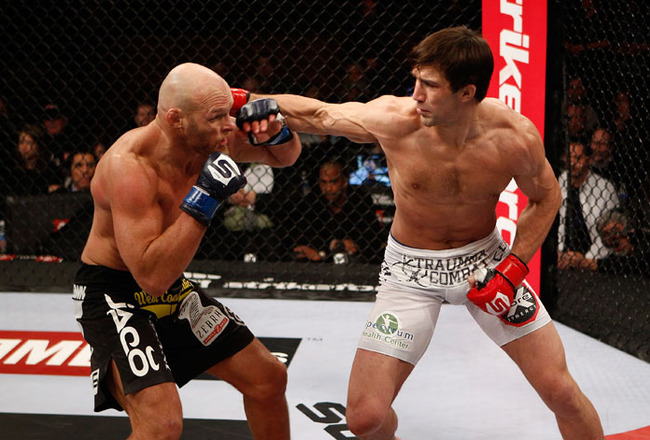 Esther Lin/Forza LLC/Getty Images via Forza LLC

The Strikeforce: Luke Rockhold vs. Keith Jardine fight card is in the books, and the full results are below:
- Luke Rockhold defeats Keith Jardine via TKO at 4:26 of Round 1
- Robbie Lawler defeats Adlan Amagov via TKO at 1:48 of Round 1
- Muhammed Lawal defeats Lorenz Larkin via TKO at 1:32 of Round 2
- Tyron Woodley defeats Jordan Mein via split decision (28-29, 29-28, 30-27)
- Tarec Saffiedine defeats Tyler Stinson via split decision (28-29, 30-27, 29-28)
- Nah-Shon Burrell defeats James Terry via split decision (29-28, 29-28, 28-29)
- Gian Villante defeats Trevor Smith via TKO at 1:05 of Round 1
- Ricky Legere defeats Chris Spang via unanimous decision (29-28 x 3)
- Estevan Payan defeats Alonzo Martinez via unanimous decision (30-27 x 3)
What follows are memorable moments from the Hard Rock Hotel and Casino.
Alonzo Martinez's Chin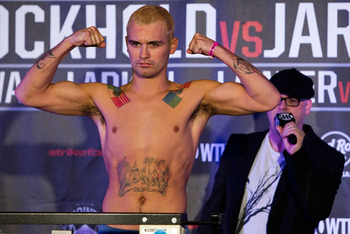 In the night's first fight, Estevan Payan positively dominated Alonzo Martinez, peppering him with a multitude of strikes.
By the time the fight had come to a close, Payan had landed 98 of 209 arm strikes. The evidence of those strikes was written across the bloodied and bruised face of Martinez. However, it should be noted that he was never knocked down despite the amount of abuse he took.
Martinez may have lost the fight by unanimous decision, but he showed that he had an iron chin.
Tarec Saffiedine's Broken Arm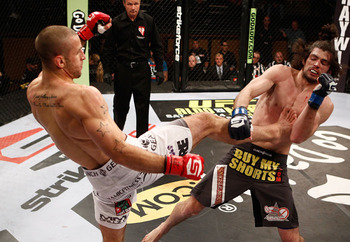 Esther Lin/Forza LLC/Getty Images via Forza LLC
After his bout versus Tyler Stinson, Tarec Saffiedine's sponsor, Clinch Gear, tweeted the following:
"Just found out @tarecfighter fought last two rounds with broken arm. Stinson broke his arm in first and Tarec kept going. Wow!"
If that tweet is accurate, you really have to give credit to Saffiedine for staying in there and gaining the split decision win.
Tyron Woodley's Performance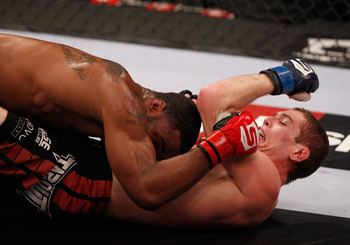 Esther Lin/Forza LLC/Getty Images via Forza LLC
If Tyron Woodley wants a shot at the vacant welterweight title, he's going to have to do a bit more than he did on Saturday night. Sure, he dominated the fight, taking Jordan Mein down at will and controlling the fight on the ground, but that's about all he did.
With his record, he obviously thinks he deserves a shot at the title, but—and this is a huge but—does Strikeforce want to go from the always-exciting NIck Diaz as their champion to someone like Woodley?
Let's face it, an impressive record and ground control is not the way to earn a title fight. Just ask Jon Fitch.
King Mo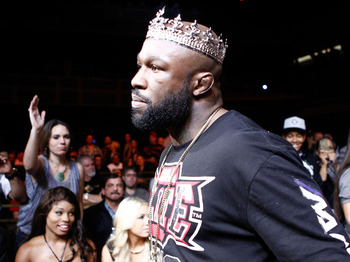 Esther Lin/Forza LLC/Getty Images via Forza LLC
Like Tyron Woodley, Muhammed "King Mo" Lawal was looking to get his name in the mix for a vacant Strikeforce title, namely the light heavyweight title. Lawal owned that belt in the past, and on Saturday night, he made a strong case for getting back in the mix for that belt.
Lawal took the previously unbeaten Lorenz Larkin to the ground and pounded out the victory, landing an impressive 78 of 103 strikes before ending the fight in the second round via TKO.
You would have a hard case denying the fact that Lawal deserves a shot at getting his Strikeforce title back.
Robbie Lawler's Flying Knee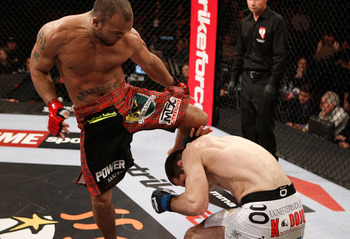 Esther Lin/Forza LLC/Getty Images via Forza LLC
Early in the night's co-main event, Adlan Amagov landed an illegal knee to the head of the downed Robbie Lawler. After Lawler was given time to recover and Amagov had a point deducted, the fighters were reset. After the reset, Lawler came in with a huge flying knee that stunned Amagov, and he dropped to the mat, where he was finished by the hands of Lawler.
Luke Rockhold's First Title Defense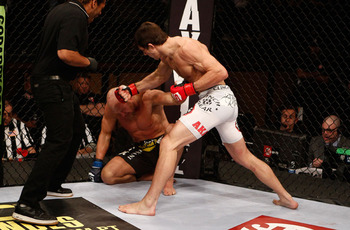 Esther Lin/Forza LLC/Getty Images via Forza LLC
Saturday marked Luke Rockhold's first defense of the Strikeforce middleweight title he captured from Ronaldo Souza in September of this year. Rockhold had very little trouble holding on to the title, dispatching Keith Jardine via a first round TKO.
The win was Rockhold's eighth straight victory, and as with all but one of his wins, it came in the first round.
After the fight, Rockhold asked the UFC to consider bringing fighters over to Strikeforce to challenge him for the title. That talked seemed a bit presumptuous considering this was his first title defense and top contender Tim Kennedy is among the Strikeforce middleweight ranks.
The Referees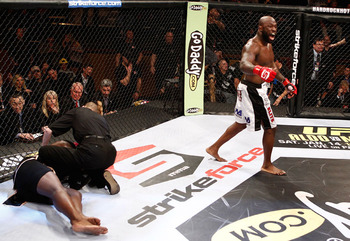 Esther Lin/Forza LLC/Getty Images via Forza LLC
The referees in Saturday's card should be thankful this was not a UFC card. Had it been, they undoubtedly would have been savaged by UFC president Dana White at the post-fight press conference.
There were a couple of inappropriate stand-ups during the course of the card, but the most egregious errors were made by Kim Winslow and Herb Dean.
Winslow was late in stopping the Muhammed Lawal versus Lorenz Larkin fight, so late in fact, that she was admonished by Lawal in the cage, with the microphone catching Lawal saying, "You let him take too many punches."
As far as Dean, Keith Jardine absorbed numerous unnecessary strikes to the head from Luke Rockhold before Dean stepped in to end the main event.
There was little doubt that both stoppages were late.
Keep Reading