NFL Playoff Predictions: 5 Things to Expect from Tim Tebow's Playoff Debut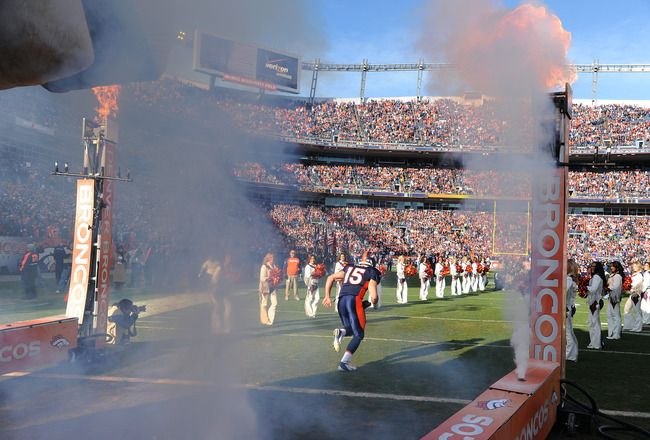 Garrett Ellwood/Getty Images
Tim Tebow has had a remarkable season, leading his team to a 7-4 record after a 1-4 start with Kyle Orton at quarterback. Here is a breakdown of what to expect from Tebow against the Steelers and their mighty defense.
Tebow's play has not been consistent by any means, but he seems to come up big when needed. His poor completion rate is due in large part to drops by receivers, but he has also thrown his share of poor passes.
Denver's offense has been very predictable with Tebow behind center, but when games were on the line, Tebow often got it done.
So what should we expect from his playoff debut at Mile High Stadium? Here are five things.
A Slow Start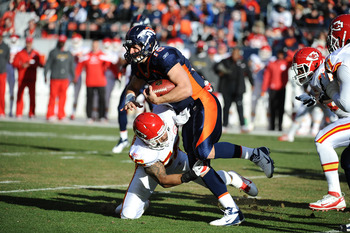 Garrett Ellwood/Getty Images
It's no secret that Denver's offense hasn't been able to get a running start out of the gate since Tebow took over.
The Broncos have had to rely on their defense to keep them in games for at least the first quarter in most games, and that likely won't change this week against the Steelers.
Pittsburgh has one of the best defenses in the NFL, ranking first in scoring, total and pass defense and eighth in run defense.
If Tebow and the Broncos can't slice through the middle of the Steelers' defense right out of the gate, expect to see a few three-and-outs for the Denver offense.
Plenty of Hand-Offs and Quarterback Draws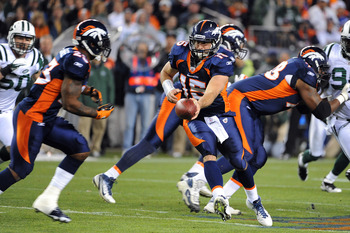 Garrett Ellwood/Getty Images
This one is a no-brainer, because this is the bread and butter of the Tim Tebow offense.
Sometimes I think John Fox and the Broncos are just too predictable offensively, but then again, teams don't always stop it.
At one point against the Kansas City Chiefs, the Broncos ran a quarterback draw on a third-and-10, which your grandmother's dog had diagnosed before the snap, and Tebow still got seven of the 10 yards.
Love it or hate it, this offense will give the ball to workhorse back Willis McGahee and allow Tebow to do one of the things he does best. If the strategy works, even the Steelers defense will get worn out eventually.
An Ugly Stat Line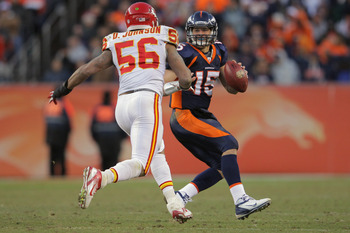 Doug Pensinger/Getty Images
When you put Tim Tebow's statistical production and the Steelers' defense together, you do not get a pretty picture.
As many games as Tebow has won this year, it certainly hasn't been because of his completion percentage, and that doesn't figure to improve when he goes up against the top-ranked pass defense in the NFL.
Tebow still has a long way to go in his development as a passer, and it doesn't help when your young receivers drop the passes that you do put on target.
Tebow will have to do better than the 6-of-22 passes he completed against Kansas City in Week 17 if an upset is going to be possible, but I wouldn't expect it to be much better.
Stats don't win games, but at the same time, you have to have some to put points on the board.
More Than 25 Passes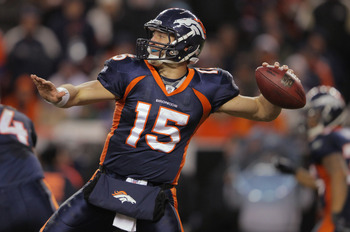 Doug Pensinger/Getty Images
The Broncos apparently don't trust Tim Tebow through the air (or maybe they don't trust their receivers to catch the ball), because they rarely let him go over 20 passes in a game.
Against the Steelers, however, I don't see how a win is possible if the playcalling is as run-heavy as it has been since Tebow took over.
Pittsburgh's defense is good enough that, if Denver doesn't test them over the top, they will just stack the box and stuff Denver's runners at the line of scrimmage play after play.
Tebow will have a tough task against Pittsburgh's pass defense, especially since Denver's receivers do not frequently get separation, but they will have to let Tebow throw more than usual.
Even if the passing game makes a few blunders, it may prove helpful late when the game is on the line and the defense has to respect Tebow's arm as well as his legs.
A Fourth-Quarter Comeback?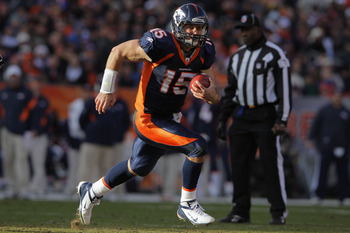 Doug Pensinger/Getty Images
Tim Tebow's "magic," as some like to refer to it, did not seem to be there in the last three weeks of the season as Denver dropped three straight games and nearly missed the playoffs after taking control of the AFC West.
But the playoffs are a time to start fresh for teams, and we could see a renewal of Tebow's ability to make plays when games are on the line as the stakes get high.
The Broncos know that they're expected to be one-and-done, so I would expect the team to perform like they have nothing to lose.
Tebow has a history of making big plays in big moments, so we'll see if he can do the same in his first playoff game against the best defense he has faced in his short career. Could yet another fourth-quarter, game-winning drive be in the works?
Keep Reading

Denver Broncos: Like this team?