Strikeforce Results: What We Learned in Luke Rockhold's Win vs. Keith Jardine
January 8, 2012
When Luke Rockhold was picked to face then-champion Ronaldo "Jacare" Souza for the title, he was an underdog.
Souza was an accomplished Brazilian jiu-jitsu practitioner.
Rockhold had only been beaten once, but his opponents until that point put him just above prospect level.  He beat most of his opponents by submission, but groundwork was Souza's specialty and it didn't look like he could be beaten.
Not only did Rockhold beat him, he did it for five rounds and without question when he scored a unanimous decision over the champion.
After the fight, questions remained, the biggest being, "How good was Rockhold?"
Fans had a new champion, but no one knew what he was capable of...at least not until tonight.
Keith Jardine was a perfect opponent to test Rockhold.  He was a grizzled veteran who had faced some of the best fighters in the world and beaten some of them.  Those who he didn't were pushed to the edge by his unorthodox style of fighting.
The fight was going to be a real test for the young and unseasoned Rockhold.
Except by the end of the night, he steamrolled Jardine and made it look easy.
Critics could mention that Jardine got a draw in his last fight (which many considered a loss) and that he had lost four fights in the UFC before being cut.  They could even mention that Jardine was 36 and past his prime.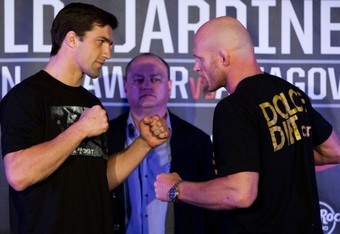 All of these points have merit, but Jardine is still a tough fighter and better than most.  Even if his prime is past and he may not be elite, he should have been able to give Rockhold more resistance than the young champ came up against.
Instead, Rockhold was able to dispatch Jardine quickly.  It speaks more for Rockhold's talent than anything else.
The most astounding thing was how Rockhold was able to counter every of the wiley veteran's maneuvers. 
At 27, Rockhold has plenty of years to get better, and it's scary to think what he is capable of doing if he uses them properly.
Rockhold attracted a lot of eyes with his win over Jardine.  Now that they're on him, how he reacts and what he does next will be scrutinized.
He did well on Saturday.
Now he just needs to keep the ball rolling and do it all over again in his next fight.