Steelers vs Broncos: Live Score, Video, Tweets & Analysis for AFC Wild Card Game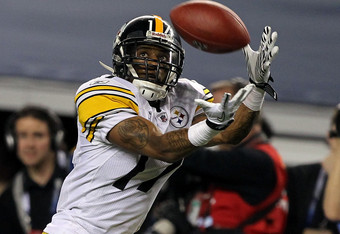 Mike Wallace hauls in a catch for a big gain.
Al Bello/Getty Images
Tim Tebow, the most polarizing player in the NFL this season, came through in the clutch in today's AFC Wild Card matchup.
Although his role was reversed in this particular game, as the Broncos jumped out to a two-touchdown lead in the first half, and it was the Steelers that would have to play from behind.
After the Steelers recovered a Willis McGahee fumble midway through the fourth quarter, Roethlisberger led the team down the field with a spectacular drive, even playing on an injured ankle. And the drive ended with the game-tying touchdown, a 31-yard completion to WR Jerricho Cotchery.
So the game went to overtime, with the score tied at 23-23.
And then, we were given a healthy dose of 'Tebow Time.'
On the first play of overtime, faced with a first-and-10 scenario, everyone expected Denver to run out of the read-option or with McGahee rushing in between the tackles. Of course they were going to play it conservative, right?
So DC Dick LeBeau decided to stack the box and over-play the run, by moving both safeties up into the box.
This was the exact mistake that Tebow needed.
Tebow found WR Demaryius Thomas running over the middle for a 20-yard gain. He then put a great stiff-arm on Steelers CB Ike Taylor at mid-field and he was off to the races.
The end result was the game-winning touchdown, as no Steelers defender would be able to track him down.
Tebow got the job done in the clutch today—again. He may have only completed 10 passes, but he made them count, accumulating 316 passing yards in the victory (two touchdowns).
All Tim Tebow does is win.
Final score: Broncos 29, Steelers 23
OK, I had to embed this tweet from Lady Gaga which pretty much sums up today's game. I bleeped out a letter to mask the vulgar language, though!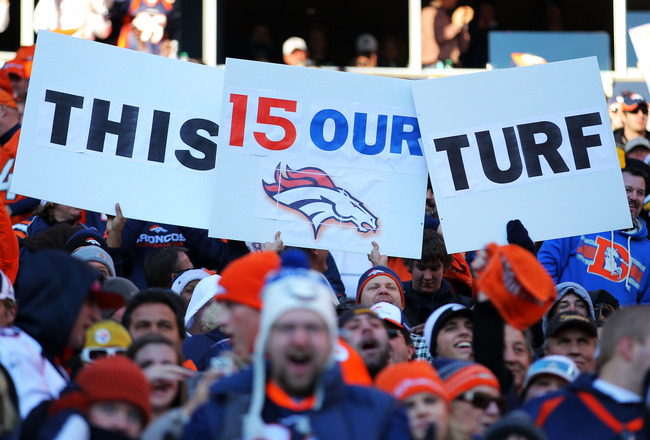 Was that Tebow Magic, or awful (over-aggressive) defense by the Steelers?
There is no correct answer, and no matter the reason, Tebow did it again. Valiant comeback by the Steelers but they come up just short in overtime.
Thanks for following the game, I enjoyed conversing with you all and had a great time today. We have a great group of readers here on B/R which made the game fun. Stay tuned for the postgame recap with video clips!
Final score: Broncos 29, Steelers 23
AND TEBOW FINDS DEMARYIUS THOMAS OVER THE MIDDLE FOR THE GAME-WINNING TOUCHDOWN ON THE FIRST PLAY OF OVERTIME!!
So much for the new overtime rules, right? I guess we can throw those away.
That will do it, Pitt stacked the box on first down, guessing run, and it killed them, as it opened up the seam for Thomas to run through for the 80-yard touchdown!
BEGINNING OF OVERTIME -- HERE WE GO
Denver will get the ball first after this commercial break!
Does Tebow have some magic left to win this game? Or will Roethlisberger get it done on only one ankle? Time will tell!
And Roethlisberger is sacked on the final play of the half by Robert Ayers.
We're going to overtime, ladies and gentleman, with some new rules! No sudden death will decide today's game.
ROETHLISBERGER FUMBLES, BUT PITT RECOVERS

Dumervil is demolishing the Pittsburgh offensive line and he beat his man and knocked the ball out of Ben's hand.
But the Steelers recover, with 20 seconds remaining in the game, at midfield. What will they do now?
AND ANOTHER SPECTACULAR GRAB BY A STEELERS WR!
Sanders ran a great go-route to the sideline and made a diving grab for an 18-yard gain!
Steelers now have 1st-and-10 from the DEN 45-yard line. Don't go anywhere, folks! We've got ACTION!

And Von Miller sacks Roethlisberger on first down!
He almost stripped the QB, too.
But no matter, Big Ben hits Brown over the middle for a 17-yard gain and first down! Great catch by Brown hauling it in there!
DeMaryius Thomas was wide-open over the middle there for what would have been a huge first down.
Unfortunately, Tebow threw the ball at his feet, an awful pass, and the Broncos will punt!
Don't look now, but Pittsburgh has a chance to win this game, you guys. They will start from the 25-yard line.

In case this game comes down to overtime, remember: There are new rules in place for the postseason.
There is no sudden death overtime this year.
For the full rules breakdown, click here.

Can Tebow answer here? Does TebowMania magic work in the postseason?
We'll see. He just hit TE Daniel Fells for a 17-yard gain over the middle, and a first down. Denver now operating at their own 35-yard line, 1st-and-10.
Predictions for what happens from here on out as we reach the two-minute warning? Drop 'em in the comments!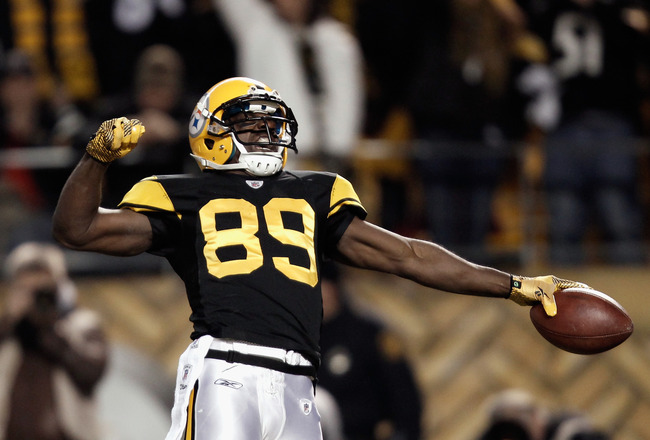 AND JERRICHO COTCHERY HAULS IN THE GAME-TYING CATCH FOR THE TOUCHDOWN!!!!!!!
Ben scrambled around in the pocket, trying to find an open receiver, and Cotchery came open over the middle. Cotchery bobbled it at first, but brought it in, even sustaining a huge injury from Bush.
TIE GAME, 23-23!
And Champ Bailey drops an interception in the end zone!
Ben aired it out deep into double coverage for Wallace, and Bailey just dropped it. That could come back to bite the Broncos big-time.
BTW, Miller was wide-open at the 10-yard line, and Ben missed him.
ISAAC REDMAN, AGAIN, runs for a first down!
Is it Redman time, or Tebow Time? Because Redman has had one hell of a half!
And Redman continues to run hard. One thing I really love about the young RB is his vision, he's a very smart runner and has good instincts, too.
First down for the Steelers, as they are in Broncos territory near the 40-yard line.
Big Ben hits Emmanuel Sanders on a quick out, and Sanders just a great job of getting yards after catch for a 15-yars gain.
Third-and-1 coming for Pitt here.
Pittsburgh ball!
But on first down, Dumervil gets pressure off the edge and Roethlisberger goes down for a SACK.
AND IT'S A ... FUMBLE!!!
Broncos run McGahee up the middle and the Steelers strip the football! The ball came out and it looked like his knee was not down, and Pittsburgh recovered.
Denver is challenging the ruling, but I think the play will stand, and it should be Pittsburgh ball near midfield.
And DeMaryius Thomas shreds Ike Taylor, for the billionth time this game.
Tebow finds him on third down, and the catch moves the chains to near midfield.
Someone get Taylor a towel.
Steelers must be better in defending the read-option if they want to win this game.
They must plug all gaps and make the necessary tackles to negate easy yards for Denver.
Tebow takes the snap and bounces it outside for an 11-yard gain on first down.

Polamalu tracked him down and forced him out of bounds.
Suisham to Matt Prater:
Anything you can do, I can do just as well!
Suisham's 38-yard field goal is good, after an incomplete pass to Heath Miller on third down, and the lead is back to one score!
Get your popcorn ready, this should be a great finish!
Whoa, Roethlisberger tests the ankle by scrambling for about eight yards there!
3rd-and-6 coming for Pittsburgh, the biggest play of the game thus far.
And Isaac Redman breaks another big run! Mendenhall, who?
Redman does a great job hitting the hole up the middle and scampers to the sideline for a 28-yard gain.
Redman now has 112 yards rushing-- his first 100-yard game of his career!
Steelers start from their own 20-yard line and Roethlisberger hits Brown over the middle for a 19-yard gain.
Finally good protection from the offensive line, Big Ben had time enough to sit in the pocket and throw.
This should be a great final 12 minutes of the game. The offensive fireworks are still out in full force!
This article is
What is the duplicate article?
Why is this article offensive?
Where is this article plagiarized from?
Why is this article poorly edited?