Toronto Maple Leafs: Why Mike Komisarek Is an Underrated Defenseman
January 8, 2012
Bruce Bennett/Getty Images
Now that Philippe Dupuis is gone, Toronto Maple Leafs fans can focus their critical attentions back onto Mike Komisarek.
Komisarek has long been the whipping boy in Toronto, though he has had company at times in that department (Dupuis, Brett Lebda), and some of the criticism may have been justified.
However, some fans are unfairly harsh toward Komisarek due to his inflated salary.
He carries a $4.5 million cap hit that will last until the end of the 2013-14 season.
Komisarek is clearly overpaid given what he brings to the Maple Leafs, but the blame for his cap hit falls on the shoulders of GM Brian Burke and company, not the player himself.
It's funny how that works, isn't it?
Scott Gomez is the Montreal Canadiens' whipping boy and the butt of endless Habs jokes.
Q: Who has more goals in the NHL so far this year: Philippe Dupuis or Scott Gomez?
A: Neither. They both have none!
At this point, Montreal would give him away for a seventh-round pick, but the main reason that everyone seems to hate him so much is because of his $7,357,143 cap hit, which will also come off the books at the end of the 2013-14 season.
If his annual cap hit were, say, $1.5 million, nobody would pay much attention to him.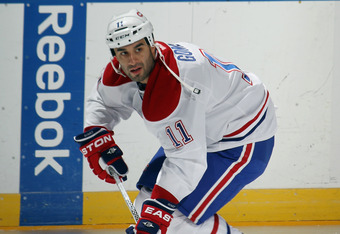 Bruce Bennett/Getty Images
Brian Campbell, formerly of the Chicago Blackhawks and currently with the Florida Panthers, has been spared the vitriol that comes with being an overpaid, underachieving player because, well, he hasn't really underachieved.
Campbell's cap hit is $7,142,875 and while the 'Hawks were eager to unload his salary, it wasn't like they hated the guy.
Given that Campbell is currently on pace for a career-high 66 points, nobody in Florida is really complaining about his salary.
Inflated salaries tend to distort a fan's perception of a player.
Remember Jeff Finger? If his cap hit were only a million bucks a year, he might've been able to stick at the NHL level, albeit as a sixth or seventh defenseman.
Let's return to Mike Komisarek.
Yes, he gets paid a little too much, but his play has improved since his arrival in Toronto and he brings certain things to the team that aren't easily replaced.
He blocks shots and will sometimes make good defensive plays in his own zone.
He used to be known for his poor defensive play, but he has cleaned up his act somewhat. In 19 games played this season, he is actually a plus-one.
He is a physical shutdown defenseman and at 6'4" and 243 pounds, he can lay on some crushing hits.
He is also a guy who can get under the opposition's skin. Guys like this are valuable in tight games because they can change a game's momentum with their physicality and outspokenness.
This is a reliable veteran who can handle 20-plus minutes a game.
Right now, there seem to be three knocks against Komisarek. Besides his inflated salary and former penchant for giveaways, he also is disliked by many in Toronto for occupying a roster spot that many feel should be occupied by the more-deserving Jake Gardiner.
And once John-Michael Liles returns from his injury, more tough decisions regarding ice time will have to be made.
Komisarek isn't the giveaway machine he once was. He is noticeably better in his own end and actually makes good defensive plays once in awhile.
This is not to say that Mike Komisarek is a star talent who only smart Leaf fans appreciate, because that is certainly not the case.
Komisarek is merely a reliable, physical defenseman who gets criticized a little too much based on his current cap hit and supposed defensive foibles.
He is the type of guy you tend to not notice or notice for the wrong reasons until he's gone, in which case you realize you kind of miss him.
Komisarek missed 21 games prior to yesterday's match against the Detroit Red Wings, including the entire month of December.
The Leafs went 4-6-3 in December.
Komisarek isn't the difference between winning and losing for the Leafs, but they certainly could have used him last month.