2012 NFL Draft: Detroit Lions' Biggest Needs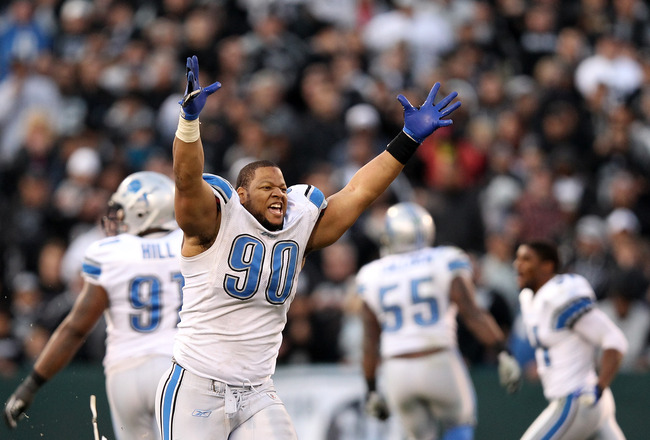 Ezra Shaw/Getty Images
Heading into the 2012 NFL draft, the Detroit Lions' needs are less glaring than usual, but there are still holes to be filled.
After years of searching for stars on both side of the ball, Detroit finally has a base to build on. Matthew Stafford, Ndamukong Suh, Calvin Johnson and Louis Delmas all rank among the best in the NFL at their positions.
With many starting spots already filled with solid players, this draft is going to be all about depth. It's an unfamiliar position for general manager Martin Mayhew, but it's one that I'm sure he's glad to occupy.
1. Offensive Line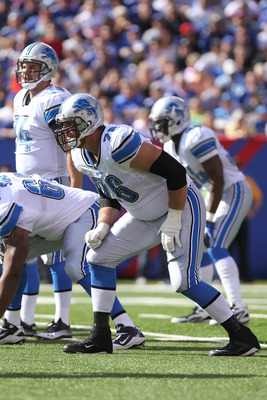 Nick Laham/Getty Images
The Detroit Lions offensive line has out-performed its reputation this season, ranking in the top half of the league in preventing sacks and quarterback hits. That said, adding to the offensive line should be the main focus for Martin Mayhew on draft day.
Jeff Backus and Dominic Raiola have been mainstays in Detroit, but both players are beyond the peaks of their careers. Neither needs to be immediately replaced, but the Lions would be smart to consider upgrades at both positions.
If Georgia's Cordy Glenn or Ohio State's Mike Adams are there when the Lions make their first-round selection, Detroit should jump at the chance to inject some youth into its offensive front.
2. Cornerback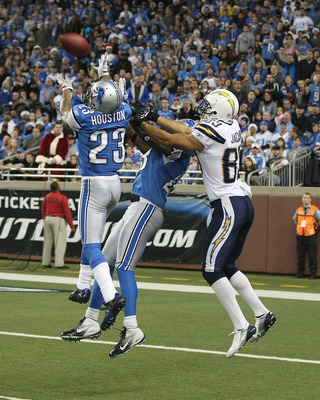 Dave Reginek/Getty Images
Over the past couple of offseasons, the Lions have done a nice job of restocking at corner. Chris Houston, Eric Wright and Alphonso Smith have been brought in and contributed. However, even with those upgrades, cornerback should still be a focus for the 2012 NFL draft.
The NFL as a whole is moving more and more toward three and four wide receiver sets. Defending those sets requires a deep roster of talented corners.
Trying to defend bigger, faster, stronger wideouts is hard, especially when the NFL rulebook has a middle school dance policy on contact between defenders and receivers. With that in mind, the Lions should always be on the hunt for talented cornerbacks.
North Alabama's Janoris Jenkins and Virginia's Chase Minnefield would both be excellent additions to the back end of Detroit's defense.
3. Running Back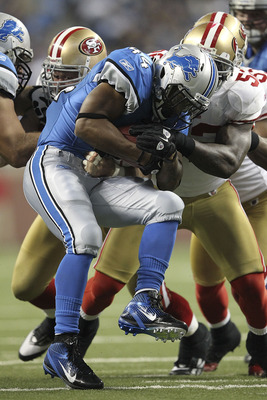 Leon Halip/Getty Images
Mikel Leshoure will give the Lions a boost with his return in 2012, but with Jahvid Best's career in doubt due to repeated concussions, Detroit would be wise to build depth in the backfield.
Running backs have always had short shelf lives, and that window of opportunity is shrinking even faster in a league that learns more about head injuries every day. With an abundance of talented backs available in the middle rounds of every draft class, the Lions should look to add at least one tailback prospect in this year's draft.
If he hangs around until the third or fourth round, Oregon's LaMichael James would be a great fit in the Lions offense.
4. Defensive Line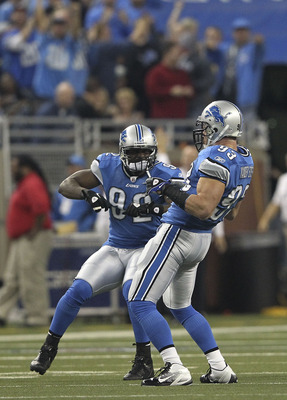 Leon Halip/Getty Images
If the success of the Pittsburgh Steelers teaches us anything about good draft strategy, it's that your strength can never be too strong. Even while it had one of the best linebacking corps in the NFL, Pittsburgh spent first-round picks on players like LaMarr Woodley and Lawrence Timmons.
I'm not advocating that the Lions use a first-round pick on a defensive lineman, but I do think that the Steelers' approach has merit.
The Detroit Lions have improved this season largely because of the play of the defensive line. It's deep, loaded with eight players that can contribute. Even so, veterans like Kyle Vandenbosch aren't going to be around forever, and it would behoove the Lions to build depth on the unit that's come to define them as a defense.
Players like Penn State's Jack Crawford or Notre Dame's Ethan Johnson would be welcome additions to Detroit's fearsome front.
5. Punter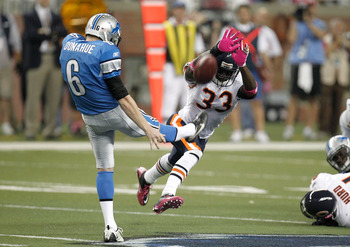 Gregory Shamus/Getty Images
Special teams has been a struggle for the Lions this year, because the team, as a whole, lacks depth. Detroit just doesn't have many experienced backups that can block for returners and cover kicks and punts.
The Lions already have a solid return man in place with Stefan Logan, and the ageless Jason Hanson seems like he'll kick until he's 50. However, at punter, there's room for improvement.
Ryan Donahue and Ben Graham have been adequate, but neither is a game-changer.
A great punter can control field position and can take pressure off of both the offense and defense, as well as his coverage unit. Florida State's Shuan Powell, who led the FBS in punting this season, would be well-worth a selection on Day 3 of the draft.
Keep Reading

Detroit Lions: Like this team?