Wilkes-Barre/Scranton Penguins News and Notes: Jan. 7, 2012 Edition
January 7, 2012
After a brief hiatus in the last few weeks of 2011, Wilkes-Barre/Scranton Penguins News and Notes is back for the New Year and ready to keep you updated on the Pittsburgh Penguins' NHL team.
In this edition, find out how the Penguins did to open 2012 and which players will be representing the team at the AHL All-Star Game at the end of January. Also, don't forget to check out the Penguins' upcoming schedule, which includes a trip to Canada.
Here we go!
Penguins Fall to Norfolk at Home
The Penguins started 2012 with a home matchup against the Norfolk Admirals, but put on a disappointing show in front of their fans as they fell by a score of 5-1.
Norfolk scored three goals in the first period to take the lead right off the bat. Cory Conacher had two goals and added an assist on Radko Gudas' first-period tally. Trevor Smith had three assists for the Admirals.
Nick Petersen scored the only goal for Wilkes-Barre and Brad Thiessen took the loss with 18 saves on 23 shots.
Penguins Bounce Back Against Americans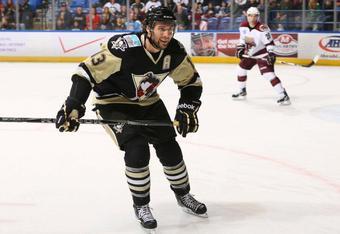 Eric Tangradi scored the winning goal in an eight-round shootout on Friday as the Penguins defeated the Rochester Americans, 4-3.
Tangradi also had a power-play goal at 13:36 of the third period to tie the game, just under two minutes after Rochester's Maxime Legault scored a shorthanded goal to give the Amerks a 3-2 lead.
Jason Williams had three assists in the win, while Thiessen stopped 27 out of 30 shots.
Colin McDonald and Simon Despres Named to AHL All-Star Game
Wilkes-Barre/Scranton forward Colin McDonald and defenseman Simon Despres were named to the Eastern Conference roster for the 2012 AHL All-Star Game. The event will be held over Jan. 29-30 in Atlantic City.
McDonald is in his first year in Wilkes-Barre and led the AHL last year with 42 goals while playing with the Oklahoma City Barons. In 33 games with WBS, he has 28 points and was recalled to Pittsburgh on Friday morning.
Despres, a highly-touted defensive prospect, has seven points through 24 games and also has a plus-two rating.
Fans can vote McDonald and Despres into the starting lineup through a ballot on the AHL website.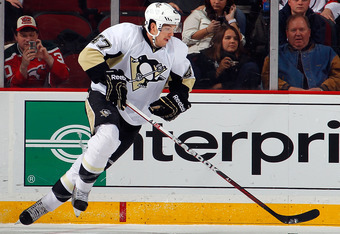 Paul Bereswill/Getty Images
Robert Bortuzzo Sent Down to Wilkes-Barre
Robert Bortuzzo, who sustained a concussion while on recall to the Pittsburgh Penguins, was activated off injured reserve and sent to Wilkes-Barre/Scranton on Saturday.
Bortuzzo, who missed the start of the season with a knee injury, has three points and a plus-five in 11 AHL games. He played nine games in Pittsburgh before getting injured and had a plus-one.
Current Record and Upcoming Schedule
The Penguins are currently in third place in the AHL's East Division with a record of 19-8-7 for 45 points. They are in sixth place in the Eastern Conference.
Their next five games are as follows:
Saturday, Jan. 7: vs. Syracuse Crunch, 7:05 p.m.
Tuesday, Jan. 10: at Norfolk, 7:15 p.m.
Saturday, Jan. 14: at St. John's IceCaps, 7:30 p.m. NST (6:00 p.m. EST)
Sunday, Jan. 15: at St. John's, 4:00 p.m. NST (2:30 p.m. EST)
Friday, Jan. 20: vs. Manchester Monarchs, 7:05 p.m.
Watch and Listen
Radio: 102.3 the Mountain
AHL Live: $6 per game with a variety of season packages available