College Basketball: Iona Gaels Return Home with 12th Win over Niagara
January 7, 2012
The Iona Gaels (12-3, 4-0 MAAC) came home Friday night after nine straight on the road to their cozy Hynes Center court to defeat the Niagara Purple Eagles 73-61.  The Metro Atlantic Athletic Conference game was their 12th win in 15 games on the season. 
This was another big game for Iona senior power forward Mike Glover who had 19 points, six rebounds and even two steals.  Perhaps playing in front of his young son who he brings to postgame press conferences makes a difference.  Glover really has been very consistent on the year playing the low post on offense with point guard Scott Machado feeding passes underneath for layups and dunks.  Against Niagara, Glover made 6-of-7 from the field and 7-of-8 on free throws.
Scott Machado went into the week leading the NCAA with an average of more than 10 assists per game.  Friday he added eight more along with 13 points and three steals.  Scott is continuing to show the poise of leading the Gaels to last year's CIT postseason final and playing over the summer in South America.
Quiet night for junior Lamont "Momo" Jones who had five points on 2-of-10 shooting in 36 minutes.  Sophomore swingman Sean Armand who had 32 points Tuesday at Madison Square Garden stared at the three position and was 2-of-8 from the field for six points.  Taaj Ridey starting at the 4 provided six rebounds and six points.
Senior Jermel Jenkins came in provided the Gaels instant offense making 2-of-5 three-point shots and all six of his foul shots for 12 points on the night.
Randy Dezouvre and "Digs" Moikobu both provided four rebounds each for the Gaels.  Rebounding has been a concern area for head coach Tim Cluess.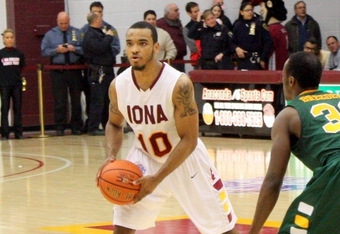 For Niagara playing four guards and a forward to start the game, Malcolm Lemmons had 14 points as did Juan`ya Green.  Antoine Mason had 12 points and off the bench Marvin Jordan contributed 14.  The Purple Eagles are now 6-10 on the year and 1-3 in the MAAC. 
Sometimes playing college basketball on the road creates focus and character, it is always a lot of travel, missed classes, and juggling assignments and exams.  For mid-majors playing well in non-conference road games is a way to build up credentials for postseason NCAA considerations and seeding.
The Gaels finished their month long road trip highlighted by close wins at Denver and Vermont and a dominating performance at Madison Square Garden against Siena with a 7-2 record. It is certainly different for a mid-major with a small gym to schedule home non-conference games versus  schools in BCS conferences playing in larger arenas who can mostly schedule home games before the start of their conference schedule. 
Now in their conference season, the Gaels will be working on maintaining their consistency on a nightly basis.  They want to avoid the off nights which they experienced at Marshall and Hofstra.  Certainly they were energized in practice and by the chance to present their skills to the Madison Square Garden crowd and media. 
The next challenge for the Gaels is in Poughkeepsie at Marist on Sunday afternoon at 2 PM. 
_____
In other Metro Atlantic Conference action on Friday night, Rider defeated Marist 99-86, Siena defeated Fairfield 73-60, and Loyola over Canisius 77-62.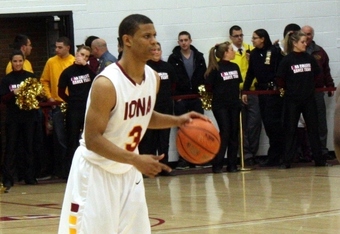 Sunday action in addition to Iona-Marist will be at 2 PM in Riverdale with Fairfield at Manhattan, 2 PM Rider is at Saint Peter's in Jersey City, and a late game in Albany as Niagara visits Siena starting at 7 PM. 
_____
Scott Machado is having a sensational year for Iona leading the country in assists per game most of the season.  The Naismith Memorial Basketball Hall of Fame announced that Iona's senior point guard is one of 20 finalists for the 2012 Bob Cousy Collegiate Point Guard of the Year Award.  An original 60 candidates was considered will be reduced during the year until the award winner is announced on Monday April 2nd in New Orleans as part of NCAA Final Four weekend.
_____
Ken Kraetzer covers Iona basketball and West Point football for WVOX 1460 AM in New Rochelle, NY and Sons of the American Legion radio.  Reach him on Twitter at SAL50NYRadio