Bengals vs. Texans: What Houston Must Do Defeat Cincinnati
January 7, 2012
Bob Levey/Getty Images
The Houston Texans already eeked out a 20-19 victory over the Cincinnati Bengals in Week 14. They did it with T.J. Yates at QB. They did it without Andre Johnson and Mario Williams. Even Arian Foster split carries with Ben Tate in the victory. It would stand to reason, the Texans should be able to knock off the Bengals again considering Johnson will be back and Foster should be carrying most of the load out of the backfield.
There is one major fact that has to be of concern for the Texans, that game against the Bengals four weeks ago, was the last time they won a game. Lucky for them it clinched the AFC South as they have limped into the playoffs.
Since then, the Texans offense has struggled and they must get on track to defeat the Bengals again. Here are the Texans' keys to moving on past Wildcard Weekend.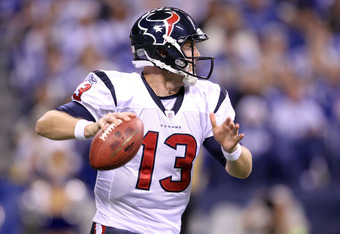 Andy Lyons/Getty Images
Third Down Efficiency - The Texans have been horrible on third downs through their three game skid. They have converted on only 23 percent of their third down opportunities during this span. That has to improve and it falls on Yates. The Texans running game has not fallen off, it has been the constant through all the injuries. In the situations that call on Yates to extend drives, he must come through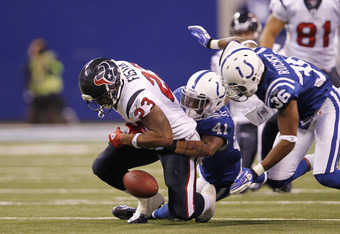 Joe Robbins/Getty Images
Limit the Turnovers - The Texans with Yates at the helm are a ball control offensive team. Nothing kills a run dominated, defensive team like turnovers. The Texans were fortunate to overcome four turnovers in their first meeting with the Bengals. They won't be so lucky this time. Anything over one turnover today will likely doom them.
Al Messerschmidt/Getty Images
Find Johnson - Though the Texans will lean on the run heavily, they still must find their elite receiver. The Bengals defense is too good to attack in a one dimensional fashion, even for a running game as potent as Houston's. The Texans must remind the Bengals they possess one of the league's elite receivers by establishing him early and then pounding with the run game.