Army All-American Game 2012: Analysis and Recap of Latest Commitments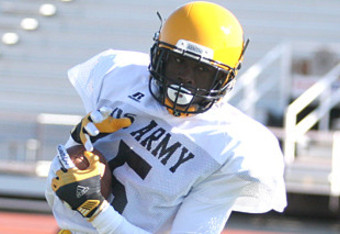 After the excitement on and off the field at the Under Armour All-American Game earlier this week, the anticipation building up on Saturday is only heightened.
The 12th annual U.S. Army All-American Bowl promises to bring every bit of the punch its counterpart brought on Thursday.
Though this time the rosters are arguably more impressive.
With wide receiver Dorial Green-Beckham and offensive tackle Arik Armstead headlining the event—the No. 1 overall recruits on Rivals and Scout, respectively—there won't be a shortage of talent.
But let's not kid ourselves, the juiciest bits of the event will happen on the sidelines, where some of the top prospects from the 2012 class will be announcing their college commitments live to a national audience.
Barry Sanders Jr. is expected to officially reveal he's headed to Stanford. Yes, that Barry Sanders' son.
We're also hoping to get a resolution to the Shaq Thompson courtship that's has Cal, Notre Dame, Washington, Arizona State and USC. Thompson—the nation's top ranked safety—has repeatedly stated he'll make his announcement at the game.
He and Sanders Jr. aren't alone, though. Twelve other prospects are expected to announce their commitments today.
Stick with us at B/R for all the latest news and reaction from the 2012 U.S. Army All-American Bowl.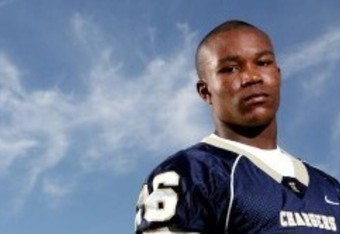 With the US Army All American game coming to an end, the Stanford Cardinal may have picked up the most exciting player of the day. Of course that would be running back Barry Sanders Jr. and if you didn't know, it's Barry Sanders son. Yes, the same guy who broke rushing records at Oklahoma State and is widely considered one of the best to ever play the game at the running back position.
Much like his father, he is a small running back at 5'10, 195 pounds, but he's extremely quick and makes defenders miss with ease. He's quick in and out of his cuts, has great body control and has great vision of the field while he's running.
He may have a lot of work to do to fill his dads shoes, but he will continue to keep Stanford on the map when Andrew Luck leaves. This is a very exciting pick up for the Cardinal.
He's considered the number eight back by Scout.com, number eight by Rivals.com and number six by ESPN.com.
He also had offers from Florida, Oklahoma State, Florida State, Notre Dame and Alabama.
Stick with us at B/R for all the latest news and reaction for the 2012 U.S. Army All-American Bowl.

Randy Chambers is a B/R Featured Columnist that covers College Football and the NFL. You can contact him @Randy_Chambers or Randy.Chambers7@yahoo.com
The Florida Gators had an awesome recruiting class already, where most would consider as a top 10 overall class. There are several great players that have committed to Florida this season. The class just got even better as they received a commitment from defensive end Jonathan Bullard.
Bullard is absolutely huge at 6'3", 255 pounds and plays just like the animal that is in his name. He moves very well for his size, clogs up running lanes well and simply overpowers offensive lineman. He also has a motor that doesn't quit and plays the game with high energy and a lot of passion. Expect him to make an impact right away on this Florida team.
He's ranked as the number 11 defensive end by ESPN.com, number three by Rivals.com and number five by Scout.com. Although there is one thing that both Scout.com and Rivals.com agree on, and that's that this kid is a five star prospect.
He also had offers from Florida, Tennessee and South Carolina, among others.
The Gators class just got that much better.
Stick with us at B/R for all the latest news and reaction for the 2012 U.S. Army All-American Bowl.

Randy Chambers is a B/R Featured Columnist that covers College Football and the NFL. You can contact him @Randy_Chambers or Randy.Chambers7@yahoo.com
The Golden Bears extend their list of top recruiting prospects who committed at this game with safety Shaquille Thompson. Easily one of the best in the nation, this solid recruit is staying close to home with his pledge to stay with Cal.
Coming in at 6'2" and 210 pounds, his speed and quickness make him especially dangerous to quarterbacks. More attuned to playing back in coverage, Cal would be wise to make sure Thompson doesn't have to play up close with receivers on the line of scrimmage.
His vision and size are his greatest attributes. Watch for this kid to really make a difference to the Golden Bears early on in his career. Five star recruits are few and far apart, and Thompson is one heck of a ball-hawking safety to have on your side.
Perhaps considered one of the best players at his position, Elijah Shumate is set to head to South Bend to fight for the Irish. Although he competed at LB in high school, this senior is quick enough to take over at either CB or safety at Notre Dame.
Brian Kelly and his defensive staff have to be ecstatic to land Shumate on their side. Coming in at a solid 6'1" and 205 pounds, he is a lethal weapon and will be a great asset for the years that he plays for Notre Dame.
One of the hardest hitters at his position, Shumate will be perfect for Strong Safety. His coverage ability is a bit rusty considering where he played his entire high school career, but that can be taught by this great Irish coaching staff.
The Miami Hurricanes are really stepping up today in the Army All American Game. They already landed one of the top safeties in Deon Bush and now they received a commitment from defensive end Tyriq McCord.
McCord is an athletic defensive end who also has the ability to play the tight end position or is quick enough to play linebacker. The thing that sticks out most with McCord is the passion he plays the game with. This kid has a motor that doesn't stop and you must bring it on every play because he will.
He's the fourth defensive end to commit to the Hurricanes in this class and the second number four star along with Jelani Hamilton.
McCord is the number seven defensive end for Rivals.com and the number 28 defensive end for Scout.com.
He had offers from USC, Florida, Georgia and South Carolina, which at first it looked like he was going to become a Gamecock. This is another big steal for Al Golden and the Miami Hurricanes as they try and take this program back to the top.
Stick with us at B/R for all the latest news and reaction for the 2012 U.S. Army All-American Bowl.

Randy Chambers is a B/R Featured Columnist that covers College Football and the NFL. You can contact him @Randy_Chambers or Randy.Chambers7@yahoo.com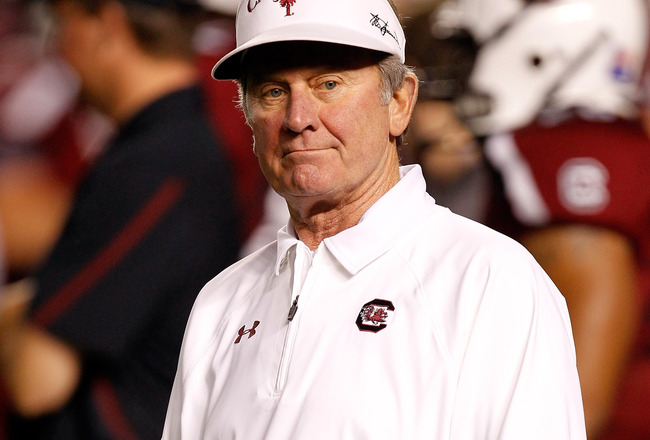 Streeter Lecka/Getty Images
It came down to Tennessee, South Carolina and Vanderbilt for Jordan Diggs. He told everyone he would announce today and he did, for South Carolina.
The Gamecocks strike again as they land another talented defensive back prospect. On Thursday night, at the Under Armour Game, Chaz Elder chose to head to Columbia.
Now Steve Spurrier gets word that the 6'1", 195-pound safety from Cape Coral, FL will also be a Gamecock.
Diggs is an extremely physical safety prospect with excellent instincts. He's at his best attacking the line of scrimmage to fit the run and will pop you in the mouth if you have the football. He flashes great wrap tackling ability and can close downhill in a flash.
I think he needs to work on his cover skills some in college, as he can be exposed in space at times. Diggs also is not tops per se at exploding out of transition. He'll get sticky at times and stall out.
But he fits the "SPUR" position well in South Carolina 4-2-5 scheme, as he should be asked to run, hit and tackle, all coming downhill.
Diggs is South Carolina's 23rd commitment. The Gamecocks are among the top 15-20 classes in the country and are showing that they are trying to finish with a flash this cycle. Nabbing Jordan Diggs, certainly helps that claim.
Tennessee and Vanderbilt will feel a double whammy, as not only did they lose a great prospect, but they also saw him head to an SEC rival.
Just earlier, wide-reciever Jordan Payton announced he is going to take his talents up to Berkeley. The Golden Bears always need talent at WR to assist in their strong offensive production and Payton easily fits the bill.
Coming in at 6'2" and 205 pounds, this four star recruit hails from Oaks Christian High School in LA County. Staying in-state to play college ball, Payton has great hands and knows how to grab tough catches in traffic.
Cal gains a solid recruit and might be looking at the kid to play a little early on. Most likely, we will start seeing production out of him around his sophomore or junior year.
Andy Lyons/Getty Images
First he was headed to Miami to continue playing with Duke Johnson. Wrong. Then he committed to Illinois, but then Ron Zook got fired a few days later. So wrong.
Now, maybe the third time is the charm for 4-star LB Keith Brown, as he has committed to Louisville today. Brown become's Charlie Strong's 22nd commitment for the 2012 class.
This is a big deal for Strong, as even last year I said his Florida connections would open up the gate for Sunshine State prospects to head to the Blue Grass state.
Brown got knocked as a junior for not being active enough, but come to find out, he was playing hurt. This year, after spending more time studying the 6'2", 230-pounder this season, I question his instincts. He gets lost on the field at times, disappears for stretches and just blends in too easily.
He has been timed in the 4.5 range in the 40, Brown shows great athleticism, play speed and has a ton of potential. Charlie Strong and his defensive staff will just have to develop him right.
His best fit likely could be a 3-4 scheme, as an OLB, as he can just be asked to get upfield and not read, decipher and react as much. I just find him too much of a "clear-view" guy right now.
I'm sure with Strong being a defensive minded coach, he will get the best out of Brown for the next four years at Louisville.
After losing the Belk Bowl to NC State, Louisville stole away a recruit from the Wolfpack in OLB Nick Dawson. This four-star out of Charlotte, NC is one of the top players at his position and will be a solid addition to the Cardinals.
Easily one of the better linebackers on the east coast, Dawson should start out with some playing time under Charlie Strong early on as a sophomore and possibly as a freshman. Coming in a 6'2" and 215 pounds, he has all the physical gifts to make him a threat to offenses in the Big East.
Louisville acquires a much-needed presence who can play both the run and pass. Keep an eye out for this kid later on in his career.
The Baylor Bears continue to ride the momentum of their magical 2012 season that included 10 wins and quarterback Robert Griffin III winning the Heisman Trophy. They just received their first big name commitment of the 2012 recruiting class in linebacker Brian Nance from Euless (TX) Trinity High School pledged to the Bears.
Nance was widely considered to be the top inside linebacker in the state of Texas. At 6'3" and 220 pounds he has the size to step on the field as a freshman and see immediate playing time.
Nance still has some qualification hurdles to overcome before he will be able to play in Waco. If the Bears are able to get him in, they will have pulled of one of the major recruiting coups in the 2012 class.
The Army All American Game has just kicked off, and there is already a big commitment that has fallen off the board. The first one of the day comes from safety Deon Bush and he has committed to the Miami Hurricanes.
Miami already had a safety commit in Rayshawn Jenkins but Bush is much more talented. He's one of the more athletic and fastest safeties in this years class. At 6'1", 175 pounds, he's very tall and long and is capable of covering a lot of ground on the field.
He's a good open field tackler, has a knack for the big play and with his speed, can be a threat in the return game as well.
Bush had offers from several schools and had official visits with Miami, Auburn and Alabama. He's raked as the fifth best safety by Rivals.com, number 16 by Scout.com and number four by ESPN.com. This was a solid pickup for the Hurricanes and will likely keep them as a top 10 class on most recruiting sites.
Stick with us at B/R for all the latest news and reaction for the 2012 U.S. Army All-American Bowl.

Randy Chambers is a B/R Featured Columnist that covers College Football and the NFL. You can contact him @Randy_Chambers or Randy.Chambers7@yahoo.com