The New York Jets Can't Give Up on Santonio Holmes Yet
January 7, 2012
Jim McIsaac/Getty Images
Unless you're living under a rock, you've heard that Santonio Holmes quit on the Jets with a few games remaining in the season.
Ever since the season ended last Sunday, he has been getting destroyed by NFL analysts, local media and now even his own teammates. Words like "selfish" and "distraction" are being associated with Santonio and his attitude towards the end of the season. 
All the recent media talk has been about how Santonio Holmes is a cancer to the team. Many people are calling for the Jets to rid themselves of Holmes this offseason and move on without him. 
I believe this would be an awful decision by the Jets and would set them back rather than bring them closer to the Super Bowl.    
Santonio Holmes is one of the most clutch WR in the NFL. When a team's in the two-minute drill and needing to score a TD, there are not too many wide receivers they'd rather have than Holmes. Until the end of this season, he has always played his best when the games mattered most.    
Holmes has come up with clutch TD catches numerous times in his career. Most notably is the one he had at the end of Super Bowl XLIII. With only 35 seconds left on the clock and the Steelers down by three, Holmes made an improbable catch in the back of the end zone to secure the victory for the Steelers. 
In that Super Bowl, Holmes had nine catches for 131 yards. On that final drive of the game, Holmes had four of those receptions for 73 yards and the game-winning touchdown, earning him the Super Bowl MVP award. He became only the sixth WR in NFL history to win the award.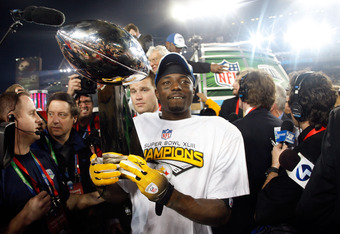 Jamie Squire/Getty Images
We've also already seen Holmes have much success and many clutch moments with Mark Sanchez in his short career with the Jets.
Last season, the Jets played the Cleveland Browns in a game that went into overtime. With only 22 seconds remaining on the clock, Holmes caught a pass from Sanchez on the Browns 31-yard line and took it into the end zone for the game-winning touchdown. The very next week, Sanchez found Holmes with another game-winning TD pass, this one with only 10 seconds left in regulation. 
Holmes has also stepped up his game with the Jets when it comes playoff time. He has caught TD passes in two of the three playoff games he's played in with the Jets. 
Even though Holmes has recently been speaking out against his QB, Sanchez still feels the two can succeed in the future. 
Anytime I get discouraged about it, I just flip on his highlight tape, the first year he came to us, after missing the first four games, and how much production he had. We're going to make things work. I'm the quarterback of the New York Jets and it's my job to do my very best with all the players we have and to get the best out of everybody. It'll be a good challenge for me, but I'm excited about it.
Another reason giving up Holmes would be a terrible decision for the Jets is because they have no backup plan at WR.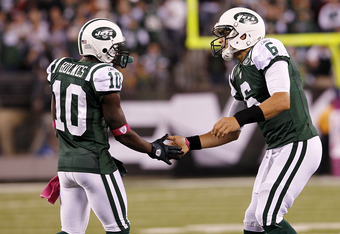 Jeff Zelevansky/Getty Images
After Santonio, Plaxico Burress is No. 2 on the depth chart. Even though Plax had a much more productive season than most Jets fans expected, he showed he can't be relied on to be a No. 1 WR. Not once this season did Plax have top-five catches or hit the 80-yard mark. He did have eight touchdowns this season, but most of them came in short, red zone plays. On top of that, he is an unrestricted free agent, so it's not even guaranteed that he'll be back with the Jets next season. 
After that, the Jets next to WR on the depth chart are Jeremy Kerley and Patrick Turner. Kerley did show some signs that he can be a productive WR in the NFL, but asking him to step up in a starting role so soon would definitely be a major challenge for him. Same thing goes for Turner, who played in 15 games this season, but still only managed to catch eight passes all year. The two combined for only two TDs this season.
Seeing how awful Sanchez played at times with a WR that is actually extremely talented, I can't even imagine what next year would be like if he didn't have Santonio Holmes to help make plays for him.
The Jets need to work on adding talent and building team chemistry, not give up on a player who has proven he can be an asset to this team after the first sign of trouble.