Utah Jazz: Josh Howard Battles Back from Adversity
January 7, 2012
Mike Ehrmann/Getty Images
Earlier this week, Josh Howard suffered a strained quadriceps muscle in a game against the Milwaukee Bucks. 
Tonight, he fought through the pain of that injury to score 13 points, nab two steals, and help the Utah Jazz to a 94-85 defeat of the Memphis Grizzlies. 
But Howard is no stranger to fighting through adversity.
In his prime, Howard was one of the league's elite small forwards, posting career averages of 15.1 points and 5.9 rebounds. With his sharp mid-range game, tough defense, and athleticism, he helped the Mavericks reach the NBA Finals in 2006 and was a member of the Western Conference All-Star team in 2007.
In recent years, however, Howard has seen his career take a downturn after a series of off-the-court incidents and devastating injuries.
During the 2008 playoffs, he admitted to Michael Irvin on ESPN Radio that he smoked marijuana in the offseason, creating a public and media outcry.
After being dealt to the Washington Wizards two seasons later, he tore his ACL in a game vs. the Bulls. That injury, and bouts with tendinitis, limited him to just 18 games with the Wizards last season.
Now 31 years old, Howard is looking to revitalize his career with the Jazz who, amidst the myriad of trades, amnesty waivers, and free agent signings that have taken place since NBA owners lifted the lockout last month, made the surprising move of using part of their mid-level exception to sign the veteran swingman to what GM Kevin O'Connor confirmed is a one-year deal with the team.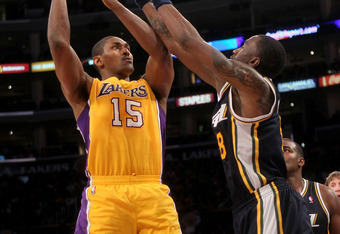 Stephen Dunn/Getty Images
Despite overtures from the San Antonio Spurs and the New York Knicks, he ultimately chose the Jazz as the team with which he would attempt to return to form after prayer and reflection.
"I'm just fortunate enough that Utah gave me the opportunity to come out here," said Howard in his first session with the Utah media, "and I'm going to give it all I got."
The early returns have been mixed, as the small forward works his way into playing shape and familiarizes himself with the nuances of Utah's offense, but despite some early shooting woes, he has shown flashes of the scoring ability that made him an All-Star nearly five years ago. 
Moreover, point guard Devin Harris, a longtime teammate of Howard in Dallas, gave his friend a ringing endorsement when speaking to the Salt Lake Tribune last month. "I think he's got a lot [left in the tank]."
Through seven games this season, that appears to be the case, as Howard has provided energy and tough defense off the bench for a Jazz team that has won four of its last five games and is undefeated at home.
Many even believe he will eventually replace the struggling Raja Bell in the team's starting line-up.
Regardless of what his spot in the rotation will ultimately be, Howard has continued to battle through the adversity that caused many to doubt the direction his career was taking.
If his effort for the Jazz so far this season is any indication, that battle may be coming to an end.