Wayne Rooney and Frank Lampard Transfer Rumors Show Transfer Window's Insanity
January 7, 2012
Clive Brunskill/Getty Images
Football's silly season once again restarted a week ago, and already we have heard two insane transfer rumors that have been mind-boggling.
The first of these rumors was that Manchester United's star striker Wayne Rooney was going to leave the club during this winter transfer window after missing United's 3-2 loss to Blackburn on New Year's Eve.
Rooney was dropped because he got dinner with his teammates Darren Gibson and Jonny Evans, along with their wives after United beat Wigan on Boxing Day.
That rumor was spurred that manager Sir Alex Ferguson was not happy with Rooney over the dinner and Rooney wanted to leave the club this winter.
In all honesty, who really was going to think that Rooney was going to leave Manchester United this winter? Rooney may have had a massive transfer saga a full year before, but he signed a massive contract afterward and has been happy with the club.
Also, where was Rooney going to go? There are very few clubs that can afford a top striker such as Rooney, and it also is unlikely that Rooney is going to leave England anytime soon.
Rooney has been fantastic with United this season and his body language during matches has shown that he is happy with the players he is playing with.
Thankfully Rooney and the club have both made official statements saying that the striker is not leaving the club, which is the right move for the club with their massive match against Manchester City coming up tomorrow.
The other ridiculous transfer story that has broken out is that Chelsea legend Frank Lampard is going to leave the Blues and head to Manchester United.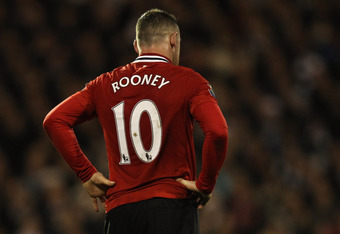 Clive Rose/Getty Images
Lampard may be out of favor with Chelsea, yet it's ridiculous to think that a legendary player such as Lampard is going to be allowed to leave Chelsea and head to a rival club such as Man United.
Even though Lampard has found himself out of favor with Andre Villas-Boas, he is still one of the best players on Chelsea's squad.
Lampard is tied for first on the team in goals scored with eight and also has four assists in the Premier League.
Considering the inconsistency at Chelsea, they would not get rid of one of their most important players during an important time.
Chelsea still are competing in the Champions League against an opponent that they can beat. Knowing Roman Abramovich's obsession with winning the competition, they would not get rid of a player who has scored the second-most goals for the club in their history of the competition.
If Lampard were to leave Chelsea (which seems likely considering that his contract will expire within the next two years), he would not leave for Man United.
Instead, Lampard would go to play in Russia, the Middle East or to MLS. He's not going to go to another big-name club, it's just that simple.
Sadly, these won't be the last of the just bizarre transfer rumors that we will here over the next several weeks.
The key is that we can't just believe every rumor that we read or hear. It's important that we think about these rumors and determine what is and isn't a rational move to be made.
That way we don't see stories such as these grab our attention instead of more important news that we should consume and debate.

Follow me on Twitter @Andrew_Jordan