NFL Playoff Predictions: 6 Players, Teams That Will Flop This Weekend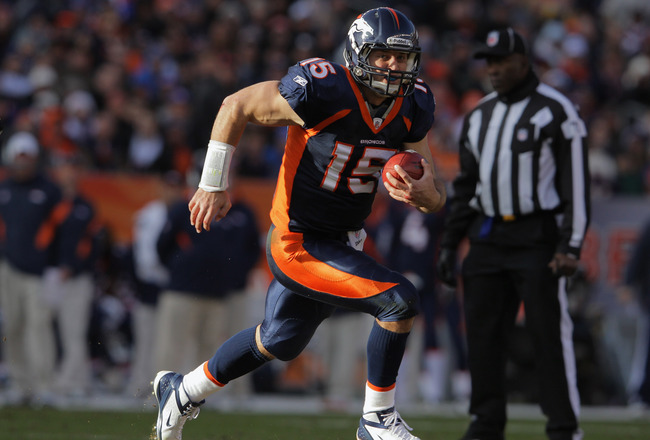 Doug Pensinger/Getty Images
Players make names for themselves in the playoffs. Guys like Antwaan Randle El, Santonio Holmes, Tom Brady and Ray Lewis all initially came to prominence by performing well in the postseason.
Of course other guys make names for themselves in the wrong ways (Scott Norwood, I'm writing about you).
Let's take a look at both the players as well as the teams that are sure to flop this weekend and exit the playoffs in ignominious fashion. This slideshow will start with listing two teams that will fail and will then showcase four players who will be stymied.
The Atlanta Falcons Aren't Playoff Ready Yet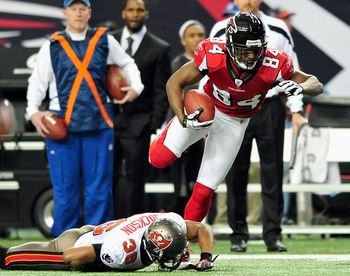 Grant Halverson/Getty Images
Last year the Falcons were handily dispatched by the Green Bay Packers in the first round of the playoffs. It's likely that they'll meet the same fate at the hands of the New York Giants this Sunday.
The Falcons have a tendency to falter in big games. Throughout 2011 they beat up on bad teams (with blow-out wins over Indianapolis, Tampa Bay and Jacksonville). They often shrunk, however, when up against a team with a good quarterback or a stout defense (with losses to New Orleans, Chicago and Houston).
Really the only high-quality win the Falcons have on the season came against the Detroit Lions in the middle of the season.
Expect the Falcons' offensive line to be unable to stop the potent pass rush of Justin Tuck, Osi Umenyiora and Jason Pierre-Paul. Matt Ryan will be harassed all day and will find himself unable to hook up effectively with Julio Jones, Roddy White and Tony Gonzalez.
The Houston Texans Have a Spot in the Playoffs, but Aren't Ready to Do Anything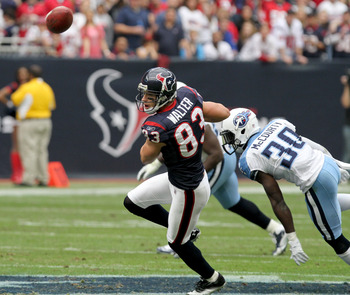 Thomas B. Shea/Getty Images
The Houston Texans are in the playoffs for the first time in their history. Led by a reinvigorated defense and powered on offense by a dynamic running game, the Texans have their sights set on postseason glory.
But they will be disappointed at home against the Cincinnati Bengals. The Texans have faded rapidly down the stretch. With an injured rookie quarterback in T.J. Yates, the Texans will have trouble making their way through the air against a Bengals defense that will be primed to stop the run.
Arian Foster was quieted by the Bengals' defense in their regular season match-up. He only had 41 yards on 15 carries.
The Texans' defense is tough, but Andy Dalton and the Bengals will be able to do enough to bounce Houston from the postseason.
Tim Tebow Will Continue His Slide into Mediocrity Against the Steelers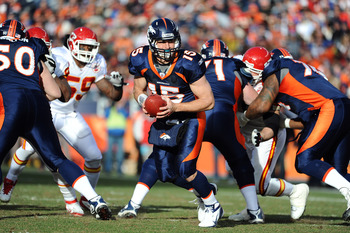 Garrett Ellwood/Getty Images
Tim Tebow's magical run through the middle of the Broncos season seems like a distant memory after his failures during the past three games.
Tebow's suspect passing will be up against a Pittsburgh Steelers defense that is tops in the league in defending against the pass.
Defenses have realized that they can stop Tebow by playing the Broncos' receivers man-to-man. Tebow just isn't accurate enough to fit his passes into tight spots.
Steelers defensive coordinator Dick LeBeau will throw enough different defensive looks at Tebow to frustrate him all day. Tebow will find himself constantly under pressure and he'll be unable to get enough room to make plays with his legs.
Ndamukong Suh Will Be Unable to Keep His Cool and Will Hurt His Team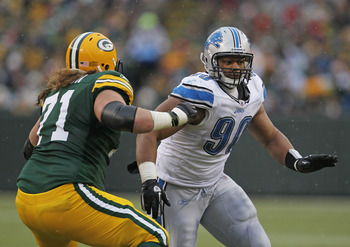 Jonathan Daniel/Getty Images
The Detroit Lions' talented defensive tackle Ndamukong Suh has shown throughout the season that he has a short fuse.
While the entire Lions team has been notorious for getting tagged with dumb penalties, Suh's actions have been particularly egregious.
Suh will most likely make a few nice plays to get to Drew Brees against the Saints this Saturday night, but he'll also hurt his team with knuckle-headed excessive celebration or unsportsmanlike conduct.
T.J. Yates Will Be in over His Head Against the Bengals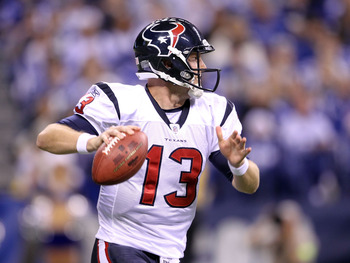 Andy Lyons/Getty Images
The ascension of T.J. Yates to the starting quarterback position became a reality due to injuries to Matt Schaub and Matt Leinart.
Now the third-stringer Yates will have to contend with a bruised shoulder for their game against the Bengals. While he claims to be ready to go for the game, he's also likely to be overwhelmed in his first postseason action.
The Texans haven't looked good in losing their past three games. Getting beaten by the woebegone Indianapolis Colts doesn't bode well for Houston.
Yates will have a hard time getting the ball away against an underrated Bengals defensive front four.
John Abraham Won't Be Able to Pressure Eli Manning Effectively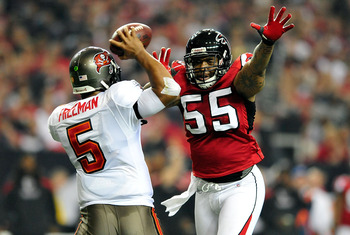 Grant Halverson/Getty Images
The Atlanta Falcons' big defensive end John Abraham will struggle against the New York Giants' offensive line.
Abraham's numbers have been down over the past few games. He's an older, veteran player. As such, his energy is likely to flag as the season winds down.
Look for Eli Manning to stay clean against the Falcons' pass rush. Abraham will be quiet on Sunday.
Keep Reading

Atlanta Falcons: Like this team?