Manchester United Transfer Rumours: Is Rooney, Lampard Talk Damaging Reds?
January 7, 2012
Stu Forster/Getty Images
Wayne Rooney is set to leave Manchester United, while Frank Lampard could arrive from Chelsea, according to some media reports.
The Independent will run a story on Saturday claiming star striker Rooney is allowed to leave the club.
This sensational story follows even more striking news that Lampard is considering a move to Old Trafford after having fallen out with manager Andre Villas-Boas, with United boss Sir Alex Ferguson keen on signing the playmaker.
It seems the Red Devils have been affected quite badly by such outlandish stories.
After all, while Lampard definitely would be a good signing for United, it is rare for a Premier League manager, let alone Sir Alex Ferguson, to comment specifically on one piece of speculation, especially so soon after publication and when it hasn't been widely reported.
On Friday morning in his weekly press conference, Ferguson completely dismissed the idea of signing Frank Lampard when asked.
Ferguson said: "Do you really believe that? There is no foundation to it. We won't get the players that we would like."

"What can you get in January? What do you do? Do you take a second-rate player? No, of course you don't."
That is a very strange outburst from Sir Alex, given that he's not only vehemently denying the rumour, but also feeling the need to undermine the story and criticise Lampard by calling the Chelsea star a "second-rate player."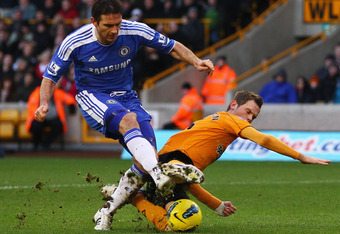 Richard Heathcote/Getty Images
This clearly smacks of a manager who is somehow under more pressure than usual.
Even Villas-Boas, the man journalists almost love to hate, has displayed a far calmer exterior under scrutiny.
If that weren't enough, the club as a whole went one step further by issuing an official statement on rumours that Wayne Rooney is set to leave—rumours that as of the statement's timing weren't in the public domain and weren't knowledge to anybody but certain people in the media and their contacts.
The statement said: "Any suggestion that Manchester United and Wayne Rooney are to part company is complete nonsense."

"The player and manager have always had and retain utmost respect for each other and look forward to working together in the coming seasons."
Rooney himself was also presumably told to join in the act, backing up his club's vehement denial on Twitter.
The England star commented: "The Independent are talking absolute rubbish; my future is with Manchester United and the club and I are totally committed to each other."

"The manager and I have no issues and anyone who says different don't know what they are talking about."
Such a strong defence comes on the back of a story about Rooney's alleged anger towards his manager after being dropped for the Blackburn Rovers game and fined £250,000 for his Boxing Day dinner with his wife.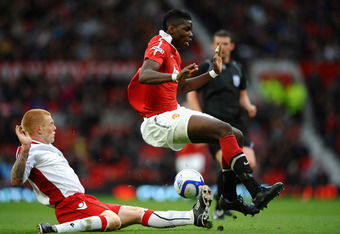 Laurence Griffiths/Getty Images
The whole episode shows Manchester United seem a team quite affected by stories in the media, perhaps believing it could threaten their Premier League title aspirations.
After all, United have barely been out of the media spotlight since acrimoniously crashing out of the UEFA Champions League at the mercy of minnows FC Basel.
Since mid-December, their players have been roundly criticised. There also have been constant transfer rumours of Dimitar Berbatov and Paul Pogba leaving, and Wesley Sneijder, Luka Modric and every other playmaker in Europe supposedly arriving.
Add to that the numerous off-field stories and it's clear United have been quite under the media glare, and it's now evident they are affected, and quite possibly damaged by it.
The recent stories in the media have coincided with back-to-back Premier League defeats for the Red Devils, whilst constant rumours of their brightest talent Paul Pogba leaving have undoubtedly affected contract negotiations.
Just as in politics with a government department under scrutiny, it seems Manchester United are trying to limit the damage by killing rumours before they grow, after clearly taking a big blow from the reports.