NFL Wild Card Predictions 2012: Steelers Lead Road Teams Destined for Victory
January 6, 2012
Doug Pensinger/Getty Images
The Wild Card Round has seen in recent history a number of teams come on the road and upset the home team.
There are four games with the possibility of seeing four Wild Card teams pull off upsets this weekend. However, only two teams will see their season continue for another weekend.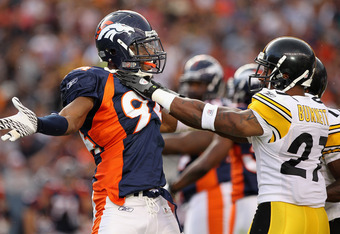 Doug Pensinger/Getty Images
The Steelers may be dealing with a long list of injuries coming into their Wild Card game against the AFC West champion Denver Broncos. However, the majority of those ailments are coming on the offensive side of the ball—which is fine, because the offense does not have to be the reason why this Steelers team is successful on Sunday. 
For as good as Denver quarterback Tim Tebow has been in at bringing his team back in the fourth quarter, he has been awful in the first three quarters. 
The Steelers and their No. 1 passing defense will keep Tebow from completing passes, and being effective by finding a running lane outside of the pocket. 
The Steelers will get past the Broncos, by only allowing the Denver offense to kick field goals, when they get on Pittsburgh's side of the field. The Steelers defense ranked first in the league in points allowed, by letting teams score 14 points per game, and kicking more field goals than scoring touchdowns to score points.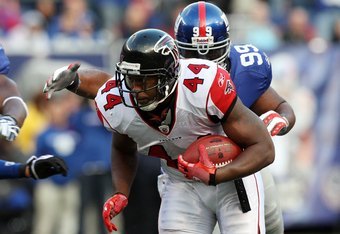 Jim McIsaac/Getty Images
The Falcons have not had any playoff success with Matt Ryan as their quarterback. This will be his third trip to the playoffs in his first four years. However, in each playoff game, Atlanta's defense has fallen apart, and Ryan has thrown costly interceptions when trying to play catchup.  
However, compared to those previous playoff failures, the Falcons defense is better this year, than they were in those past years. In their last two losses, the Falcons passing defense ranked 11th in the NFC, which allowed opposing quarterbacks to rip Atlanta's secondary. 
But, this year, the Falcons have made a point to control opposing teams passing games, to rank seventh in the NFC. 
Atlanta has done a great job in limiting passing yards, as they have only given up 237 yards per game. They will hone in on New York Giants quarterback Eli Manning in this Wild Card game, by mixing up their coverages, and finding ways to force Manning into bad throws that result in interceptions. 
These two teams will march into a hostile environment in Mile High Stadium and Met Life Stadium, and come out with a huge victory. What worked for them this week, will carry with them next week, when they will have to do it again in the divisional round.