LeBron James: Breaking Down LeBron 9 "Big Bang" All-Star Shoes
January 6, 2012
I think it's safe to say that LeBron James is going to make the NBA All-Star Game this season. Yes, I'm pretty sure I'm willing to put my credibility on the line with that statement.
When he does, he will take the court with Nike's special version of the LeBron 9s. Let's take a closer look at the shoes LeBron fans can't wait to get their hands on.
Nike LeBron 9 "Big Bang"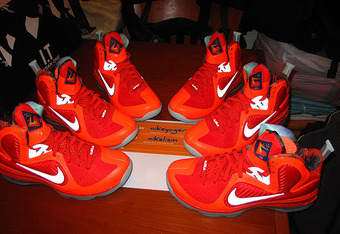 These kicks have a little more pop to them than the standard Miami Heat colors that the typical LeBron 9 sneakers boast.
The "Big Bang's" have an out-of-this-world kind of look.
These shoes will jump out at everyone with the bright orange look. The flashy color comes with flash even when you turn the lights out. Yes, the soles will glow in the dark.
Wow Factor: 10 out of 10
These are the type of shoes that will make everybody stop and stare. Even if those staring absolutely hate the look, they won't be able to look away.
Design: 8 out of 10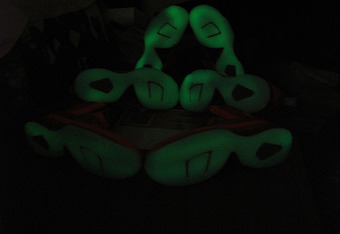 The design of the shoe is very similar to Nike LeBron 9s. The whole theme of the sneakers is a galaxy-type look. 
The only huge difference in the design is the logo on the tongue of the shoe. Instead of the superstar's signature, the logo goes with an outer-space theme. The blue on the logo clashes hard with the orange shoe, but not in a bad way. 
Overall Swag Grade: 9 out of 10
If you like the design of the LeBron 9s but want to add some flare to the look, then these are the kicks you need to get.
Not only do you have the bright orange look that grabs attention, but the glow-in-the-dark soles up the swag rating on these sneakers. They are exciting and unique, but most importantly they will attract all the attention in the room.